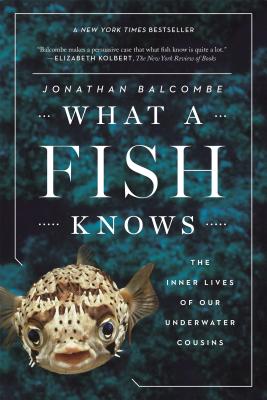 What a Fish Knows
The Inner Lives of Our Underwater Cousins
Paperback

* Individual store prices may vary.
Other Editions of This Title:
Digital Audiobook (6/6/2016)
Hardcover (6/7/2016)
Description
A New York Times Bestseller

Do fishes think? Do they really have three-second memories? And can they recognize the humans who peer back at them from above the surface of the water? In What a Fish Knows, the myth-busting ethologist Jonathan Balcombe addresses these questions and more, taking us under the sea, through streams and estuaries, and to the other side of the aquarium glass to reveal the surprising capabilities of fishes. Although there are more than thirty thousand species of fish—more than all mammals, birds, reptiles, and amphibians combined—we rarely consider how individual fishes think, feel, and behave. Balcombe upends our assumptions about fishes, portraying them not as unfeeling, dead-eyed feeding machines but as sentient, aware, social, and even Machiavellian—in other words, much like us.
What a Fish Knows draws on the latest science to present a fresh look at these remarkable creatures in all their breathtaking diversity and beauty. Fishes conduct elaborate courtship rituals and develop lifelong bonds with shoalmates. They also plan, hunt cooperatively, use tools, curry favor, deceive one another, and punish wrongdoers. We may imagine that fishes lead simple, fleeting lives—a mode of existence that boils down to a place on the food chain, rote spawning, and lots of aimless swimming. But, as Balcombe demonstrates, the truth is far richer and more complex, worthy of the grandest social novel.
Highlighting breakthrough discoveries from fish enthusiasts and scientists around the world and pondering his own encounters with fishes, Balcombe examines the fascinating means by which fishes gain knowledge of the places they inhabit, from shallow tide pools to the deepest reaches of the ocean.
Teeming with insights and exciting discoveries, What a Fish Knows offers a thoughtful appraisal of our relationships with fishes and inspires us to take a more enlightened view of the planet's increasingly imperiled marine life. What a Fish Knows will forever change how we see our aquatic cousins—the pet goldfish included.
Praise For What a Fish Knows: The Inner Lives of Our Underwater Cousins…
Longlisted for the 2017 PEN / E.O. Wilson Literary Science Writing Award

One of the 10 Best Popular Science Books of 2016: Biological Sciences, Forbes

One of the Week's Best Science Picks, Nature

A "Must Read" Book, The Sunday Times (London)

One of the Best Books of the Year, National Post

"Latest Reads to Pique Your Curiosity," The Toronto Star

"Numerous books have shown me how utterly ignorant I am about most creatures I share this planet with, but none humbled me more than What a Fish Knows by Jonathan Balcombe." —Cornelia Funke, The Observer

"We Buddhists consider all animals, including fish, as sentient beings who have feelings of joy and pain just as we humans do. We also believe that they have all been kind to us as our mothers many times in the past, and are deserving of our compassion. Therefore, we try to help them in whatever way we can and at least avoid doing them harm. In What A Fish Knows, Jonathan Balcombe vividly shows that fish have feelings and deserve consideration and protection like other sentient beings. I hope reading it will help people become more aware of the benefits of vegetarianism and the need to treat animals with respect." —The Dalai Lama

"An extended exploration of the world from a piscine perspective . . . Balcombe makes a persuasive case that what fish know is quite a lot." —Elizabeth Kolbert, The New York Review of Books

"[An] exhaustively researched and elegantly written argument for the moral claims of ichthyofauna." —Nathan Heller, The New Yorker

"What a Fish Knows will leave you humbled, thrilled, and floored. Jonathan Balcombe delivers a revelation on every page, presenting jaw-dropping studies and stories that should reshape our understanding of, and compassion for, some of the most diverse and successful animals who have ever lived. After reading this, you will never be able to deny that fishes love their lives as we love ours, and that they, too, are vividly emotional, intelligent, and conscious. Bravo!" —Sy Montgomery, author of The Soul of an Octopus, a National Book Award finalist

"Balcombe builds a persuasive argument. Writing in a straightforward, somewhat breezy style, he makes his case partly through a compendium of fascinating anecdotes and scientific findings that illustrate the complexity and creativity of fish behavior . . . Dozens of startling revelations emerge." —Alan de Queiroz, The Wall Street Journal

"One of the most enlightening books I have ever read . . . What a Fish Knows will change the way you view fishes and their world." —Dr. Mariappan Jawaharlal, The Huffington Post

"Balcombe has touched a nerve in me." —Renée E. D'Aoust, Los Angeles Review of Books

"Beautiful . . . we're much more similar to fish than meets the eye." —David Gruber, Ideas.TED.com ("What Should You Read This Summer?")

"As ethologist Jonathan Balcombe notes in this engrossing study, breakthroughs are revealing sophisticated piscine behaviours. Balcombe glides from perception and cognition to tool use, pausing at marvels such as ocular migration in flounders and the capacity of the frillfin goby (Bathygobius soporator) to memorize the topography of the intertidal zone." —Barbara Kiser, Nature

"Balcombe covers the waterfront, so to speak, from fish cognition and perception to their social structures and breeding practices, all the while drawing on a dizzying array of experiments and studies. In the hands of a lesser writer, the sheer weight of material could have overburdened the reader. But Balcombe's prose is lively and clear, showcasing his gift for pithy sentences." —Eugene Linden, The American Scholar

"What a Fish Knows bubbles with astounding fish facts." —Kate Horowitz, Mental Floss

"[An] eye-opening look at the lives of fish." —Christopher Hart, The Times (London)

"What a Fish Knows seeks to acquaint us with the 'fabulous diversity' of sentient beings in our waters." —Sarah Murdoch, The Toronto Star

"The simple fact that fish live in an alien environment has created an information gap that scientists have been hard-pressed to bridge. Until now. Jonathan Balcombe, a professor of animal studies, fills the void in his new book What a Fish Knows, which argues we're not as different from our water-brethren as you'd think." —Joselin Linder, New York Post

"What a Fish Knows . . . certainly left this piscivorous angler queasy about picking up his rod. There are other ways of interacting with these marvelous animals . . . Perhaps we should treat our aquatic kin with a bit more respect." —Ben Goldfarb, Hakai magazine

"This is a book full of wonders." —David Profumo, Literary Review

"With the vivacious energy of a cracking good storyteller, Balcombe draws deeply from scientific studies and his own experience with fish to introduce readers to them as sentient creatures that live full lives governed by cognition and perception . . . Balcombe makes a convincing case that fish possess minds and memories, are capable of planning and organizing, and cooperate with one another in webs of social relationships." —Publishers Weekly

"[A] sparkling exposition on 'our underwater cousins' . . . [and] a compelling pitch for greatly expanding fish conservation." —Ray Olson, Booklist

"[Balcombe] offers an enjoyable, surprising and sometimes gruesome exploration of the world of fish, written with clarity and humor and grounded in many scientific studies . . . The breadth and depth of his research and his enthusiastic storytelling may permanently alter how [readers] look at a pet goldfish or a can of sardines." —Sara Catterall, Shelf Awareness

"Balcombe's breathtaking book should instill a sense of humility and enormous wonder and awe at the rest of creation." —David Suzuki, scientist, environmentalist, and broadcaster

"Outstanding. This excellent book brings fishes into their proper and well-deserved perspective." —Dave DeWitt, food historian

"I thought I knew a lot about fishes. Then I read What a Fish Knows. And now I know a lot about fishes! Stunning in the way it reveals so many astonishing things about the fishes who populate planet Earth in their trillions, this book is sure to 'deepen' your appreciation for our fin-bearing co-voyagers, the bright strangers whose world we share." —Carl Safina, author of Beyond Words

"Based on the latest scientific research, What a Fish Knows offers an eye-opening tour of the social, mental, and emotional lives of fishes. Who knew fishes use tools, appreciate music, fall for the same optical illusions we do, and engage in both cooperative hunting and some very kinky sex? Jonathan Balcombe's book is popular science writing at its best. It will spin your head around." —Hal Herzog, author of Some We Love, Some We Hate, Some We Eat

"What a Fish Knows is a delightful and fascinating book that should be read by all who have dismissed fishes, especially the smaller denizens of the ocean, as utterly simple, primitive creatures. Jonathan Balcombe's lively descriptions of fish behavior are backed by solid science. What Carl Safina's Beyond Words did for elephants, wolves, and orcas, Balcombe's book does for fishes. It is a terrific read." —Wendy Benchley, ocean conservationist and co-founder of the Peter Benchley Ocean Awards

"Fishes are greatly misunderstood and grievously maligned. Now, in What a Fish Knows, Jonathan Balcombe uses the latest science to provide a comprehensive picture of just who fishes are. You will learn that fishes have distinct personalities, experience a wide range of emotions, form intricate social relationships, and are wonderful parents. Indeed, this forward-looking and long-overdue book is an integral part of reconnecting with the fascinating animals with whom we share our magnificent planet." —Marc Bekoff, author of The Emotional Lives of Animals and Rewilding Our Hearts

"What a Fish Knows is the best book on fishes I have ever read. Brimming with engrossing anecdotes and humor, Jonathan Balcombe's inspiring treatise takes the reader on a fascinating and deeply moving journey into the lives of fishes. Balcombe's eloquent, persuasive, highly readable tour de force has a single, luminous message: Fishes deserve more respect, care, and protection." —Chris Palmer, author of Shooting in the Wild and Confessions of a Wildlife Filmmaker
Scientific American / Farrar, Straus and Giro, 9780374537098, 304pp.
Publication Date: June 6, 2017
About the Author
Jonathan Balcombe is the director of animal sentience at the Humane Society Institute for Science and Policy and the author of Second Nature and Pleasurable Kingdom. A popular commentator, he has appeared on The Diane Rehm Show, the BBC, and the National Geographic Channel, and in several documentaries, and is a contributor of features and opinions to The New York Times, The Washington Post, The Wall Street Journal, Nature, and other publications. He lives in Maryland.