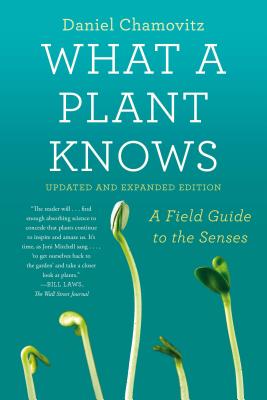 What a Plant Knows
A Field Guide to the Senses: Updated and Expanded Edition
Paperback

* Individual store prices may vary.
Other Editions of This Title:
Paperback (4/30/2013)
Description
Thoroughly updated from root to leaf, this revised edition of the groundbreaking What a Plant Knows includes new revelations for lovers of all that is vegetal and verdant.

Plants can hear—and taste things, too!

The renowned biologist Daniel Chamovitz builds on the original edition to present an intriguing look at how plants themselves experience the world—from the colors they see to the schedules they keep, and now, what they do in fact hear and how they are able to taste. A rare inside look at what life is really like for the grass we walk on, the flowers we sniff, and the trees we climb, What a Plant Knows offers a greater understanding of their place in nature.
Praise For What a Plant Knows: A Field Guide to the Senses: Updated and Expanded Edition…
"Of the dozens of books I read in 2012, several stand out. But there's one I keep coming back to, thumbing through it, letting people know about it. It's Daniel Chamovitz's What A Plant Knows: A Field Guide to the Senses." —Chicago Tribune

"The reader...will find enough absorbing science to concede that plants continue to inspire and amaze us. It's time, as Joni Mitchell sang at Woodstock, 'to get ourselves back to the garden' and take a closer look at plants." —The Wall Street Journal

"This elegantly written account of plant biology will change the way you see your garden...Chamovitz lets us see plants in a new light, one which reveals their true wonder." —The Guardian

"Thick with eccentric plant experiments and astonishing plant science." —Sunday Times (UK)

"Plants may be brainless, eyeless and devoid of senses as we know them, but they have a rudimentary 'awareness', says biologist Daniel Chamovitz. In this beautiful reframing of the botanical, he reveals the extent and kind of that awareness through a bumper crop of research." —Nature

"For everyone who has wondered at Mimosa, the suddenly snapping Venus flytrap or the way a sunflower's head unerringly turns to follow the sun, Daniel Chamovitz has written the perfect book." —American Scientist

"[A] fascinating inside look at what a plant's life is like, and a new lens on our own place in nature." —Maria Popova, Brain Pickings

"Verdict: Plant-astic." —Herald Sun (Australia)

"This well-researched book makes the compelling argument that plants "know" a lot more than most people give them credit for . . . Chamovitz eloquently elucidates that scientific evidence that proves it in easy-to-understand terms." —The American Gardener

"Chamovitz's book is pop science at its best, full of vivid examples of barely imaginable ways of living" —BBC Wildlife

"In a lively and delightful discourse that aligns botany with human biology, [Chamovitz] articulates his findings, about plants and the senses in accessible, often whimsical observations that make complex science not only comprehensible but fun to ponder." —Booklist

"[A] handy guide to our own senses as well as those of plants." —Audubon

"An intriguing and scientific--but easy to read--look at how plants experience life." —Gardens Illustrated

"[Chamovitz] gently hints that we should have a greater appreciation of plants' complexity and perceptiveness . . . If plants can see, smell, feel, know where they are, and remember, then perhaps they do possess some kind of intelligence. Maybe that is worth reflecting on the next time you casually stroll past a plant." —Chelsie Eller, Science

"Like us, a plant that aspires to win the rat race must exploit its environment. Even a daffodil can detect when you're standing in its light, and a rhododendron knows when you're savaging its neighbor with the pruning shears. With deftness and clarity, Daniel Chamovitz introduces plants' equivalent of our senses, plus floral forms of memory and orientation. When you realize how much plants know, you may think twice before you bite them." —Hannah Holmes, author of Quirk and Suburban Safari

"Just as his groundbreaking research uncovered connections between the plant- and animal kingdoms, Daniel Chamovitz's insights in What a Plant Knows transcend the world of plants. This entertaining and educational book is filled with wondrous examples that underscore how the legacy of shared genomes enables plants and animals to respond to their environments. You'll see plants in a new light after reading What a Plant Knows." —Gloria M. Coruzzi, Carroll and Milton Petrie Professor, Center for Genomics and Systems Biology, New York University

"If you've ever marveled at how and why plants make the choices they do, What a Plant Knows holds your answer. Chamovitz is a master at translating the science of botany into the language of the layman." —Michael Malice, author, subject of Ego & Hubris, and succulent enthusiast

"Chamovitz walks the Homo sapiens reader right into the shoes--or I should say roots--of the plant world. After reading this book you will never again walk innocently past a plant or reach insensitively for a leaf. You will marvel and be haunted by a plant's sensory attributes and the shared genes between the plant and animals kingdoms." —Elisabeth Tova Bailey, author of The Sound of a Wild Snail Eating

"What a Plant Knows is lively, eloquent, scientifically accurate, and easy to read. I commend this engaging text to all who wonder about life on earth and seek a compelling introduction to the lives of plants as revealed through centuries of careful scientific experimentation." —Professor Stephen D. Hopper, Director, Royal Botanic Gardens, Kew

"A fascinating book that explores accessibly the evidence that plants share more properties with animals than most people appreciate. It may come as a relief to vegetarians to learn that plants do not feel pain or suffer, in the human sense, when harvested. Nevertheless, after reading What a Plant Knows, we wanted to apologize to our daffodils for the times when our shadows have shielded them from the Sun." —John and Mary Gribbin, authors of The Flower Hunters

"By comparing human senses to the abilities of plants to adapt to their surroundings, the author provides a fascinating and logical explanation of how plants survive despite the inability to move from one site to another. Backed by new research on plant biology, this is an intriguing look at a plant's consciousness." —Kirkus
Scientific American / Farrar, Straus and Giro, 9780374537128, 224pp.
Publication Date: November 21, 2017
About the Author
Daniel Chamovitz, Ph.D., is the director of the Manna Center for Plant Biosciences at Tel Aviv University. He has served as a visiting scientist at Yale University and at the Fred Hutchinson Cancer Research Center, and has lectured at universities around the world. His research has appeared in leading scientific journals. Chamovitz lives with his wife and three children in Hod HaSharon, Israel. He is the author of What a Plant Knows: A Field Guide to the Senses.