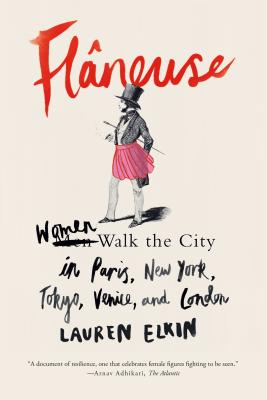 Flâneuse
Women Walk the City in Paris, New York, Tokyo, Venice, and London
Paperback

* Individual store prices may vary.
Other Editions of This Title:
MP3 CD (10/10/2017)
Compact Disc (10/10/2017)
Description
FINALIST FOR THE PEN/DIAMONSTEIN-SPIELVOGEL AWARD FOR THE ART OF THE ESSAY

A New York Times Notable Book of 2017

The flâneur is the quintessentially masculine figure of privilege and leisure who strides the capitals of the world with abandon. But it is the flâneuse who captures the imagination of the cultural critic Lauren Elkin. In her wonderfully gender-bending new book, the flâneuse is a "determined, resourceful individual keenly attuned to the creative potential of the city and the liberating possibilities of a good walk." Virginia Woolf called it "street haunting"; Holly Golightly epitomized it in Breakfast at Tiffany's; and Patti Smith did it in her own inimitable style in 1970s New York.

Part cultural meander, part memoir, Flâneuse takes us on a distinctly cosmopolitan jaunt that begins in New York, where Elkin grew up, and transports us to Paris via Venice, Tokyo, and London, all cities in which she's lived. We are shown the paths beaten by such flâneuses as the cross-dressing nineteenth-century novelist George Sand, the Parisian artist Sophie Calle, the wartime correspondent Martha Gellhorn, and the writer Jean Rhys. With tenacity and insight, Elkin creates a mosaic of what urban settings have meant to women, charting through literature, art, history, and film the sometimes exhilarating, sometimes fraught relationship that women have with the metropolis.

Called "deliciously spiky and seditious" by The Guardian, Flâneuse will inspire you to light out for the great cities yourself.
Praise For Flâneuse: Women Walk the City in Paris, New York, Tokyo, Venice, and London…
"Absorbing . . . Elkin has an eye for the unexpected detail, as befits a flâneuse. . . It will be up to booksellers to figure out how to categorize her pastiche of travel writing, memoir, history and literary nonfiction. A reader, flaneusing along the bookshelves, will find in it some of the pleasures of each." —Diane Johnson, The New York Times Book Review

"At a moment when women's rights have come to significant national attention, Flâneuse also reads as a document of resilience, one that celebrates female figures fighting to be seen . . . Blending historical analysis, literary criticism, and memoir, Elkin seeks to re-define the concept of flânerie itself, and to reclaim the city for its women wanderers." —Arnav Adhikari, The Atlantic

"By focusing on six writers and artists . . . [Elkin's] book makes a forceful case for the genderless joy and vital importance of striking out for the territory—on foot . . . Flâneuse is a stimulating read whose itinerary ranges from wanderlust and space as a 'feminist issue' to self-definition in connection with a specific place." —Heller McAlpin, Los Angeles Times

"Lauren Elkin brings breadth and depth to a cocktail party crowded with genius . . . Her historical and literary portraits take their power from her talent for seeing aslant, making the familiar strange and vice versa . . . Ms. Elkin's clear-eyed view of her own flâneuserie is one of the charms of a book that is pedestrian in the best possible sense: It makes you want to walk." —Jane Kamensky, Wall Street Journal

"[An] eclectic and absorbing memoir and cultural history . . . The book strikes a rewarding balance between present and past, as it establishes and illustrates the much-needed definition of the flaneuse as "a determined, resourceful individual keenly attuned to the creative potential of the city, and the liberating possibilities of a good walk." —Kathleen Rooney, Chicago Tribune

"An ambitious, powerful meditation on women in the urban space . . . Cities, in Elkin's rich, intelligent prose, become not static places that lend themselves to unidirectional efforts of observation, but whole dynamic languages—interconnected networks of constantly changing symbols . . . Elkin's book is more than just a secret history of all the women who have illicitly occupied space. It's also a revelation of just how rich, and full of meaning, that space can be—if you know how to be in it." —Tara Isabella Burton, Village Voice

"An impressive and wide-ranging study . . . Walking after reading Elkin's book felt more greatly imbued with both intellectual purpose and gratitude, my own attentiveness to my surroundings heightened. I walked with a better understanding of my place within an intellectual sisterhood of wandering women, flanked by a ghostly girl squad of writers, artists, and creators." —Matilda Rossetti, The Rumpus

"Sparkling and original . . . [Elkin's] literary peregrinations defy boundaries, fusing cultural history, criticism, psycho-geography and memoir. Both playful and bracingly intelligent, Elkin's elegant prose unfurls a portrait of the writer as an urban woman. . . With perhaps an eerie prescience, Flâneuse examines the interrelationships of city, self and world." —Marian Ryan, Minneapolis Star Tribune

"Flâneuse is a deeply pleasurable book, whether you are a man or a woman, whether you know these cities (or books, or writers, or artists) or not. You will see these streets anew, just as if you were a flâneur in a New York neighborhood or along a canal in Venice. There is always something more to explore, just around the next corner—or on the next page." —A.V. Club

"In her richly evocative and absorbing debut, cultural critic Elkin homes in on the female version of the flaneur . . . In this insightful mix of cultural history and memoir, Elkin emerges at the protagonist as she mines her personal journey from the suburbs of Long Island to her current home in Paris." —Publishers Weekly

"Surely women also strolled and observed, Elkin thought, coining the term flâneuse and embarking on a gloriously rambling quest to celebrate women worthy of this designation . . . Elkin shares her findings in a smart and shimmering mix of her own painful and exhilarating adventures . . . [She] concludes her splendidly discursive homage to intrepid women walkers with the sobering reminder that, in many places, "a woman still can't walk in the city the way a man can." —Booklist

"I've been waiting for years to see the history of women walkers in the city added to the critical literature of the flaneur—and here, in Lauren Elkin's really smart and lovely book, it is." —Vivian Gornick

"An appealing blend of memoir, scholarship, and cultural criticism . . . Elkin's own story runs through the text like a luminous thread. She tells us the woman-in-the-street stories of Jean Rhys, Virginia Woolf, George Sand, Sophie Calle, Agnès Varda, and Martha Gellhorn, but all sorts of other cultural figures appear, including Barthes, Rilke, Baudelaire, Hemingway, Derrida, Dickens, and numerous others . . . Enlightening walks through cities, cultural history, and a writer's heart and soul." —Kirkus

"This is a book about wandering women, the author included, who build relationships with their cities by walking through them . . . Women can and do make feminist statements simply by strolling through their stomping grounds; Elkin creates an interesting and inarguable case for this. She, too, is a wanderer and provides compelling anecdotes about her own journeys, interspersed with those of literary heavy-hitters George Sand, Jean Rhys, Virginia Woolf, and others . . . This is ultimately a celebration of women. You'll want to take a stroll by the end." —Library Journal

"Wonderful . . . A joyful genealogy of the female urban walker . . . The book's narrative meanders brilliantly and appropriately across several time periods at once . . . Elkin's flâneuse does not simply wander aimlessly, any more than Elkin does herself in this elegant book: she uses her reflection to question, challenge and create anew the life that she observes." —Lara Feigel, The Guardian

"Flâneuse is not simply a reclaiming of space, but also of a suppressed intellectual and cultural history . . . Finding ways to reframe images of women walking and to reverse male gazes, Flâneuse builds on recent work by . . . Rebecca Solnit and the artist Laura Oldfield Ford, among others, with striking intellectual vigour and clear, enrapturing prose." —Sandeep Parmar, Financial Times

"An intense meditation on what it means to be a woman and walk out in the world . . . [Flâneuse] encourages its readers to lace up their shoes and go for a walk . . . Elkin lets the reader become a companion to many women who have thought seriously about the relationship between a woman and the path she chooses to tread." —Erica Wagner, New Statesman

"Engaging, inspiring and vigorous . . . Buy it, read it, talk about it. And carry it with you in your mind when you next go walking in the city." —Matthew Adams, The National

"Deliciously spiky and seditious, [Elkin] takes her readers on a rich, intelligent and lively meander through cultural history, biography, literary criticism, urban topography and memoir . . . I defy anyone to read this celebratory study and not feel inspired to take to the streets in one way or another." —Lucy Scholes, The Observer (London)
Farrar, Straus and Giroux, 9780374537432, 336pp.
Publication Date: February 6, 2018
About the Author
Lauren Elkin's essays have appeared in many publications, including The New York Times Book Review, frieze, and The Times Literary Supplement, and she is a contributing editor at The White Review. A native New Yorker, she moved to Paris in 2004. Currently living on the Right Bank after years on the Left, she can generally be found ambling around Belleville.