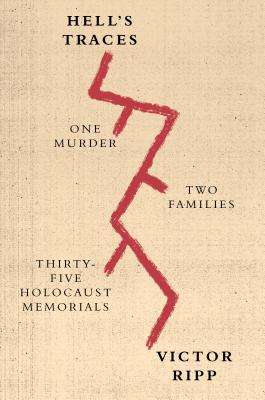 Hell's Traces
One Murder, Two Families, Thirty-Five Holocaust Memorials
Paperback

* Individual store prices may vary.
Other Editions of This Title:
Digital Audiobook (3/30/2017)
MP3 CD (3/31/2017)
Compact Disc (3/31/2017)
Hardcover (3/21/2017)
Description
"With this act of memory and imagination, Mr. Ripp transforms his cousin from a ghostly memory to a vivid presence whose loss he—and his readers—can more fully grasp." —Diane Cole, Wall Street Journal

In July 1942, the French police in Paris, acting for the German military government, arrested Victor Ripp's three-year-old cousin, Alexandre. Two months later, the boy was killed in Auschwitz. In Hell's Traces, Ripp examines this act through the prism of family history. In addition to Alexandre, ten members of Ripp's family on his father's side died in the Holocaust. His mother's side of the family, numbering thirty people, was in Berlin when Hitler came to power. Without exception they escaped the Final Solution.

Hell's Traces tells the story of the two families' divergent paths. To spark the past to life, he embarks on a journey to visit Holocaust memorials throughout Europe. "Could a stone pillar or a bronze plaque or whatever else constitutes a memorial," he asks, "cause events that took place more than seven decades ago to appear vivid?"

A memorial in Warsaw that includes a boxcar like the ones that carried Jews to Auschwitz compels Ripp to contemplate the horror of Alexandre's transport to his death. One in Berlin that invokes the anti-Jewish laws of the 1930s allows him to better understand how his mother's family escaped the Nazis. In Paris he stumbles across a playground dedicated to the memory of the French children who were deported, Alexandre among them. Ultimately, Ripp sees thirty-five memorials in six countries. He encounters the artists who designed the memorials, historians who recall the events that are memorialized, and survivors with their own stories to tell.

Resolutely unsentimental, Hell's Traces is structured like a travelogue in which each destination enables a reckoning with the past.
Praise For Hell's Traces: One Murder, Two Families, Thirty-Five Holocaust Memorials…
"With this act of memory and imagination, Mr. Ripp transforms his cousin from a ghostly memory to a vivid presence whose loss he—and his readers—can more fully grasp." —Diane Cole, Wall Street Journal

"[Hell's Traces]is a travelogue to places that no longer exist and can never be known, to the epitome of the indescribable—the Holocaust . . . Ripp is meticulous in his pursuit, using each memorial he visits as a launching pad to an investigation—often aided by local historians—into his relatives' lives. It is here that Ripp's real gift, an intricate talent for empathy, shines through . . . A fine meditation on trying to make sense of history's ultimate senseless act of violence." —Liel Leibovitz, Tablet

"Victor Ripp . . . applies his ingenuity and investigative skills to trying to uncover the reasons behind the murder of his three-year-old cousin, Alexandre . . . [Ripp's] international viewpoint and fluid writing style infuse the pages with color." —Linda F. Burghardt, Jewish Book Council

"Victor Ripp's powerful double-helix of a family memoir traces two very different Holocaust experiences . . . Ripp expands his personal narrative into a rich meditation on memory and the public commemoration of tragedy." —Politics and Prose Bookstore

"[Ripp] takes a journey of remembrance as he attempts to make sense of his family's past . . . With a deft touch, [he] has written one of the more unusual yet effective Holocaust histories. He doesn't preach, just shows." —Library Journal

"Ripp is an engaging and empathic writer who has found a unique, moving way to tell his extended family's story during the Holocaust and to memorably honor his martyred cousin." —Publishers Weekly

"[Ripp] maintains an emotional honesty above all . . . An idiosyncratic work striving for sense and meaning from a family record of enormous loss and obfuscation." —Kirkus

"Hell's Traces is a brief book that is vast and deep in its fiercely unsentimental consideration of how we remember the Holocaust." —André Aciman

"The Axis of Exile and the Axis of the Holocaust —the two axes that define the space of the Jewish Museum in Berlin—also define the fate of the family of Victor Ripp's family. While his mother's family chose the Axis of Exile, his father's family was devoured by the Axis of the Holocaust. The story of their lives, interwoven with the author's journey from one monument to another, is more powerful than so many of those made of stone." —Anna Bikont, author of The Crime and the Silence, winner of the National Jewish Book Award

"A journey through six European countries in quest of the history of two families whose different fates were determined by the Shoah. Hell's Traces is a profound reflection on the ability of memory to recover meaning from oblivion." —Serge and Beatte Klarsfeld

"Hell's Traces asks important questions about the tension between private remembrance and public memorialization. Ripp touchingly discovers a truth, something public memorials struggle to communicate: That the memory of those lost in the Holocaust, as well as of those who survived, is preserved only within us, in our own entanglement in history; and that the author himself is the memorial he seeks." —Glenn Kurtz, author of Three Minutes in Poland
Farrar, Straus and Giroux, 9780374537487, 224pp.
Publication Date: March 20, 2018
About the Author
Victor Ripp is the author of Moscow to Main Street, Pizza in Pushkin Square, and Turgenev's Russia. His fiction has appeared in Ontario Review and Antioch Review. He has taught at Cornell University and the University of Virginia. He lives in New Jersey.