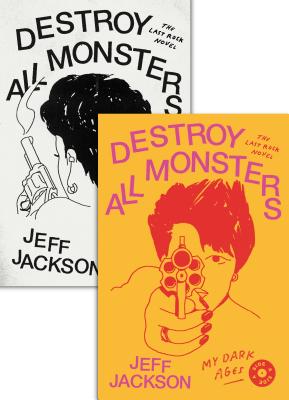 Destroy All Monsters
The Last Rock Novel
Paperback

* Individual store prices may vary.
Other Editions of This Title:
Digital Audiobook (10/15/2018)
MP3 CD (10/16/2018)
Compact Disc (10/16/2018)
Description
"A wild roar of a novel . . . Writing about music is tricky. Ninety-nine percent of the time hearing the actual song or going to the actual concert is far more revealing than any paragraph describing it. But Jackson pulls off this near-impossible feat, pulling the reader past the velvet ropes into the black-box theaters and sweaty, sticky-floored stadiums." —Marisha Pessl, The New York Times Book Review

An epidemic of violence is sweeping the country: musicians are being murdered onstage in the middle of their sets by members of their audience. Are these random copycat killings, or is something more sinister at work? Has music itself become corrupted in a culture where everything is available, everybody is a "creative," and attention spans have dwindled to nothing?
With its cast of ambitious bands, yearning fans, and enigmatic killers, Destroy All Monsters tells a haunted and romantic story of overdue endings and unlikely beginnings that will resonate with anybody who's ever loved rock and roll.
Like a classic vinyl single, Destroy All Monsters has two sides, which can be read in either order. At the heart of Side A, "My Dark Ages," is Xenie, a young woman who is repulsed by the violence of the epidemic but who still finds herself drawn deeper into the mystery. Side B, "Kill City," follows an alternate history, featuring familiar characters in surprising roles, and burrows deeper into the methods and motivations of the murderers.
"At some point, I began to think of it as an ancient folk tale. It's fine work, with a kind of scattered narrative set within a tight frame. Fast-moving throughout—fragile characters who suggest a bleak inner world made in their own collective image." —Don DeLillo

"Destroy All Monsters has a distinct pulse—a kind of heartbeat—that comes out of the rhythm of the prose, the inventiveness of the form, and the willingness of Jeff Jackson to engage the mysterious alchemy of violence, performance, and authenticity. This accomplished, uncanny novel is simultaneously seductive and unsettling." ?—Dana Spiotta, author of Innocents and Others and Eat the Document
"Surges with new-century anxiety and paranoia . . . A clear-eyed, stone-cold vision of what's to come." —Ben Marcus
"Jeff Jackson is one of contemporary American fiction's most sterling and gifted new masters. Destroy All Monsters . . . is a wonder to behold." —Dennis Cooper
Praise For Destroy All Monsters: The Last Rock Novel…
"The scenes of carnage, every one presented plainly, without pumped-up adjectives and gory effects, are absolutely devastating." —Greil Marcus, Rolling Stone
"[Destroy All Monsters] is a startlingly delightful pop object . . . which diametrically prepares the reader for a novel that is formally complex, experimental, poetic, puzzling, often uncomfortable, at times dizzying, always alive, beautifully written and just plain daring." —Scott Cheshire, Los Angeles Times

"[Jeff] Jackson captures the dynamics of a small-town rock scene and channels the sense of danger that threatens live music, at a time when tragedy strikes those who seek out the sounds they love. This surreal novel summons feelings both hopeful and terrifying, which seems about right for 2018." —Tobias Carroll, Pitchfork
"[Jeff] Jackson builds an anxious, deeply felt narrative probing a nationwide epidemic of murders of musicians . . . Infected with this eerie conceit, and expressed through gritty, sharp prose, [Destroy All Monsters] provides both deep character exploration and a nuanced commentary on music, creativity, and violence." —Publishers Weekly
"Destroy All Monsters rails against its own titular notion—it's better to create than destroy. Its sharded optimism is a balm for these increasingly fractious times." —Michael T. Fournier, The Chicago Review of Books
"Punk rock in literary form, this activism allegory will draw fans of Chuck Palahniuk's raw social commentary and Charlie Huston's haunting, macabre symbolism." —Christine Tran, Booklist

"[Destroy All Monsters] is about you and me. It's about the time we live in, the times our ancestors lived in. It's about music. It's about burning your house down. It's about facing the gun and being behind it . . . a masterful work by someone I'd dare to call one of the greatest living authors." —Kelby Losack, Vol. 1 Brooklyn
"Destroy All Monsters is an inventive and powerful book, one of the best (if not the best) rock 'n roll novels I have ever read." —David Gutowski, Largehearted Boy
"Being an outsider is not the exclusive realm of contrarians, as anyone who has ever longed to be a cool kid can attest. Destroy All Monsters taps into this fundamental aspect of the human experience . . . Jackson paints in sepia tones, his words [creating] a filmy, nicotine-stained haze . . ." —Michael J. Solender, PANK
FSG Originals, 9780374537661, 384pp.
Publication Date: October 16, 2018
About the Author
Jeff Jackson is the author of Mira Corpora, a finalist for the Los Angeles Times Book Prize. His short fiction has appeared in Guernica, Vice, and The Collagist, and five of his plays have been produced by the Obie Award–winning Collapsable Giraffe theater company in New York City.
or
Not Currently Available for Direct Purchase