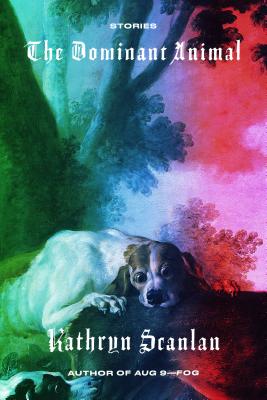 The Dominant Animal
Stories
Paperback

* Individual store prices may vary.
Description
Named a Best Book of 2020 by The Guardian, Southwest Review, and Publishers Weekly

"[The stories] are short, but their mood and imagery are lasting, and reflective of brutal truths of the commerce of human civilization . . . chilling, finely tuned pieces on power and survival." --Los Angeles Times

A collection of innovative and ambitious short stories from a visionary young literary artist

In The Dominant Animal—Kathryn Scanlan's adventurous, unsettling debut collection—compression is key. Sentences have been relentlessly trimmed, tuned, and teased for maximum impact, and a ferocious attention to rhythm and sound results in a palpable pulse of excitability and distress. The nature of love is questioned at a golf course, a flower shop, an all-you-can-eat buffet. The clay head of a man is bought and displayed as a trophy. Interior life manifests on the physical plane, where characters—human and animal—eat and breathe, provoke and injure one another.

With exquisite control, Scanlan moves from expansive moods and fine afternoons to unease and violence—and also from deliberate and generative ambiguity to shocking, revelatory exactitude. Disturbances accrue as the collection progresses. How often the conclusions open—rather than tie—up. How they twist alertly. No mercy, a character says—and these stories are merciless and strange and absolutely masterful.
Praise For The Dominant Animal: Stories…
"A deeply enjoyable book . . . atmospheric with fear and shock, threat and disorientation . . . Through the power of her vision, Scanlan takes hold of the world and gives it to the reader with an intensity that is, paradoxically, both strange and familiar . . . Scanlan requires that the reader remain sharply vigilant: a feeling that lingers long after finishing the book and will, perhaps, be part of what draws people back." --David Hayden, The Guardian (Book of the Day)

"[The stories] are short, but their mood and imagery are lasting, and reflective of brutal truths of the commerce of human civilization . . . chilling, finely tuned pieces on power and survival." --Jessica Ferri, Los Angeles Times

"Every word is precise and brutal . . . [A] sense of metamorphosis, combined with the fact that no technology is mentioned throughout, gives her stories a timeless, fable-esque quality . . . [The stories] are enigmatic, unsettling and tinged with body horror; funny, cruel and minutely repulsive in places. But they are also cinematic, with strange images that are as ephemeral as they are memorable . . . a brilliant, unsettling collection." --Lucy Watson, Financial Times

"[Scanlan's] sentences are whittled down and polished to some kind of perfection without the work that went into them ever being the point. They are not, mercifully, a display of self-consciously fine writing, but are matter of fact, underwritten rather than over, and often, carefully, and most precisely, unsettling . . . Most need reading more than once, and some remain ambiguous, even on occasion seemingly incomplete, from time to time frustratingly so, a device, conceivably, to reinforce and prolong the reader's disquiet, to ensure it lingers in the mind." --Andrew Stuttaford, The New Criterion

"Lean and mean--whittled down to their very viscera--the 40 stories assembled in The Dominant Animal are certainly close to the bone . . . The young American author's audacious deployment of lacunae is a measure of her singular artistry . . . These are sentences written in stone--to be read out loud or learned by heart." --Andrew Gallix, The Irish Times

"[Scanlan's] work offers its own canted mix of eroticism and absurdism, its own gnarled comedy of gender and class . . . At their best, her stories make other writers' work seem fatty and uptight . . . Scanlan's stories tell you almost nothing—which, in these cacophonous times, is the mark of a true radical." --Jeremy Lybarger, 4Columns

"Scanlan is challenging our norms and pushing our boundaries, making a story do more than perhaps we previously thought possible." --JA Tyler, Ploughshares

"In an age of ever-increasing activity, with the deification of efficiency and progress, it is difficult to see anything without seeing everything, and everything is too much to really see. We are all the more at the mercy of writers like Scanlan who provide new ways of seeing." --Stephen Mortland, Full Stop

"Kathryn Scanlan writes sentences so delicious that you want to roll them around your mouth like an expensive chocolate. Each of the pristine, compact stories in her debut collection, The Dominant Animal, links one ingenious grammatical construction to another in a chain of virtuosic prose . . . With their bizarre scenarios, vibrant imagery, and insightful metaphors, the stories in The Dominant Animal operate as exquisite specimens of high literary art." --Wilson McBee, Southwest Review

"Scanlan's sentences are sharp . . . These aren't stories meant to satisfy, they are ones that punch you in the gut." --Brendan Buck, Newcity Lit

"Scanlan craftily makes the stuff of everyday life seem strange and rare in this collection . . . Scanlan has a knack for subtly bending the ordinary into the uncanny . . . Reading Scanlan is akin to looking at two "spot the difference" images, but not knowing what, exactly, is off. This is a delightful, mischievous, and mysterious collection that's perfect for fans of Lydia Davis and Mary Ruefle." --Publishers Weekly (starred)

"A quick glimpse of a weird world, with the readers as passengers just catching a startling tableau only to find it vanished when we turn to see it closer, leaving us to ponder what it might mean . . . much to admire in these fleeting pieces." --Kirkus

"Kathryn Scanlan comes to us as an oracle when we have never before been so desperately in need. The truths of our human affliction divulged in these icily precise, immaculately impolite, genius-spooked stories will undo you for your own good." —Gary Lutz, author of Stories in the Worst Way

"Kathryn Scanlan's The Dominant Animal is a collection full of bright, weird, funny, bizarre yet familiar vignettes, each casting its own shadow. With equal parts unease and delight, I felt as if I were wandering through strangers' homes, seeing their private faces, listening in on their hushed or clipped or pleading conversations. This is a book that pretends to be unassuming only to explode in your hands." —Lindsay Hunter, author of Eat Only When You're Hungry

"Kathryn Scanlan whittles sentences into weapons. The stories in The Dominant Animal are not cuddly; the dog jaws the baby like a bone; and humans, just as easily, gnaw at animals and other humans. Just as easily, the stories turn into poems, the wind blows through them and 'scatters' us." —Christine Schutt, author of Pure Hollywood
MCD x FSG Originals, 9780374538293, 160pp.
Publication Date: April 7, 2020
About the Author
Kathryn Scanlan lives in Los Angeles. Her stories have appeared in NOON, Fence, American Short Fiction, Tin House, Caketrain, and The Iowa Review, among other publications.