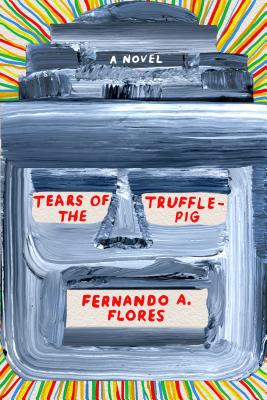 Tears of the Trufflepig
A Novel
Paperback

* Individual store prices may vary.
Description
LONGLISTED FOR THE CENTER FOR FICTION FIRST NOVEL PRIZE. One of Tor.com's Best Books of 2019.

"Readers of this breakout work [will leave] thrilled and disoriented in equal measure." --Sam Sacks, The Wall Street Journal

One of The Daily Beast's Best Summer Beach Reads of 2019, one of Lit Hub and The Millions's Most Anticipated Books of 2019, one of Buzzfeed and Tor.com's Books to Read This Spring, and one of the Chicago Review of Books' Best New Books of May

A parallel universe. South Texas. A third border wall might be erected between the United States and Mexico, narcotics are legal and there's a new contraband on the market: filtered animals—species of animals brought back from extinction to amuse the very wealthy.

Esteban Bellacosa has lived in the border town of MacArthur long enough to know to keep quiet and avoid the dangerous syndicates who make their money through trafficking. But his simple life gets complicated after a swashbuckling journalist invites him to an underground dinner at which filtered animals are served. Bellacosa soon finds himself in the middle of an increasingly perilous and surreal journey, in the course of which he encounters legends of the long-disappeared Aranaña Indian tribe and their object of worship: the mysterious Trufflepig, said to possess strange powers.

Written with infectious verve, bold imagination, and oddball humor, Fernando A. Flores's Tears of the Trufflepig is an absurdist take on life along the border, an ode to the myths of Mexican culture, and an introduction to a staggeringly smart new voice in American fiction.
Praise For Tears of the Trufflepig: A Novel…
"[A] bonkers dystopia of deprivation and decadence . . . While Tears of the Trufflepig details a scabrous alternate version of the border region, it eventually inhabits a strange, dreamlike landscape of mystical encounters and psychedelic visions. The hallucinatory ending is also right out of Pynchon and will leave readers of this breakout work thrilled and disoriented in equal measure." --Sam Sacks, The Wall Street Journal

"A bizarre fever dream of a book made all the more frightening by its eerie plausibility . . . Flores never overplays his hand. Throughout the book, he grounds his vision of the future in enough realism that even the strangest parts of the story come across as plausible . . . Debut novels can be shaky affairs, but Flores writes like a seasoned veteran — his structure and pacing are perfect." --Michael Schaub, Texas Observer

"Bizarre, macabre, and wryly funny . . . [Tears of the Trufflepig] is a work that's cutting and frank—not by being confrontational or by being a dystopian lament. It's blunter, more matter-of-fact in its presentation of the horrors and absurdities that a not-so-implausible future could hold, because the present already holds them." --Joshua Rivera, The Nation

"[Tears of the Trufflepig] feels a bit like the classics of the novela negra of Latin America—think Paco Ignacio Taibo II or Rafael Bernal—were fused with a Philip K. Dick book. It's darkly funny at times, to boot . . . Flores really captures the essence of living at the border." --Silvia Moreno-Garcia, The Washington Post

"The plot lines in Trufflepig are funhouse mirrors, reflecting the horrors of both our history and our headlines . . . But it's the narrative that delights. When so much fiction feels like elegant dioramas, like masterfully crafted ships in bottles, Trufflepig feels organic and amorphous, like some biological organism, shape-shifting its way through the literary landscape, leaving a thin ribbon of goo in its wake." --J. David Gonzales, Los Angeles Review of Books

"[Flores] understands the border in the way that many who come from there do — those who have left and developed a perspective about it from new vantage points . . . This is an intelligent book. Literary, musical and historical references fill each chapter." --Yvette Benavides, Houston Chronicle

"An intricate, philosophical, trippy thriller." --Arianna Rebolini, Buzzfeed (37 Amazing New Books to Add to Your Spring Reading List)

"A CRISPR-age bender that reads like a cross between Philip K. Dick's Do Androids Dream of Electric Sheep? and a narconovela . . . Flores expertly lampoons the narcotraficante predilection for exotic collecting and baroque violence . . . Flores has [a] distinctive, irresistibly strange sensibility . . . [Tears of the Trufflepig] delivers where it counts." --Julian Lucas, Harper's

"This novel is unlike any you will have read before . . . Flores weaves an enthralling, mind-bending tale about a border resident who sets out on a quest for an animal who lives on only in legend: the trufflepig. Smart, entertaining, and highly relevant, Flores's trippy novel is a delight." --Allison McNearney, Daily Beast

"An exhilarating borderland dystopia . . . headlong and inventive . . . [Flores] capture[s] half-real, half-intuitive, entirely original impressions of a contemporary border region as a place where, increasingly, nature is walled in, authority is tied to spectacular cruelty, and both corruption and everyday resistance to it flourish." --Michael Agresta, Texas Monthly

"Funny and weird, but with a dark undertow of social commentary that will keep it unspooling in your mind after you finish reading . . . I have to say Bellacosa is one of my favorite protagonists in a while . . . Flores gives us a portrait of a Border World where life itself has been sapped of any worth beyond a dollar amount for a stolen head or a reward for a refugee's corpse. Flores gives us a near-future that is often fun and rollicking, but he's never afraid to show us the reality that is all-too-close to the world we're living in right now." --Leah Schnelbach, tor.com

"[Tears of the Trufflepig] blend[s] noir with magical realism . . . Bellacosa is good company for the reader, refreshingly gentle and loving in a fictional and real-life terrain scarred by abysses of cruelty and greed, where kindness is distrusted or dismissed as boring and naive . . . The key is just to go along for the ride. And why not? It's what Bellacosa does. His quest may be meandering and bizarre, nightmarish and heart-rending, but the journey is well worth taking." --Jean Huets, Ploughshares

"[Tears of the Trufflepig] reads like the insane historical record of an alternate universe only two small steps to the left of ours . . . the ideas presented here are full of trippy imagery and terrifying body horror . . . Tears of the Trufflepig exceeded all expectations in the best of ways, and I cannot wait to follow the rest of Fernando A. Flores' career. Do not pass on this one." --Max Booth III, San Antonio Current

"Audacious and imaginative, with layers of complexity that are entertaining to excavate and digest . . . [A] compelling novel is ultimately a warning of what gluttony, corruption, and total disregard for life can do to humanity if left unchecked . . . Flores's fascinating voice and writing style keep readers engaged throughout the intricate pieces of his unusual plot, luring them into a perplexing web with dramatic and often humorous prose and sophisticated characterization. Tears of the Trufflepig is gritty and convincing and offers a well-crafted, frightening glimpse into a worldview that is unfortunately not as outlandish or as inconceivable as it should be." --Ruthie Jones, Lone Star Literary

"[Flores] is easily the author to break the mold of traditional, staid Latin magical realism. He mixes together a mulligan's stew of Border Wall policy, Tejana markets and Norteño characters, doing so under the auspices of writers like Gabriel Garcia Marquez and Valeria Luiselli . . . If there's one book to take to the border, to read passages of aloud on both sides, I think that Flores' debut would hold up well." --Mark Oprea, Cleveland Review of Books

"Funny, sad, bizarre, Trufflepig tells a complex story of neocolonial genocide, wealth and corruption, and profound loss." --Lit Hub (11 Books You Should Read This May)

"[Tears of the Trufflepig] certainly deserves its place alongside Warren Ellis and Jeff Vandermeer, with a rustic patina that nods to the likes of Jonathan Lethem's well-worn detectives . . . Flores' rich characterizations, sparing prose, and vivid portrayal of the myths of Mexican culture and life along the border give what could have been a tinder-dry crime novel a strange whimsy and charm that don't sound like anything else in genre fiction. A dryly philosophical, colorful, and disorienting thriller about grief, survival, and undead animals." --Kirkus

"Move over, chupacabra—there's a new mythical Southwestern beast in town . . . [An] exuberant novel set on a trippier version of the American border." --The Millions (Most Anticipated Books of May)

"The political reality of our present is all too easily recognized in this version of the future . . . a nightmarish if fascinating vision of a borderland of multiple, parallel walls; designer genetic experimentation; and grisly violence--all dabbed liberally with folkloric strokes. For fans of magical realism and near-future settings, e.g., Margaret Atwood's Oryx and Crake, and of Hunter S. Thompson's psychedelic energy." --Library Journal

"This wildly imaginative, highly addicting, and ultimately endearing speculative first novel offers borderlands storytelling with an sf twist." --Booklist

"A near-future picaresque of genetic manipulation, indigenous legend, and organized crime . . . [Tears of the Trufflepig] is jam-packed with excitement . . . Flores's novel shows he has talent and creativity to spare." --Publishers Weekly

"Tears of the Trufflepig is the most engagingly original novel I've read in ages. So phantasmagoric, fearlessly out there, and yet it feels like a revelation, piercingly true to gritty human experience and wild as anything you might sense lurking in the Borderland night. It's the borderland speaking to you, a tale told from the future by the wiliest, funniest, most battle-scarred cabrón in the cantina. " —Francisco Goldman, author of The Interior Circuit: A Mexico City Chronicle

"Tears of the Trufflepig is one of the most thrilling novels I've read in years, a true wild original. By turns a surreal page-turner, a send-up of the consolidation of wealth, and an excavation of life on the border, this novel doesn't bend genre: it explodes the precedents and creates something completely new. Fernando A. Flores is the kind of writer who will reinvigorate your faith in the power of literature." —Laura van den Berg, author of The Third Hotel

"Dear Reader, do you want to experience something wonderfully new, something dizzyingly wild, something utterly strange? Do you want to discover an imagination of beauty and humor and horror and majesty? Do you want to see the world afresh? If so, then Fernando A. Flores is for you. I know, for I have met the Trufflepig and I shall never be the same again." —Edward Carey, author of Little

"Fernando A. Flores has created a world that looks a lot like ours, but without the fat, without the self-complacency, and without the shadows that impede us from seeing the universal drama happening before our eyes. Tears of the Trufflepig is a beautiful story about the struggle between the profane and the sacred and what we can do about it." —Yuri Herrera, author of Signs Preceding the End of the World

"Fernando A. Flores's wonderfully weird, myth-making Tears of the Trufflepig brings us to that hot land of absurdity: the US-Mexico border, all the while stretching ideas of family, fantasy and the fictions that create us. Flores is funny and fierce and not to be forgotten." — Samantha Hunt, author of The Dark Dark

"I started to think this book was Juan Rulfo meets Philip K. Dick. But Fernando A. Flores smacked me in the head. He sidesteps cliches and expectations. We expect magical realism in a Latino novel as we have come to expect dystopian stories in a sci-fi novel, but his audacity is to ignore all expectations and shoot the moon in any way he chooses. Tears of the Trufflepig is thrilling. Flores has created his own genre." —Luís Alberto Urrea, author of The House of Broken Angels

"With his striking debut novel, Fernando A. Flores has refashioned a world I thought I knew—the Valley, Texas, the strange alchemy of life on a border—into a grotesquely yet familiar fever-dream. His imagined future captures the truth of our uncanny now with frightening accuracy. Funny and tragic and ultimately compelling, Tears of the Trufflepig is a gorgeous and unsettling read." —Manuel Gonzales, author of The Regional Office is Under Attack!

"In Tears of the Trufflepig, the metaphor and actuality of the borderlands shimmer together into a vision of haptic, granular, and superbly controlled, convincing reality. A deep dream. A clear-eyed hallucination. Studded with the sweet delayed snap of the nonchalant reveal, cunning details of new worlds—demimondes, hellscapes, mythic lands— bloom naturally from scene to scene. Fernando A. Flores writes like a hard-boiled psychotropic angel." —Eugene Lim, author of Dear Cyborgs
MCD x FSG Originals, 9780374538330, 336pp.
Publication Date: May 14, 2019
About the Author
Fernando A. Flores was born in Reynosa, Tamaulipas, Mexico, and grew up in South Texas. He is the author of the collection Death to the Bullshit Artists of South Texas and the novel Tears of the Trufflepig, which was long-listed for the Center for Fiction First Novel Prize and named a best book of 2019 by Tor.com. His fiction has appeared in the Los Angeles Review of Books Quarterly, American Short Fiction, Ploughshares, Frieze, Porter House Review, and elsewhere. He lives in Austin, Texas.