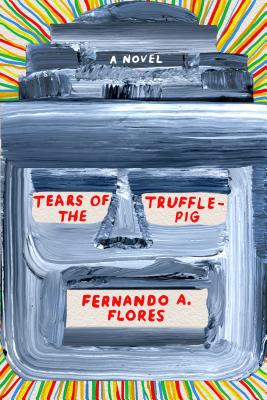 Tears of the Trufflepig (Paperback)
A Novel
MCD x FSG Originals, 9780374538330, 336pp.
Publication Date: May 14, 2019
* Individual store prices may vary.
Description
One of Lit Hub and The Millions's Most Anticipated Books of 2019

"Funny, futuristic, phenomenal, Fernando A. Flores is from another galaxy. Fasten your seat belt. You are in for a stupendous ride." —Sandra Cisneros
A parallel universe. South Texas. Narcotics are legal and there's a new contraband on the market: ancient Olmec artifacts, shrunken indigenous heads, and filtered animals—species of animals brought back from extinction to clothe, feed, and generally amuse the very wealthy. Esteban Bellacosa has lived in the border town of MacArthur long enough to know to keep quiet and avoid the dangerous syndicates who make their money through trafficking.
But his simple life starts to get complicated when the swashbuckling investigative journalist Paco Herbert invites him to come to an illegal underground dinner serving filtered animals. Bellacosa soon finds himself in the middle of an increasingly perilous, surreal, psychedelic journey, where he encounters legends of the long-disappeared Aranaña Indian tribe and their object of worship: the mysterious Trufflepig, said to possess strange powers.
Written with infectious verve, bold imagination, and oddball humor, Fernando A. Flores's debut novel, Tears of the Trufflepig, is an absurdist take on life along the border, an ode to the myths of Mexican culture, a dire warning against the one percent's determination to dictate society's decline, and a nuanced investigation of loss. It's also the perfect introduction for Flores: a wonderfully weird, staggeringly smart new voice in American fiction, and a mythmaker of the highest order.
About the Author
Fernando A. Flores was born in Reynosa, Tamaulipas, Mexico, and grew up in South Texas. He is the recipient of a 2014 literary award from the Alfredo Cisneros Del Moral Foundation. His writing has appeared in the Bilingual Review, The Texas Observer, Huizache, Bat City Review, and New Border Voices: An Anthology. He lives in Austin, Texas, where he works as a bookseller.
Praise For Tears of the Trufflepig: A Novel…
"Dear Reader, do you want to experience something wonderfully new, something dizzyingly wild, something utterly strange? Do you want to discover an imagination of beauty and humor and horror and majesty? Do you want to see the world afresh? If so, then Fernando A. Flores is for you. I know, for I have met the Trufflepig and I shall never be the same again." —Edward Carey, author of Little
"Fernando A. Flores's wonderfully weird, myth-making Tears of the Trufflepig brings us to that hot land of absurdity: the US-Mexico border, all the while stretching ideas of family, fantasy and the fictions that create us. Flores is funny and fierce and not to be forgotten." — Samantha Hunt, author of The Dark Dark
"Tears of the Trufflepig is of the most thrilling novels I've read in ages, a true wild original. By turns a surreal page-turner, a send-up of the consolidation of wealth, and an excavation of life on the border, this novel doesn't bend genre: it explodes the precedents and creates something completely new. Fernando A. Flores is the kind of writer who will reinvigorate your faith in the power of literature." —Laura van den Berg, author of The Third Hotel
"I started to think this book was Juan Rulfo meets Philip K. Dick. But Fernando A. Flores smacked me in the head. He sidesteps cliches and expectations. We expect magical realism in a Latino novel as we have come to expect dystopian stories in a sci-fi novel, but his audacity is to ignore all expectations and shoot the moon in any way he chooses. Tears of the Trufflepig is thrilling. Flores has created his own genre." — Luís Alberto Urrea, author of The House of Broken Angels
"With his striking debut novel, Fernando A. Flores has refashioned a world I thought I knew—the Valley, Texas, the strange alchemy of life on a border—into a grotesquely yet familiar fever-dream. His imagined future captures the truth of our uncanny now with frightening accuracy. Funny and tragic and ultimately compelling, Tears of the Trufflepig is a gorgeous and unsettling read." —Manuel Gonzales, author of The Regional Office is Under Attack!
"In Tears of the Trufflepig, the metaphor and actuality of the borderlands shimmer together into a vision of haptic, granular, and superbly controlled, convincing reality. A deep dream. A clear-eyed hallucination. Studded with the sweet delayed snap of the nonchalant reveal, cunning details of new worlds—demimondes, hellscapes, mythic lands— bloom naturally from scene to scene. Fernando A. Flores writes like a hard-boiled psychotropic angel." —Eugene Lim, author of Dear Cyborgs