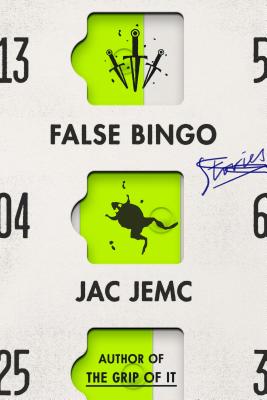 False Bingo
Stories
Paperback

* Individual store prices may vary.
Other Editions of This Title:
Digital Audiobook (10/28/2019)
Description
"Combines the otherworldliness of Jeff VanderMeer's "Annihilation," the menacing irony of Shirley Jackson and the cold feminist fury of Margaret Atwood" --The New York Times Book Review

Named a Fall Read by The Boston Globe and the Chicago Tribune

The mundane becomes sinister in a disquieting story collection from the author of The Grip of It

In Jac Jemc's dislocating second story collection, False Bingo, we watch as sinister forces—some supernatural, some of this earth, some real and some not—work their ways into the mundanity of everyday life.

In "Strange Loop," an outcast attempting to escape an unnamed mistake spends his days taxiderming animals, while in "Delivery," a family watches as their dementia-addled, basement-dwelling father succumbs to an online shopping addiction. "Don't Let's" finds a woman, recently freed from an abusive relationship, living in an isolated vacation home in the South that might be haunted by breath-stealing ghosts.

Fueled by paranoia and visceral suspense, and crafted with masterful restraint, these seventeen stories explore what happens when our fears cross over into the real, if only for a fleeting moment. Identities are stolen, alternate universes are revealed, and innocence is lost as the consequences of minor, seemingly harmless decisions erupt to sabotage a false sense of stability. "This is not a morality tale about the goodness of one character triumphing over the bad of another," the sadistic narrator of "Pastoral" announces. Rather, False Bingo is a collection of realist fables exploring how conflicting moralities can coexist: the good, the bad, the indecipherable.
Praise For False Bingo: Stories…
"[A] wide-ranging, zany collection that somehow combines the otherworldliness of Jeff VanderMeer's "Annihilation," the menacing irony of Shirley Jackson and the cold feminist fury of Margaret Atwood. Love the book or not, there's no denying that Jemc has a gift for making you want to keep reading. It's refreshing to witness a writer flexing in so many expository modes." --Siobhan Jones, The New York Times Book Review

"[Jemc's] stories — as surreal as they are scary — dwell magnificently in the realm of the upsetting yet pleasingly confounding. Ultimately, it's the details of reality — the things that can and do happen all the time — that make the stories shine, for Jemc knows how to use mundanity to throw the truly bizarre into sharp relief . . . The book flies by, because Jemc knows how to deploy both brevity and irresolution. Story after story exhibits the understanding that it's usually creepier to wonder than to know." --Kathleen Rooney, Chicago Tribune

"Jemc reveals herself to be an ambitious writer willing to take risks for the sake of cutting into the heart of something sinister . . . these stories beg to be reread and reexamined, and, in so doing, the grand scheme of the author's thematic vision becomes clearer. She leaves it to readers to piece together the jagged edged remains of her broken characters and their shame, but the doomishness of it doesn't come entirely without levity . . . These stories, when experienced as a whole, will linger with readers as they attempt to complete the puzzle Jemc has left for us to solve." --Leah Rodriguez, Paperback Paris

"A smoothly coordinated investigation of the human tendency toward blind spots and bad assumptions . . . [Jemc] turns her utter command of her materials toward wild and stirring ends." --Daphne Sidor, Lambda Literary

"Jemc's ability to build an undercurrent of threat in mundane situations is reminiscent of Shirley Jackson. She displays dexterity with characters and precision with words and sentences, creating small worlds that satisfy even as they disturb." --Shelf Awareness

"Jemc's electric, nimble collection plumbs its characters' most intimate relationships and unearths potent hidden truths . . . . Many of these stories are only a few pages, allowing Jemc to deliver a range of payoffs, some unsettling, some poignant, all evocative. This constantly shifting collection will leave readers beguiled." --Publishers Weekly (starred review)

"Jemc's stories revel in disquiet . . . Jemc's insistence on her stories' rights not to resolve their dilemmas is the thread that binds this book together . . . [False Bingo will] delight [a reader] willing to learn how these particular stories want to be read. Tense, well-imagined." --Kirkus

"20 electrifying short stories, some no longer than a few pages, but every one odd and memorable for wildly different reasons . . . A writer compared to Shirley Jackson and Henry James, Jemc continues to solidify her standing as a talented writer of the uncanny, the horrifying, and the hilarious." --Booklist
MCD x FSG Originals, 9780374538354, 240pp.
Publication Date: October 8, 2019
About the Author
Jac Jemc is the author of False Bingo, The Grip of It, My Only Wife, and A Different Bed Every Time. My Only Wife was a finalist for the 2013 PEN/Robert W. Bingham Prize for Debut Fiction and winner of the Paula Anderson Book Award, and her story collection False Bingo won the Chicago Review of Books Award for Fiction, was a Lambda Award finalist, and was long-listed for the Story Prize. Jemc currently teaches creative writing at the University of California San Diego.