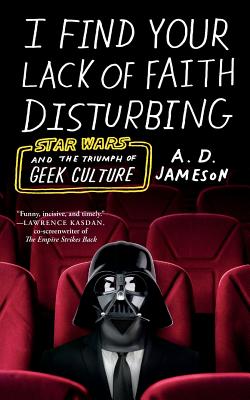 I Find Your Lack of Faith Disturbing (Paperback)
Star Wars and the Triumph of Geek Culture
Farrar, Straus and Giroux, 9780374538439, 300pp.
Publication Date: May 14, 2019
Other Editions of This Title:
Digital Audiobook (5/21/2018)
Hardcover (5/8/2018)
* Individual store prices may vary.
Description
"Funny, incisive, and timely..." —Lawrence Kasdan, co-screenwriter of The Empire Strikes Back, Return of the Jedi, The Force Awakens, and Solo: A Star Wars Story

A.D. Jameson celebrates the triumph of geekdom in I Find Your Lack of Faith Disturbing, an insightful and irreverent journey through the science fiction, fantasy, and superhero franchises that now dominate pop culture.
From the rise of geekdom from its underground origins to the top of the box office and bestseller lists, A.D. Jameson explores the mainstream acceptance and cultural value of The Lord of the Rings, Guardians of the Galaxy, Harry Potter, Star Trek, and, in particular, Star Wars—as well as phenomena like fan fiction, cosplay, and YouTube parodies. Along the way, he blasts through the clichés surrounding geek culture: that its fans are mindless consumers who will embrace all things Spider-Man or Batman, regardless of quality; or that the popularity and financial success of Star Wars led to the death of ambitious filmmaking.
A lifelong geek, Jameson shines a new light on beloved classics, explaining the enormous love—and hate—they are capable of inspiring in fan and non-fan alike, while exploding misconceptions as to how and why they were made. I Find Your Lack of Faith Disturbing tells the story of how the geeks have inherited the earth.
About the Author
A. D. Jameson is the author of several books, including Cinemaps, a collaboration with the artist Andrew DeGraff. A former blogger for HTML Giant, his fiction has appeared in Conjunctions, Denver Quarterly, Unstuck, and elsewhere. He is a PhD candidate in the Program for Writers at the University of Illinois in Chicago.
Praise For I Find Your Lack of Faith Disturbing: Star Wars and the Triumph of Geek Culture…
"Who is the audience for this book? I'm going to say everybody. . . . Jameson writes with an easy, welcoming prose style, as though you and he are friends, sitting around chatting about Wookiees and Spock, Josh Whedon, Kermit the Frog, and the One Ring." —Charles de Lint, The Magazine of Fantasy & Science Fiction
"A thoroughly engaging and enjoyable look at the evolution of geek culture over the past four decades." —Kristine Huntley, Booklist

"As a huge Star Wars fan and all-around nerd, I knew I had to have this as soon as I read about it. Being a nerd/geek wasn't always cool, and this is a funny, well-researched memoir/case study of geekdom. I'm loving every page and trying not to read it too fast, because I want to savor it." —Jaime Herndon, Bookriot

"[I Find Your Lack of Faith Disturbing] explores a broad range of geekish enthusiasms, from comic books to the inescapable comic book movie adaptations to SFF movies of all types, and it's all deeply refreshing for two main reasons: Jameson always respects the intelligence of his readers, and he always keeps the geekdom phenomenon firmly in its broader social context." —Steve Donoghue, Open Letters Review