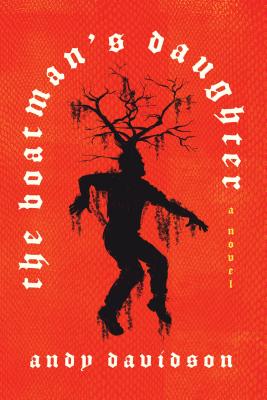 The Boatman's Daughter
A Novel
Paperback

* Individual store prices may vary.
Description
"Go read Andy Davidson's lush nightmare, The Boatman's Daughter. It put an arrow through my head and heart." —Paul Tremblay, author of Growing Things

"Ample bloodshed is offset by beautiful prose . . . A stunning supernatural Southern Gothic." —Kirkus (starred)

Ever since her father was killed when she was just a child, Miranda Crabtree has kept her head down and her eyes up, ferrying contraband for a mad preacher and his declining band of followers to make ends meet and to protect an old witch and a secret child from harm.

But dark forces are at work in the bayou, both human and supernatural, conspiring to disrupt the rhythms of Miranda's peculiar and precarious life. And when the preacher makes an unthinkable demand, it sets Miranda on a desperate, dangerous path, forcing her to consider what she is willing to sacrifice to keep her loved ones safe.

With the heady mythmaking of Neil Gaiman and the heartrending pacing of Joe Hill, Andy Davidson spins a thrilling tale of love and duty, of loss and discovery. The Boatman's Daughter is a gorgeous, horrifying novel, a journey into the dark corners of human nature, drawing our worst fears and temptations out into the light.
Praise For The Boatman's Daughter: A Novel…
*Named a Best Book of the Year by NPR, The New York Public Library and the Washington Independent Review of Books*

"Gothic and surreal and fascinating . . . I will definitely be seeking out more from the author."
—Roxane Gay, The Audacity newsletter

"Creepy and dark, this book was pulled from the mud of some nameless bayou in the middle of the night. Yes, there's plenty of weirdness, violence and gore here, but also memorable characters and a lot of heart. This is a supernatural Southern Gothic in which the darkness of the past and the bloodshed of the present dance together beautifully via superb prose and the kind of pacing you seldom find in this subgenre. It's rare to find novels that give you profound familial love and severed heads in Styrofoam coolers, but this one does that and more."
—NPR

"What if I told you there was a gorgeously written novel that mixed Southern Gothic à la Flannery O'Connor, backwoods noir, and the mythic imagination of Clive Barker? Go read Andy Davidson's lush nightmare, The Boatman's Daughter. It put an arrow through my head and heart."
—Paul Tremblay, author of The Cabin at the End of the World and A Head Full of Ghosts

"An inverted fairytale . . . [Andy Davidson is] an extremely talented writer who goes beyond the boundaries of genres to deliver a gripping tale."
—Mystery Tribune

"The gothic, magical horror elements of The Boatman's Daughter come second to, and build upon, a darker, realistic depiction of violence . . . [The novel] teases the supposed line between literary fiction and horror. The characters here are fully fleshed and dynamic, even the relatively minor ones . . . A frightening, sticky, damp story of the bayou."
—Daniel Weaver, Washington Independent Review of Books

"The remote Arkansas bayou is a swirling kaleidoscope of murder, greed, and dark, ancient magic . . . Davidson's captivating horror fable combines the visceral violence of Cormac McCarthy with his own wholly original craftsmanship, weaving rich, folkloric magic with the best elements of a gritty Southern thriller. The book's lightning-fast pace doesn't come at the expense of fully realized, flawed, and achingly human characters. Ample bloodshed is offset by beautiful prose . . . A stunning supernatural Southern Gothic."
—Kirkus Reviews (starred review)

"The Boatman's Daughter is a beautifully written Gothic chiller that will draw you in and hold you tight. Wild and wonderful—a sentence-by-sentence delight."
—Michael Koryta, author of How It Happened

"Davidson's latest is another hauntingly lyrical story that draws readers in with complicated characters and a foreboding setting. Davidson's style is restrained, with a slow burn that explodes at the novel's midpoint, making room for the plot to breathe and unravel toward the satisfying conclusion. This horror novel can claim its rightful place alongside new Southern Gothics like Jesmyn Ward's Sing, Unburied, Sing (2017), Daniel Woodrell's Winter's Bone (2006), and Wiley Cash's A Land More Kind Than Home (2012)."
—Becky Spratford, Booklist

"The Boatman's Daughter is a greasy, magical Southern Gothic fable. Davidson pens a vivid backdrop for his colorful characters to come alive and draw the reader into an eerie supernatural thriller."
—Sadie Hartman, Mother Horror

"Andy Davidson's bone-cracking Southern Gothic, The Boatman's Daughter, is a noir thriller dipped in the dark mud of the bayou, packed with witches, demons, and gods. I was entangled in the dense roots of the story and the rich, aromatic prose from page one. A riveting, powerful, bloody ride you'll never want to leave, despite the dangers within."
—Philip Fracassi, author of Behold the Void

"[Andy] Davidson immerses the reader in ethereal horror in this macabre contemporary thriller set in the swamps of the deep American South . . . With fluid prose and nimble worldbuilding Davidson brings his eerie swamps to life. Fans of the supernatural will savor the slow-burning tension of this heady, atmospheric Southern Gothic."
—Publishers Weekly

"This is the second novel I've read by Andy Davidson, which is to say that I have now visited two dark, well-realized southern landscapes full of interesting antagonists and cool set pieces. This author's greatest strength is place—he takes you there. You can almost smell the flora in the marsh, feel the planks of the rough-built structures under your bare feet. The Boatman's Daughter is a supernatural cousin to Daniel Woodrell's gritty Ozarks thrillers; a sensual wetlands fable rich in sensory detail and replete with Slavic folklore."
—Christopher Buehlman, author of The Suicide Motor Club

"The Boatman's Daughter—a beautiful and brutal Southern Gothic that enchants and horrifies and hits like a wrecking ball from its opening pages—is fantastic in every sense of the word. Fans of Lansdale, Piccirilli, and McCarthy will dig this wholeheartedly, though the alchemy and magic here are Davidson's own and mark him as a major voice in modern dark fiction."
—Jeremy Robert Johnson, author of Entropy in Bloom and Skullcrack City
MCD x FSG Originals, 9780374538552, 416pp.
Publication Date: February 11, 2020
About the Author
Andy Davidson is the Bram Stoker Award nominated author of In the Valley of the Sun and The Boatman's Daughter, which was listed among NPR's Best Books of 2020, the New York Public Library's Best Adult Books of the Year, and Library Journal's Best Horror of 2020. Born and raised in Arkansas, he makes his home in Georgia with his wife and a bunch of cats.