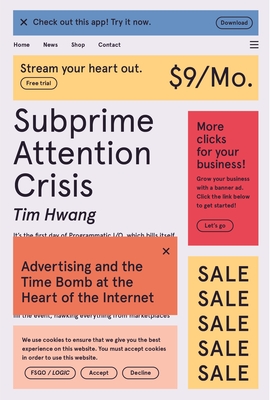 Subprime Attention Crisis
Advertising and the Time Bomb at the Heart of the Internet (FSG Originals x Logic)
Paperback

* Individual store prices may vary.
Description
From FSGO x Logic: a revealing examination of digital advertising and the internet's precarious foundation

In Subprime Attention Crisis, Tim Hwang investigates the way big tech financializes attention. In the process, he shows us how digital advertising—the beating heart of the internet—is at risk of collapsing, and that its potential demise bears an uncanny resemblance to the housing crisis of 2008.

From the unreliability of advertising numbers and the unregulated automation of advertising bidding wars, to the simple fact that online ads mostly fail to work, Hwang demonstrates that while consumers' attention has never been more prized, the true value of that attention itself—much like subprime mortgages—is wildly misrepresented. And if online advertising goes belly-up, the internet—and its free services—will suddenly be accessible only to those who can afford it.

Deeply researched, convincing, and alarming, Subprime Attention Crisis will change the way you look at the internet, and its precarious future.

FSG Originals × Logic dissects the way technology functions in everyday lives. The titans of Silicon Valley, for all their utopian imaginings, never really had our best interests at heart: recent threats to democracy, truth, privacy, and safety, as a result of tech's reckless pursuit of progress, have shown as much. We present an alternate story, one that delights in capturing technology in all its contradictions and innovation, across borders and socioeconomic divisions, from history through the future, beyond platitudes and PR hype, and past doom and gloom. Our collaboration features four brief but provocative forays into the tech industry's many worlds, and aspires to incite fresh conversations about technology focused on nuanced and accessible explorations of the emerging tools that reorganize and redefine life today.
Praise For Subprime Attention Crisis: Advertising and the Time Bomb at the Heart of the Internet (FSG Originals x Logic)…
"[A] bracing debut . . . Using apt analogies and accessible terminology, Hwang makes a persuasive case that the internet bubble is bound to burst. This wake-up call rings loud and clear." --Publishers Weekly

"A deep dive into the marketplace that is the internet . . . Thoughtful citizens of the digital world will want to have a look at Hwang's intriguing exploration." --Kirkus

"In this well-grounded, heretical attack on the fictions that uphold the online advertising ecosystem, Subprime Attention Crisis destroys the illusion that programmatic ads are effective and financially sound. One can only hope that this book will be used to pop the bubble that benefits so few." --danah boyd, author of It's Complicated: The Social Lives of Networked Teens, founder of Data & Society, and Principal Researcher at Microsoft Research

"Digital promised us a new era of ad targeting and accountability, but today's marketer is wrestling with programmatic's murky measurement standards, costly information arbitrage, and outright click fraud. Subprime Attention Crisis examines the commoditization of attention, and draws an important analogy with the opacity and exuberance in real estate that ushered in the 2008-9 financial crisis. Most importantly, Tim Hwang reminds us that a precipitous crash of the digital advertising model would extend far beyond an industry bubble burst to fundamentally threaten the business model of the web we all rely on." --Perry Hewitt, renowned marketing and digital strategy consultant, and advisor to Harvard Business School's Digital Initiative
FSG Originals, 9780374538651, 176pp.
Publication Date: October 13, 2020
About the Author
Tim Hwang is a writer and researcher. He is the former director of the Harvard-MIT Ethics and Governance of AI Initiative, and previously served as the global public policy lead for artificial intelligence and machine learning at Google. His work has appeared in The New York Times, The Washington Post, Wired, The Atlantic, and The Wall Street Journal, among other publications. He lives in New York City.