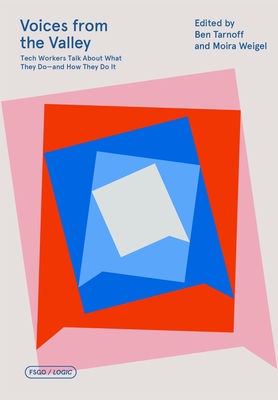 Voices from the Valley
Tech Workers Talk About What They Do--and How They Do It (FSG Originals x Logic)
Paperback

* Individual store prices may vary.
Description
From FSGO x Logic: anonymous interviews with tech workers at all levels, providing a bird's-eye view of the industry

In Voices from the Valley, the celebrated writers and Logic cofounders Moira Weigel and Ben Tarnoff take an unprecedented dive into the tech industry, conducting unfiltered, in-depth, anonymous interviews with tech workers at all levels, including a data scientist, a start-up founder, a cook who serves their lunch, and a PR wizard. In the process, Weigel and Tarnoff open the conversation about the tech industry at large, a conversation that has previously been dominated by the voices of CEOs. Deeply illuminating, revealing, and at times lurid, Voices from the Valley is a vital and comprehensive view of an industry that governs our lives.

FSG Originals × Logic dissects the way technology functions in everyday lives. The titans of Silicon Valley, for all their utopian imaginings, never really had our best interests at heart: recent threats to democracy, truth, privacy, and safety, as a result of tech's reckless pursuit of progress, have shown as much. We present an alternate story, one that delights in capturing technology in all its contradictions and innovation, across borders and socioeconomic divisions, from history through the future, beyond platitudes and PR hype, and past doom and gloom. Our collaboration features four brief but provocative forays into the tech industry's many worlds, and aspires to incite fresh conversations about technology focused on nuanced and accessible explorations of the emerging tools that reorganize and redefine life today.
Praise For Voices from the Valley: Tech Workers Talk About What They Do--and How They Do It (FSG Originals x Logic)…
"[Voices from the Valley] gives us a sharper view into the perspectives of those who shape so much of our world today . . . [The interviews] add complexity to the often self-flattering narratives the tech industry tells about itself . . . The lessons provided in Voices from the Valley are more insightful than those in any of the hagiographies we're usually served up about tech founders." --Clio Chang, The Nation

"Tarnoff and Weigel are skilled interviewers, able to coax ambling conversations centered on the small-talk-killing question 'What do you do?' into odd and delightful directions . . . I found myself wanting to read these people's memoirs. They come alive, even in anonymity, and for Tarnoff and Weigel, that's a sign of a job well done." --Gregory Barber, Wired

"One of the many virtues of Voices from the Valley, Moira Weigel and Ben Tarnoff's curiously unputdownable anthology of testimonies from tech workers, is the quality of attention in which it trains us . . . [stokes] curiosity and anger in equal measure . . . this collection shows just how much listening can do." --Leah Price, Public Books

"Tarnoff and Weigel use crisp, knowing interviews to address the labor and class ferment percolating beneath the tech industry's sleek exterior . . . While indicting a business culture of privilege and profit-minded willful blindness, the interviews also showcase thoughtful and socially engaged—if wonky—personalities . . . Relevant augury for technology's future during a tech-dependent, dysfunctional historical moment." --Kirkus

"Eye-opening . . . This insightful account does much to illuminate an industry often shrouded in secrecy. " --Publishers Weekly

"For decades, Silicon Valley has told its own stories on its own terms. Voices From the Valley quietly subverts these self-made mythologies, by giving tech workers—from a cafeteria contractor to a founder who failed up—a new platform to speak for themselves. Through seven straightforward, honest, insightful, anonymous accounts, readers are offered a glimpse of the business values, politics, motivations and mundanities animating one of the twenty-first century's most opaque and influential power centers. Timely and important, and an exciting new genre of tech narrative; hopefully the first of many such chronicles to come." --Anna Wiener, author of Uncanny Valley

"Voices from the Valley is in the fine tradition of Stud Terkel's Working. People working in technology, from a founder to a cook, speak directly to us. Ever more urgent in this digital age." --Ellen Ullman, author of Close to the Machine and Life in Code
FSG Originals, 9780374538675, 176pp.
Publication Date: October 13, 2020
About the Author
Ben Tarnoff is the author of the books A Counterfeiter's Paradise and The Bohemians and is a cofounder of Logic magazine. His writing has appeared in The Guardian, The New Republic, Jacobin, and Lapham's Quarterly, among other publications. He lives in Cambridge, Massachusetts.

Moira Weigel is the author of Labor of Love: The Invention of Dating. Her writing has appeared in The New York Times,The Atlantic, The New Yorker, The Guardian, The Nation, The New Republic, and n+1, among other publications, and she is a cofounder of Logic magazine. She received a fellowship to the Harvard Society of Fellows in 2016 and lives in Cambridge, Massachusetts.