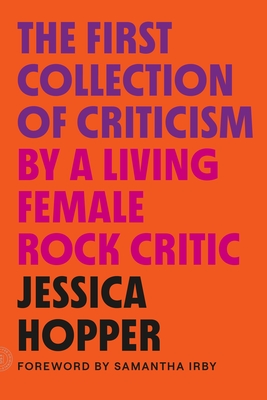 The First Collection of Criticism by a Living Female Rock Critic
Revised and Expanded Edition
Paperback

* Individual store prices may vary.
Other Editions of This Title:
Digital Audiobook (7/5/2021)
Paperback (5/12/2015)
Description
"Jessica Hopper's criticism is a trenchant and necessary counterpoint not just on music, but on our culture at large." —Annie Clark, St. Vincent

An acclaimed, career-spanning collection from a fiercely feminist and revered contemporary rock critic, reissued with new material

Throughout her career, spanning more than two decades, Jessica Hopper, a revered and pioneering music critic, has examined women recording and producing music, in all genres, through an intersectional feminist lens. The First Collection of Criticism by a Living Female Rock Critic features oral histories of bands like Hole and Sleater Kinney, interviews with the women editors of 1970s-era Rolling Stone, and intimate conversations with iconic musicians such as Björk, Robyn, and Lido Pimienta. Hopper journeys through the truths of Riot Grrrl's empowering insurgence; decamps to Gary, Indiana, on the eve of Michael Jackson's death; explodes the grunge-era mythologies of Nirvana and Courtney Love; and examines the rise of emo. The collection also includes profiles and reviews of some of the most-loved, and most-loathed, women artists making music today: Fiona Apple, Kacey Musgraves, M.I.A., Miley Cyrus, Lana Del Rey.

In order for the music industry to change, Hopper writes, we need "the continual presence of radicalized women . . . being encouraged and given reasons to stay, rather than diminished by the music which glues our communities together." The First Collection of Criticism by a Living Female Rock Critic—published to acclaim in 2015, and reissued now with new material and an introduction by Samantha Irby—is a rallying cry for women-centered history and storytelling, and a groundbreaking, obsessive, razor-sharp panorama of music writing crafted by one of the most influential critics of her generation.
Praise For The First Collection of Criticism by a Living Female Rock Critic: Revised and Expanded Edition…
"[The First Collection of Criticism by a Living Female Rock Critic is] a rallying cry for anyone who's ever loved music and anyone who's ever wanted to change the world." --Marianela D'Aprile, Jacobin

"Prolific and inimitable writer Hopper lays bare a storied career and a true gift for music journalism . . . Hopper's writing spans generations and genres . . . [She] is an artist whose curiosity about creativity has produced a stunning body of work, both in breadth and skill, and this is her lyrical, observant magnum opus." --Booklist (starred review)

"[A] revised and expanded edition that hits just as hard . . . This fiery work is the literary equivalent of a maxed-out Marshall stack." --Publishers Weekly (starred review)

"Essential reading . . . A canny blend of punkish attitude and discographical smarts that blasts boys-club assumptions about pop music." --Kirkus (starred review)

"This revised and expanded edition adds several new dimensions . . . The First Collection of Criticism by a Living Female Rock Critic enters the turbulence of 2021 as furiously edifying as ever. It ends on a breathtaking afterword that proves, while this might not actually be the first collection of its type, for a generation of punks and radicals – especially those of marginalised genders fighting for their place in the world – it remains the most essential." --Kristy Diaz, The Skinny

Praise for the first edition:

"[The First Collection of Criticism by a Living Female Rock Critic] is by turns loose and warm and finicky and outraged, and its best pieces are more observant than 94 percent of the first novels that have come my way this year." --Dwight Garner, The New York Times

"An airtight case for why the professional critic still matters, and why it is a thrill to spend time in the presence of someone whose job it is to care so much and so intelligently." —Kathleen Rooney, Chicago Tribune

"The First Collection is a game-changer, a godsend, and a Holy Grail for those who have been forced to reside on the fringe of the notoriously 'male-dominated sphere' of rock criticism and fandom [...] Hopper's work, influence, and unwavering support for the diversification of voice and perspective within music journalism have altered the landscape of rock criticism for the better. It may be the first collection of criticism written by a female rock critic, but it's definitely not the last." —Dianca Potts, The Village Voice

"A game-changing collection of writing . . . Hopper has created a bible for aspiring writers, not just music critics." —Jessica Goodman, Huffington Post

"Hopper is one of the most vital and prolific music critics around . . . the book brims with Hopper's lean prose and mic-dropping one-liners." —Paula Mejia, Newsweek

"Jessica Hopper has become a mandatory name in the world of music criticism, and this latest collection is the icing on the cake. At the book's heart, you'll find a funny, thoughtful writer whose extensive journalism career cements her as a lasting voice in the genre." —Mack Hayden, Paste

"I read Hopper's work with a sense of bewildered gratitude. She concedes nothing to the idea that it is dumb to care so much. The excitement in her work comes from her faith that these things are worth scrapping about." —Rob Sheffield, author of Love is a Mixtape
MCD x FSG Originals, 9780374538996, 448pp.
Publication Date: July 6, 2021
About the Author
Jessica Hopper is the author of the books The First Collection of Criticism By A Living Female Rock Critic and Night Moves. Her writing has appeared in GQ, Rolling Stone, The New York Times Magazine, The Guardian, Elle, and Bookforum, among other outlets. A long time contributor to the Chicago Reader, she has been a columnist for the Village Voice and Chicago Tribune, the music consultant for This American Life, the editorial director for MTV News, and a senior editor at Pitchfork and Rookie. Her essays have appeared in several editions of Best Music Writing, and she currently serves as series editor of the American Music Series at the University of Texas Press.