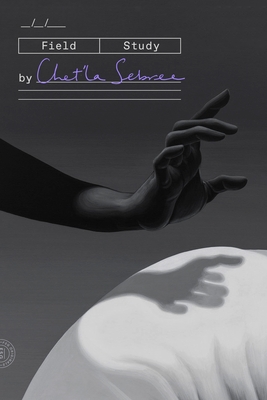 Field Study
Paperback

* Individual store prices may vary.
Description
Winner of the 2020 James Laughlin Award from the Academy of American Poets

"Layered, complex, and infinitely compelling, Chet'la Sebree's Field Study is a daring exploration of the self and our interactions with others—a meditation on desire, race, loss and survival." --Natasha Trethewey, Pulitzer Prize-winning author of Memorial Drive

Chet'la Sebree's Field Study is a genre-bending exploration of black womanhood and desire, written as a lyrical, surprisingly humorous, and startlingly vulnerable prose poem

I am society's eraser shards—bits used to fix other people's sh*t, then discarded. Somehow still a wet nurse, from actual babes to Alabama special elections.

Seeking to understand the fallout of her relationship with a white man, the poet Chet'la Sebree attempts a field study of herself. Scientifically, field studies are objective collections of raw data, devoid of emotion. But during the course of a stunning lyric poem, Sebree's control over her own field study unravels as she attempts to understand the depth of her feelings in response to the data of her life. The result is a singular and provocative piece of writing, one that is formally inventive, playfully candid, and soul-piercingly sharp.

Interspersing her reflections with Tweets, quips from TV characters, and excerpts from the Black thinkers—Audre Lorde, Maya Angelou, Tressie McMillan Cottom—that inspire her, Sebree analyzes herself through the lens of a society that seems uneasy, at best, with her very presence. She grapples with her attraction to, and rejection of, whiteness and white men; probes the malicious manifestation of colorism and misogynoir throughout American history and media; and struggles with, judges, and forgives herself when she has more questions than answers. "Even as I accrue these notes," Sebree writes, "I'm still not sure I've found the pulse."

A poem of love, heartbreak, womanhood, art, sex, Blackness, and America—sometimes all at once—Field Study throbs with feeling, searing and tender. With uncommon sensitivity and precise storytelling, Sebree makes meaning out of messiness and malaise, breathing life into a scientific study like no other.
Praise For Field Study…
" This is a book that demands the verb form of its title. You must study it, there is simply no other way to engage . . . Through open, flexible language, and a speaker who simultaneously demurs and delights in her appetites, Sebree has penned a portrait of ongoing discovery and reclamation." --Laura Evers, Chicago Review of Books

"Part prose, part poem, and interspersed with snippets of pop-culture and relevant quotes from Black thinkers such as Audre Lorde and Tressie McMillan Cottom, the book examines Sebree's struggle to articulate self and its intersection with Whiteness both the desire for and rejection of it. After almost every page I couldn't help thinking, 'I wish I'd read this sooner.'" --Dantiel W. Moniz, The Lily

"Black womanhood, the unyielding past, bonds forged and broken--all are powerfully explored in ways that allow the reader to feel present in each poem, walking with the narrator and bearing witness to moments of racism and violence." --Library Journal (starred review)

"[Field Study] is playfully aware of its own genre-bending fluidity, a casual narrative formed by its many notes, retractions, and revisions, marking out the scathing impossibility for any single objective reading to open up the past . . . As a study toward illegibility Field Study succeeds in embracing the inconclusive histories, flaws, and dreams of subjecthood." --Jay G Ying, Poetry Foundation

"Field Study is a story told in revolutions, the narrative turning over and forward while referring to observations made pages earlier, like notetaking . . . one feels these are sentences written in real-time, immediately as we encounter them on the page . . . one understands through this book that "truth in poetry" depends not on the record of information but on experience: a life represented in metaphor, the patterns of language that make a time-signature through which we listen." --Christian Wessels, Ploughshares

"Ravishing and deeply personal . . . Messy in structure but precise in its storytelling, Sebree grapples with the insufficiency of data to fully capture a self, and a people. Fans of Claudia Rankine and Maggie Nelson shouldn't miss it." --Chicago Review of Books

"Layered, complex, and infinitely compelling, Chet'la Sebree's Field Study is a daring exploration of the self and our interactions with others—a meditation on desire, race, loss and survival. In this moment of American reckoning, Sebree shows us—intimately and with vulnerability—the truth of our shared history: that 'even when we aren't talking about race we are.'" --Natasha Trethewey, Pulitzer Prize-winning author of Memorial Drive

"Woven from the rough threads of race, legacy, and love, Field Study is a groundbreaking book that vibrates with truth and lyrical beauty. A profound poetic talent, Chet'la Sebree has created a brilliant book that both haunts and heals."--Ada Limón, author of The Carrying, winner of the 2018 National Book Critics Circle Award for Poetry

"With its steady capture of memory recalled, quotes, moments from real and represented (fictive) life, Chet'la Sebree's Field Study assembles an exquisite, if not propulsive leap into the aftermath of a relationship with a white man--only to land with the grace of a skilled dancer. Elliptically reminiscent of Lily Hoang's Bestiary and Sarah Manguso's Ongoingness, this is not an auto-ethnography by a Black woman, but an immaculate bricolage that both confronts and reckons various channels of knowing and being with the messy, complicated desires of inter- and intra-racial relationships. Here is a woman who does not "avoid speaking a violence." Of a wound in healing, Sebree "pick[s] until no remnants of a scab exist;" in peering deeply into the crevasses of pop culture, critical race studies, and literature, she clears the surface not for restoration, but unhindered transcendence." --Diana Khoi Nguyen, author of Ghost Of, finalist for the 2018 National Book Award for Poetry

"Chet'la Sebree's Field Study is a long look at those aspects of a self that are often most difficult to look at—chiefly, the woundedness from which we make our loves, and the wounding loves we both flee and mourn. In prose poetry that at crucial moments brilliantly enacts via its syntax the poet's struggle to look away from that which she must record, Sebree has composed an elegy that is, especially in its music, as alive as a celebration." --Shane McCrae, author of The Gilded Auction Block

"Chet'la Sebree's Field Study is a luminous, multi-layered treatise on the complexities of race and desire in America. In contemplating the aftermath of an interracial relationship, the work virtuosically entwines memory with history, literature, pop culture, and critical theory. This is a wise, generous work that holds out hope for all kinds of grace, even as it acknowledges the aches and perils of our current polarized moment. Field Study is a stunning new contribution by an important American voice." --Kiki Petrosino, author of White Blood: A Lyric of Virginia
FSG Originals, 9780374539023, 176pp.
Publication Date: June 1, 2021
About the Author
Chet'la Sebree is the director of the Stadler Center for Poetry and Literary Arts at Bucknell University and the author of Mistress, winner of the 2018 New Issues Poetry Prize and nominated for a 2020 NAACP Image Award. She earned an MFA in creative writing, with a focus in poetry, from American University, and has received fellowships from the Delaware Division of the Arts, the MacDowell Colony, Hedgebrook, Yaddo, Vermont Studio Center, and Robert H. Smith International Center for Jefferson Studies. Her poetry has appeared in the Kenyon Review, Guernica, Pleiades, and elsewhere.