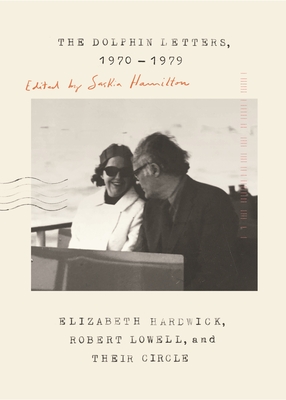 The Dolphin Letters, 1970-1979
Elizabeth Hardwick, Robert Lowell, and Their Circle
Paperback

* Individual store prices may vary.
Other Editions of This Title:
Hardcover (12/10/2019)
Description
The correspondence between one of the most famous couples of twentieth-century literature

The Dolphin Letters offers an unprecedented portrait of Robert Lowell and Elizabeth Hardwick during the last seven years of Lowell's life (1970 to 1977), a time of personal crisis and creative innovation for both writers. Centered on the letters they exchanged with each other and with other members of their circle—writers, intellectuals, friends, and publishers, including Elizabeth Bishop, Caroline Blackwood, Mary McCarthy, and Adrienne Rich—the book has the narrative sweep of a novel, telling the story of the dramatic breakup of their twenty-one-year marriage and their extraordinary, but late, reconciliation.

Lowell's controversial sonnet-sequence The Dolphin (for which he used Hardwick's letters as a source) and his last book, Day by Day, were written during this period, as were Hardwick's influential books Seduction and Betrayal: Essays on Women in Literature and Sleepless Nights: A Novel. Lowell and Hardwick are acutely intelligent observers of marriages, children, and friends, and of the feelings that their personal crises gave rise to.

The Dolphin Letters, masterfully edited by Saskia Hamilton, is a debate about the limits of art—what occasions a work of art, what moral and artistic license artists have to make use of their lives as material, what formal innovations such debates give rise to. The crisis of Lowell's The Dolphin was profoundly affecting to everyone surrounding him, and Bishop's warning to Lowell—"art just isn't worth that much"—haunts.
Praise For The Dolphin Letters, 1970-1979: Elizabeth Hardwick, Robert Lowell, and Their Circle…
"The Dolphin Letters, 1970-1979 . . . will be the essential volume for any understanding of what actually went on. A sort of casebook, it assembles material from all the participants in the turmoil, including Elizabeth Hardwick, whose letters from this period appear in full for the first time. With 'Lizzie' as its principal author, The Dolphin Letters turns out to be a better and a more important book than The Dolphin." —Thomas Mallon, The New Yorker

"A peculiarly fascinating volume containing hundreds of letters between poet Robert Lowell (1917-1977) and his estranged wife, novelist and critic Elizabeth Hardwick (1915-2007). . . . The book includes not just Hardwick's shocked responses to the poems, but also the more outraged reactions of poets Adrienne Rich, who broke off her friendship with Lowell, and Elizabeth Bishop, who famously told Lowell that "art just isn't worth that much."A devastating examination of the limits of the written word." —Kirkus Reviews (Starred Review)

"These letters, which draw from the last years of Lowell's life, detail a profoundly creative time for the couple as well as the breakup of their marriage (and eventual reconciliation). Elizabeth Bishop, Adrienne Rich, Mary McCarthy and other friends make appearances; taken together, the correspondence offers a debate about the cultural role and legacy of art." —Joumana Khatib, The New York Times

"The push and pull of love and anger course through this riveting collection of correspondence between onetime literary power couple Robert Lowell and Elizabeth Hardwick . . . compulsively readable . . . [The Dolphin Letters] illuminates a tumultuous time in two celebrated writers' lives" —Publishers Weekly (Starred review)

"The Hardwick-Lowell correspondence on its own would make a fat book, but a less absorbing and significant one than Hamilton has created by including letters to and from the writers who constituted "their circle." The other voices Hamilton introduces . . . enlarge the picture." —Langdon Hammer, New York Review of Books

"The Dolphin Letters, 1970-1979 brings to life one of literary history's most famous scandals . . . What makes the letters so darkly compelling, and such uneasy, thrilling company . . . is the elemental question of motive. Why do people do what they do? How much do they understand their own impulses and responsibilities?" —Parul Sehgal, The New York Times

"At first glance, the voyeuristic interest offered by the living drama of the messages between Lowell and Hardwick almost outweighs their nature as letters. But neither can put a foot wrong in writing a sentence; each has the instinctive cadence of a born writer, the sophistication of an adult who has seen and felt almost too much, the directness and candor of an intimate acquaintance, and the steady capacity for irony even in sadness. " —Helen Vendler, Harper's

"Saskia Hamilton has performed the miraculous editorial task of putting together [The Dolphin Letters] . . . a gripping story . . . I was on the edge of my seat for the entire time I was reading it . . . It is as intense and as beautifully composed as a well-constructed epistolary novel, but with the added force of being . . . real." —Wendy Lesser, Threepenny Review

"Buoyed by the dialectical elegance of its form, The Dolphin Letters is an extraordinary philosophical inquiry into what is permissible in a work of art . . . Each of their letters was in some sense a private story that partook of life as a means of making sense of shared experience, confirming it or mourning it or holding it to the light. If their correspondence anticipated aspects of their art—a working through of opaque material—it was also the final coherence of a great and conflicted love." —Dustin Illingworth, The Nation

"With graceful authority, poet and editor Saskia Hamilton defines the emotional and literary issues raised by this controversial Pulitzer Prize-winning book, reissued to reveal Lowell's revisions as The Dolphin: Two Versions, 1972–1973 in conjunction with these ensnaring and affecting transatlantic letters between two poets who, in spite of epic hurt, never ceased loving each other." —Booklist
Farrar, Straus and Giroux, 9780374539153, 560pp.
Publication Date: December 1, 2020
About the Author
Elizabeth Hardwick (1915-2007) was a literary critic, a novelist, and one of the founders of The New York Review of Books. She is the author of Sleepless Nights and two other novels, a biography of Herman Melville, and four collections of essays, including Seduction and Betrayal, a study of women in literature.

Robert Lowell (1917-1977) was the renowned and controversial author of many books of poetry, including Day by Day, The Dolphin, and History. FSG also published his Collected Prose in 1987.

Saskia Hamilton is the author of several books of poetry, including Corridor, named one of the best poetry books of 2014 by The New Yorker and The New York Times Book Review. She is the editor of The Letters of Robert Lowell and coeditor of Words in Air: The Complete Correspondence Between Elizabeth Bishop and Robert Lowell. She teaches at Barnard College.