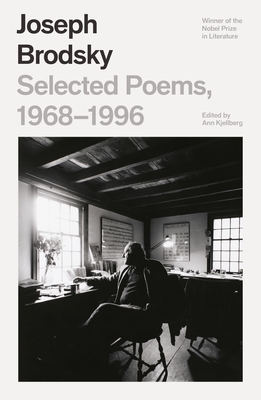 Selected Poems, 1968-1996
Paperback

* Individual store prices may vary.
Description
Joseph Brodsky spent his life advocating for the place of the poet in society. As Derek Walcott said of him, "Joseph was somebody who lived poetry . . . He saw being a poet as being a sacred calling." The poems in this volume span Brodsky's career, which was marked by his expulsion from the Soviet Union in 1972. Together, they represent the project that, as Brodsky said, the "condition we call exile" presented: "to set the next man—however theoretical he and his needs may be—a bit more free."

This edition, edited and introduced by Brodsky's literary executor, Ann Kjellberg, includes poems translated by Derek Walcott, Richard Wilbur, and Anthony Hecht, as well as poems written in English or translated by the author himself. Selected Poems, 1968-1996 surveys Brodsky's tumultuous life and illustrious career and showcases his most notable and poignant work as a poet.
Praise For Selected Poems, 1968-1996…
"We are given the opportunity to observe Brodsky's path of experimentation and discovery. It's not a clean journey, and the full scope of Brodsky's work still eludes English readers, but the collection provides a new opportunity to understand his aesthetic concerns through his aesthetic decisions — to get a better handle on an uncompromising poet through the compromises he makes." —Tyler Dunston, Los Angeles Review of Books

"Kjellberg is challenging those who chafed at Brodsky's risky rhymes and questionable diction. She sidesteps their judgement deftly in order to bring the poet into a more urgent contemporary debate: he becomes one of many whose outsider's view of English has pressed the language into unexpected and innovative shapes." —Stephanie Sandler, The Times Literary Supplement
Farrar, Straus and Giroux, 9780374600365, 192pp.
Publication Date: May 12, 2020
About the Author
Joseph Brodsky (1940-1996) came to the United States in 1972, an involuntary exile from the Soviet Union. He received the Nobel Prize in Literature in 1987 and served as Poet Laureate of the United States in 1991 and 1992.

Ann Kjellberg is the literary executor of Nobel Laureate Joseph Brodsky and the editor of his Selected Poems: 1968-1996, Collected Poems in English, and Nativity Poems. She is also the founding editor of the book reviewing newsletter Book Post.