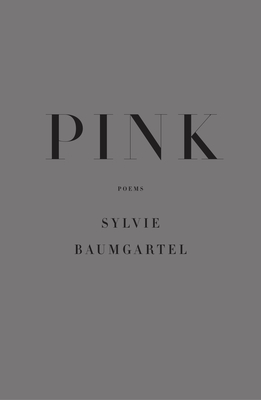 Pink
Poems
Hardcover

* Individual store prices may vary.
Other Editions of This Title:
Paperback (2/22/2022)
Description
A sharp, visceral new collection of poetry that touches on art, history, sex, bodies, language, and the color pink

The sack of Rome,
The siege of Florence.
The lights twinkle pink in Fiesole.
Pink furls, pink buds.
Wet pink veiny hearts in spring.
Pink can mean so many things.

Sylvie Baumgartel's Pink moves from the shadow of the Ponte Vecchio to a mission church in Santa Fe, from Daily Mail reports to a photograph of a girl from Tierra del Fuego, from a grandmother's advice ("Don't go to Smith and don't get fat") to legs wrapped around "a man who calls me cake."

Baumgartel, a poet of fierce, intimate, wry language, delivers a second collection about art, history, violence, bodies, fear, pain, reckoning, and transcendence. The poems travel back to the historical, linguistic, and emotional sources of things while surging forward with a stirring momentum, creating a whirlwind of birth and destruction.
Praise For Pink: Poems…
"One of [Baumgartel's] strengths is her ability to approach grisly subjects without hesitation or theatrical indulgence . . . Baumgartel offers a kinetic and transgressive testament to an age of violence, strangeness, and bewilderment." —Publishers Weekly

"Within the world of a single color, Sylvie Baumgartel's Pink displays an intense and chilling palette: pink of beauty, pink of lust, pink of abandonment. Even framed in the galleries, the paintings she interrogates hold nothing back; often they depict a history unsettlingly alive with blood. These poems remind us we are ourselves inheritors of sexual and political betrayals of the past, of the Old and New Worlds: "David & Goliath / Both have Caravaggio's face— / Victor & victim same." Restlessly seeking vision in the truths of the body, Baumgartel leaves us these fragments of her imagination: perverse and reckless and always precise. Sylvie Baumgartel is writing the most striking poems of our moment." —Richie Hofmann, author of Second Empire

"'All of my violence is in the Prado,' the speaker asserts in Sylvie Baumgartel's arresting second book of poems, Pink. The network of personal, aesthetic and historical associations—revolving around sexual possession, violence, painting, Italy, upbringing—is breathtaking and revelatory, always subverting expectation. In lines disciplined and stark, Baumgartel orchestrates her motifs into poems of lyric grace and unflinching honesty." —Carol Moldaw, author of Beauty Refracted
Farrar, Straus and Giroux, 9780374601201, 80pp.
Publication Date: February 2, 2021
About the Author
Sylvie Baumgartel is the author of Song of Songs (FSG, 2019). Her poems have appeared in The Financial Times, The Paris Review, The Nation, The New York Review of Books, Subtropics, Raritan, Harvard Review, Ploughshares, The Virginia Quarterly Review, the PEN Poetry series, and The Unprofessionals: New American Writing from "The Paris Review." She lives in Santa Fe, New Mexico.