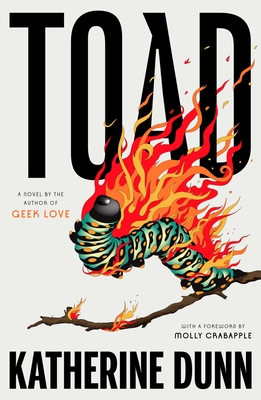 Toad
A Novel
Hardcover

* Individual store prices may vary.
Description
A previously unpublished novel of the reflections of a deeply scarred and reclusive woman, from the cult icon Katherine Dunn, the author of Geek Love.

Sally Gunnar has withdrawn from the world. She spends her days alone at home, reading drugstore mysteries, polishing the doorknobs, waxing the floors. Her only companions are a vase of goldfish, a garden toad, and the door-to-door salesman who sells her cleaning supplies once a month. She broods over her deepest regrets: her blighted romances with self-important men, her lifelong struggle to feel at home in her own body, and her wayward early twenties, when she was a fish out of water among a group of eccentric, privileged young people at a liberal arts college. There was Sam, an unabashed collector of other people's stories; Carlotta, a troubled free spirit; and Rennel, a self-obsessed philosophy student. Self-deprecating and sardonic, Sally recounts their misadventures, up to the tragedy that tore them apart.

Colorful, crass, and profound, Toad is Katherine Dunn's ode to her time as a student at Reed College in the late 1960s. It is filled with the same mordant observations about the darkest aspects of human nature that made Geek Love a cult classic and Dunn a misfit hero. Daring and bizarre, Toad demonstrates her genius for black humor and her ecstatic celebration of the grotesque. Fifty-some years after it was written, Toad is a timely story about the ravages of womanhood and a powerful addition to the canon of feminist fiction.
Praise For Toad: A Novel…
"If Geek Love was a misfit anthem, Toad is a misfit ballad . . . chaotic, intimate and unruly . . . Dunn's style is unlike that of anyone living or dead: simultaneously practical and bonkers; lovely and nasty."
—Molly Young, The New York Times

"Toad is a subdued, haunting novel. It is exhilarating, often disturbing, and as compelling in its way as Dunn's best-known work. For all its sly humor and cool detachment, Toad is a deeply melancholy story, not an elegy for lost youth, but an exorcism."
—Elizabeth Hand, The Washington Post

"Dunn's writing is dynamic and propulsive...Toad [is] a generous inquiry into what makes life worth living."
—Terry Nguyen, Los Angeles Review of Books

"Now, in a year marked by renewed repression and the ominous rolling back of fundamental rights, her anger feels like a warm embrace. We need more women like Sally in the world, and more writers like Dunn to tell their stories. If Toad is indeed the last word we get from the late great author, thank the literary gods she didn't go quietly."
—Sara Batkie, Chicago Review of Books

"[Toad's] anger is raw, bitterly comic and frequently startling."
—Sam Sacks, Wall Street Journal

"Mesmerizing . . . Dunn never lets us get comfortable: Just when the lyrical sentences begin to soar, she yanks up the mellifluous prose and thuds down squat subject-verb-object clunkers . . . Toad, like Dunn herself, is defiantly, triumphantly, its own thing."
—Adrienne Raphel, The New York Times

"A gentle, funny, heartbreaking indictment of the naïve excesses of the 1960s and the testament of a woman who survived them."
—Kirkus (starred review)

"[The characters'] memorable story has flashes of brilliance and is compulsively readable, a feast for fans of the offbeat and a delight for those discovering Dunn's work for the first time."
—Booklist (starred review)

"A sobering look at the reality of what one's glory days actually entailed, shot through with the unmistakable undertow of pain and self-loathing."
—Publishers Weekly

"Toad has the commanding prose of a heavyweight boxer... beautifully rendered."
—Matthew Trueherz, Portland Monthly

"The acerbic, audacious, and autobiographical Toad is a nod to Dunn's coming-of-age at Reed college, and it's a book geeks, devotees, and readers new to Dunn will love."
—Erin Kodicek, Amazon Book Review

"Toad is a remarkable, disquieting, and judiciously revolting posthumous novel about, among other things, unrequited love . . . Beneath the bite and verve of its prose, Toad is attuned to the quietly tectonic nature of intimate relations."
—Hermione Hoby, 4Columns

"With Toad, Katherine Dunn has written a primer for filthy, rhapsodic worship at the altar of the unavoidably real. Both visceral and philosophical, brutal and humane, Toad has the feel of gospel written by an exiled saint. A living, breathing document you don't so much read as shake its glorious, grimy hand."
—Rachel Yoder, author of Nightbitch

"Toad is a gift to those of us who have been dreaming for decades of a new novel from Katherine Dunn, and a book that will bring her many devoted new fans. Nobody's sentences heave and breathe like Dunn's do. Her language scintillates and sheds its scales, revealing truths that nobody else dares to utter, or can. She is Portland's bard of 'the genuine wound,' exploring the deep world within the body and the human animal's capacities for savagery, tenderness, loneliness, friendship, loathing, and love."
—Karen Russell, Pulitzer Prize finalist and author of Orange World and Other Stories

"Toad is, plainly, a masterpiece—a nimble, wry, innovative, and devastating novel. It is painful to know that this novel might have gone unpublished, that Katherine Dunn's brilliant language and her sly commentary about gender, desire, power, and self-direction might never have reached readers. Toad should join the canon of postwar literature, as well as the literature of counterculture, the literature of women's inner lives, the literature of the Pacific Northwest, the literature of America itself. It is a gift."
—Lydia Kiesling, author of The Golden State

"Dark and strange and funny, deeply lived, with a nothing-left-to-lose vibe of radical honesty, Toad is a joy. An unexpected final book from a literary hero, brimming with relatable madness and mendacity, ferocious desire, the fascinating ephemera of connections. Odd and tragic and cool—I loved Toad."
—Michelle Tea, author of Against Memoir
MCD, 9780374602321, 352pp.
Publication Date: November 1, 2022
About the Author
Katherine Dunn is the author of Geek Love, which was a finalist for the National Book Award and the Bram Stoker Award, as well as the novels Attic and Truck. She was an award-winning boxing journalist whose work appeared in Esquire, KO Magazine, The New York Times Magazine, Playboy, The Ring, Sports Illustrated, and Vogue. Her writing on boxing is collected in One Ring Circus. In 2004, Dunn and the photographer Jim Lommasson won the Dorothea Lange–Paul Taylor Prize for their work on the book Shadow Boxers. Dunn died in 2016.