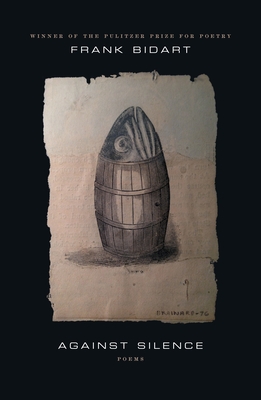 Against Silence
Poems
Hardcover

* Individual store prices may vary.
Other Editions of This Title:
Paperback (11/1/2022)
Description
An urgent new collection from the winner of the Pulitzer Prize and the National Book Award and "one of the undisputed master poets of our time" (Craig Morgan Teicher, NPR)

Words, voices reek of the worlds from which they
emerge: different worlds, each with its all but palpable
aroma, its parameters, limitations, promise.

Words—there is a gap, nonetheless always
and forever, between words and the world—

slip, slide, are imprecise, BLIND, perish.
•
Set up a situation,—
. . . then reveal an abyss.

For more than fifty years, Frank Bidart has given voice to the inner self, to the depths of his own psyche and the unforgettable characters that populate his poems. In Against Silence, the Pulitzer Prize winner's eleventh collection of poetry, Bidart writes of the cycles we cannot escape and the feelings we cannot forget. Our history is not a tabula rasa but a repeating, refining story of love and hate, of words spoken and old cruelties enacted. Moving among the dead and the living, the figures of his life and of his past, Bidart calls reality forth—with nothing settled and nothing forgotten, we must speak.
Praise For Against Silence: Poems…
Named a Best Book of the Year by The Boston Globe and NPR

"Frank Bidart is a gift—we are lucky to have had him writing poetry for a half century. Against Silence is his eleventh collection, and continues his lifelong navigation of the uncertain spaces between haunting and love, and the fertile gap between words and the world." —Jonny Diamond, Lit Hub

"Against Silence is a bold, often painful exploration of regret and mortality . . . When I interviewed Bidart in 2015 for Life of a Poet, he said, 'There is a kind of beast within us that wants to destroy us, and I think people who manage to do what they set out to do have overcome some very profound impulse toward self-destruction.' Few poets have managed to do as much as Bidart." —Ron Charles, The Washington Post

"In Against Silence, [Bidart] seems interested in individual and collective ethics, and sees a threat in silence — both the kind that opposes speech in life and the kind found in death, which we're all up against. His poems float and swerve, at once cinematic and oddly intimate . . . His poems recognize, and help us recognize, the inherent harm in what we hold dear, defend and even worship." —Daisy Fried, The New York Times Book Review

"In Against Silence, as often in his oeuvre, Frank Bidart gives us a poetics where ethics and sensuality clash and a strange, terrifying awareness of what our species stands for is revealed." —Ilya Kaminsky, Poetry Daily

"Another memorable contribution to Bidart's oeuvre." —Publishers Weekly
Farrar, Straus and Giroux, 9780374603519, 80pp.
Publication Date: November 2, 2021
About the Author
Frank Bidart is the author of eleven collections of poetry, including Metaphysical Dog, Watching the Spring Festival, Star Dust, Desire, and In the Western Night: Collected Poems 1965–1990. He has won many prizes, including the Wallace Stevens Award, the Bollingen Prize for Poetry, and the National Book Critics Circle Award. His book Half-light: Collected Poems 1965–2016 won the 2018 Pulitzer Prize and the 2017 National Book Award. He lives in Cambridge, Massachusetts.