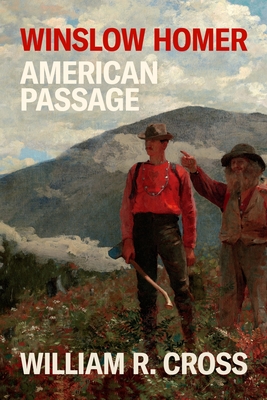 Winslow Homer
American Passage
Hardcover

* Individual store prices may vary.
Description
The definitive life of the painter who forged American identity visually, in art and illustration, with an impact comparable to that of Walt Whitman and Mark Twain in poetry and prose—yet whose own story has remained largely untold.

In 1860, at the age of twenty-four, Winslow Homer (1836–1910) sold Harper's Weekly two dozen wood engravings, carved into boxwood blocks and transferred to metal plates to stamp on paper. One was a scene that Homer saw on a visit to Boston, his hometown. His illustration shows a crowd of abolitionists on the brink of eviction from a church; at their front is Frederick Douglass, declaring "the freedom of all mankind."

Homer, born into the Panic of 1837 and raised in the years before the Civil War, came of age in a nation in crisis. He created multivalent visual tales, both quintessentially American and quietly replete with narrative for and about people of all races and ages. Whether using pencil, watercolor, or, most famously, oil, Homer addressed the hopes and fears of his fellow Americans and invited his viewers into stories embedded with universal, timeless questions of purpose and meaning.

Like his contemporaries Twain and Whitman, Homer captured the landscape of a rapidly changing country with an artist's probing insight. His tale is one of America in all its complexity and contradiction, as he evolved and adapted to the restless spirit of invention transforming his world. In Winslow Homer: American Passage, William R. Cross reveals the man behind the art. It is the surprising story of a life led on the front lines of history. In that life, this Everyman made archetypal images of American culture, endowed with a force of moral urgency through which they speak to all people today.

Includes Color Images and Maps
Praise For Winslow Homer: American Passage…
"Certain to be definitive . . . William R. Cross has a special talent for discerning details most of us overlook, and he provides a rich commentary on Homer's technique, his influences, and even occasional submerged biographical reference, which the painter rarely allowed himself to convey. The biographer's close attention is worthy of his subject." —Randall Fuller, The Wall Street Journal

" An exemplary biography . . . [Cross] demonstrates that Homer emerged as a storyteller of enormous power and subtlety in a period — the 1860s — when America was casting around for the right story to tell about itself." —Sebastian Smee, The Washington Post

"[William] Cross reveals how Homer's radiant and dramatic paintings are also shaped by profound questions about humankind's place in the glory of nature . . . With plentiful color reproductions, Cross's meticulous, vivid, and revelatory biography transforms our appreciation for this quietly steadfast and subtly trailblazing artist." —Donna Seaman, Booklist (Starred Review)

"This deeply contextualized portrait features more than 400 images, including maps drawn specifically for this volume . . . Gracefully written, empathetic, and authoritative." —Kirkus Reviews (Starred Review)

"Vivid storytelling melds with exuberant analysis in this sweeping look at a canonical American artist's vibrant life . . . No stone in Homer's life is left unturned nor brushstroke of deliberately placed light left unexplored under Cross's meticulous eye . . . Art connoisseurs will want to make room on their shelves for this definitive guide to a great American artist." —Publishers Weekly

"Cross has done an admirable job of bringing to life this most American of painters. Finally, Winslow Homer's brilliant work and fascinating life are united in one volume." —Ken Burns, filmmaker

"This rich biography of Winslow Homer is long overdue. The artist's enduring importance to the history of American Art brooks no argument. As we discover in this book, the many nuances of his life story also add richness to our understanding of history, place, and innovation in the United States." —Martha Tedeschi, author (with Kristi Dahm) of Watercolors by Winslow Homer: The Color of Light

"This intelligent and gracefully-written book is the first substantial new biography of Homer in years, and it's a multilayered pleasure to read. Cross is a sensitive observer of every aspect of the man, his times, and his career, from abolitionism and Civil War battlefields to the highs and lows of making a living from a capricious marketplace for art. A triumph." —Adam Hochschild, author of Rebel Cinderella: From Rags to Riches to Radical, the Epic Journey of Rose Pastor Stokes

"Our visual understanding of the 19th century and especially of the Civil War comes to us in no small part from Winslow Homer. In this sweeping and comprehensive consideration of Homer's life and work, William R. Cross offers fresh insight into how his art was shaped and enabled by the changing politics, society, and technology of the world he sought to depict." —Drew Gilpin Faust, author of This Republic of Suffering: Death and the American Civil War

"For anyone whose curiosity was fired by one of the ubiquitous copies of the melancholy marine paintings of the master, William R. Cross's Winslow Homer: American Passage is a revelation. Homer, it emerges, was a narrative as well as an aesthetic genius, bearing witness to the lives of ordinary people and momentous if often overlooked occasions, capturing soldiers at camp in the Civil War, police forcing Frederick Douglass from the stage at a Boston abolitionist meeting, a shipwreck survivor eyed by sharks at sea. Full of insight, sensitively written, this superb biography tells the story of an artist who had the moral heart of an historian." —Caroline Fraser, author of Prairie Fires: The American Dreams of Laura Ingalls Wilder
Farrar, Straus and Giroux, 9780374603793, 560pp.
Publication Date: April 12, 2022
About the Author
William R. Cross is an independent scholar and a consultant to art and history museums. He served as the curator of Homer at the Beach: A Marine Painter's Journey, 1869–1880, a nationally renowned 2019 exhibition at the Cape Ann Museum on the formation of Winslow Homer as a marine painter. He is the chairman of the advisory board of the Yale Center for Faith and Culture. Cross and his wife, Ellen, the parents of two grown sons, live on Cape Ann, north of Boston, Massachusetts.