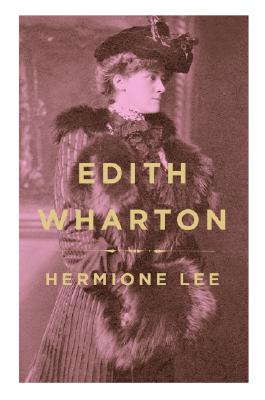 Edith Wharton
Hardcover

* Individual store prices may vary.
Other Editions of This Title:
Digital Audiobook (4/9/2007)
Paperback (4/8/2008)
Compact Disc, Abridged, Abridged (4/10/2007)
Description
The definitive biography of one of America's greatest writers, from the author of the acclaimed masterpiece Virginia Woolf.

Delving into heretofore untapped sources, Hermione Lee does away with the image of the snobbish bluestocking and gives us a new Edith Wharton—tough, startlingly modern, as brilliant and complex as her fiction.

Born in 1862, Wharton escaped the suffocating fate of the well-born female, traveled adventurously in Europe and eventually settled in France. After tentative beginnings, she developed a forceful literary professionalism and thrived in a luminous society that included Bernard Berenson, Aldous Huxley and most famously Henry James, who here emerges more as peer than as master. Wharton's life was fed by nonliterary enthusiasms as well: her fabled houses and gardens, her heroic relief efforts during the Great War, the culture of the Old World, which she never tired of absorbing. Yet intimacy eluded her: unhappily married and childless, her one brush with passion came and went in midlife, an affair vividly, intimately recounted here.

With profound empathy and insight, Lee brilliantly interweaves Wharton's life with the evolution of her writing, the full scope of which shows her far to be more daring than her stereotype as lapidarian chronicler of the Gilded Age. In its revelation of both the woman and the writer, Edith Wharton is a landmark biography.
Praise For Edith Wharton…
"Lively . . . Insightful . . . Thorough and intelligent . . .This meticulous, generous biography is likely to suffice for a long time . . . One can at last grasp the full range of Wharton's writing and the full power of her energy."
–Diane Johnson, Washington Post Book World

"A splendid biography, extremely rich in social and historical detail, a telling picture of the many years Wharton's life spanned . . . Biography is usually the revenge of little people on big people . . .but Lee is subtle and big-hearted enough to understand her subject . . .  Lee never reduces Wharton's books to veiled autobiography, just as she is never reluctant to interpret them in the light of Wharton's life . . . A sophisticated, finely written portrait . . . Edith Wharton would have been horrified by the 'indiscretions' in this biography, but it is the balanced, richly detailed, and researched portrait she deserves."
–Edmund White, The New York Review of Books

"A rich tapestry. There is so much here . . . Edith Wharton shimmers with details about a vanished world, and Lee . . . brings it to vivid life."
–Jacqueline Blais, USA Today

"A remarkable feat . . . Nobody has done Edith Wharton such careful justice as Lee."
–Claire Messud, New York Times Book Review

"Magnificent . . . Unsurpassable in scope and surely in sensitivity . . . Filled to bursting with the friends, travels, projects and writings that engaged Wharton's attention and energies."
–Linda Simon, Newsday

"Groundbreaking . . . A sophisticated, persuasive, powerfully intelligent masterwork."
–Lisa Shea, Elle

"Enables readers to feel they have known Mrs. W. all their lives."
–Barbara Amiel, Wall Street Journal

"Stunning . . . Rich . . . Wonderfully humanizing."
–Megan O'Grady, Vogue

"Rich . . . Fine . . . Much more than a literary study."
–Bruce Allen, The Washington Times

"Elegant . . . not only the best book on its subject, but one of the finest literary biographies to appear in recent years."
–Greg Johnson, Atlanta Journal-Constitution

"A fascinating portrait of a brilliant writer."
–The Economist

"Absorbing . . . An exemplary biography . . . Sure to be the standard work on Wharton for years to come."
–Kirkus

"A major achievement . . . In no other biography is there a more perceptive analysis of how Wharton's life was reflected in her work."
–Publishers Weekly

"Tremendous . . . Enlightening . . . Rises to landmark status . . . The formidable Mrs. Wharton is given great humanity here."
–Booklist

"The fullest biography of Wharton to date . . . Superb in using the fiction as a way to read the life, defining their relation in a way that is at once seamless but never simplified . . . Lee's portraiture at its best seems Proustian."
–Michael Gorra, Times Literary Supplement (London)

"Monumentally conceived and impressively executed . . . Lee is out to understand Wharton, not to vilify or sanctify her . . .  She is a discriminating and generous critic who offers full, fresh and incisive discussions of all the novels and scores of the short stories."
–Elaine Showalter, The Guardian (London)

"Epic and definitive . . . Lee is a confident and vivid critic."
–Jane Shilling, The Times (London)

"This is a glorious biography . . . The time is ripe for a new biography of Edith Wharton of this intimacy and on this scale . . . Lee the biographer pursues her subject down every winding corridor, into every hidden passage and dark corner . . . Her critical exploration of Edith Wharton's work is dazzlingly assured . . . A feat of exhaustive research, and finely tuned to Wharton's creative achievement at the same time . . . [Wharton] could scarcely have failed to be impressed by . . . its artistic sympathy, its sonorous depths, and its soaring conception."
–Mark Bostridge, The Independent on Sunday (London)

"Excellent . . . Particularly masterful in her discussion of Wharton's fiction . . . A magnificent and subtle biography of a magnificent and subtle writer."
–Caroline Moore, Sunday Telegraph (London)

"Lee's subtle and painstaking ability to illuminate the work with the life, and to make the life itself so interesting makes this a superb biography."
–Colm Tóibín, The Irish Times
Knopf, 9780375400049, 880pp.
Publication Date: April 10, 2007
or
Not Currently Available for Direct Purchase