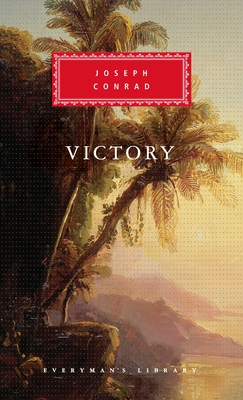 Victory (Everyman's Library Classics Series) (Hardcover)
Everyman's Library, 9780375400476, 452pp.
Publication Date: October 20, 1998
Other Editions of This Title:
Digital Audiobook (7/21/2011)
Paperback (8/14/2018)
Paperback (4/9/2015)
Paperback (1/5/2011)
Paperback (1/12/2010)
Paperback, Large Print (12/22/2005)
Paperback (5/7/2012)
Paperback (3/11/2010)
Paperback, Spanish (1/7/2013)
Paperback (11/12/2018)
Paperback (9/9/2017)
Paperback (9/24/2018)
Paperback (12/10/2012)
Paperback (6/27/2016)
Paperback (10/23/2018)
Paperback (11/16/2018)
* Individual store prices may vary.
Description
Joseph Conrad possessed a matchless gift for embodying life as it is lived under extreme physical and psychological pressure. Victory, his last masterpiece, tells the story of Axel Heyst, a radically isolated, philosophically minded soul living apart on a remote Pacific island, who performs two acts of instinctive kindness and thereby embroils himself in storms of greed and vengeance, and of love and mercy.
           
When Heyst impulsively rescues a young English musician, Lena, from the predations of a lascivious hotel owner named Schomberg, he cannot know that she will be the means of releasing him from the emotional detachment with which he has long barricaded himself. Their affair does not last long, however, once the enraged Schomberg sends agents of revenge to invade Heyst's island retreat. Out of the maelstrom of violence and tragedy that ensues, Conrad produces a profound, unflinching meditation on human connection and redemption.
About the Author
Joseph Conrad, christened Josef Teodor Konrad, Nalecz Korzeniowski, was born on December 3, 1857, in a part of Russia that had once belonged to Poland. His parents were members of the landed gentry, but as ardent Polish patriots, the suffered considerably for their political views. Orphaned at eleven, Conrad attended school for a few years in Cracow, He soon concluded, however, that there was no future for a Pole in occupied Poland, and at sixteen he left his ancestral home forever.

The sea was Conrad's love and career for the next twenty years. In the French merchant marine, he sailed to the West. Indies, smuggled guns to Spanish rebels, ran into debt, and bungled a suicide attempt Then in the British merchant navy, he rose to first mate and finally to captain, sailing to Australia and Borneo and surviving at least one shipwreck. In 1890 he contracted to become captain of a Congo River steamer, but the six months he spent in Africa led only to disillusionment and ill health; this episode would become the basis for Conrad's masterpiece, Heart of Darkness. Reluctantly leaving the merchant service, he settled in England and completed his first novel, Almayer's Folly, already begun at sea.

Hi subsequent works, many of which drew upon his sea experiences, include The Nigger of the "Narcissus" (1897), Lord Jim (1900), Heart of Darkness (1902), Youth (1902) Typhoon (1903), Nastromo (1904),The Secret Agent (1907), The Secret Sharer (1910), Under the Western Eyes (1911), and Chance (1913). The man who was twenty-one years old before he spoke a word of English is now regarded as one of the superb English stylists of all time. Conrad died almost literally on his desk in 1924, at the age of sixty-six.
Praise For Victory (Everyman's Library Classics Series)…
"I am glad that I am alive, if, for no other reason, because of the joy of reading this book." —Jack London