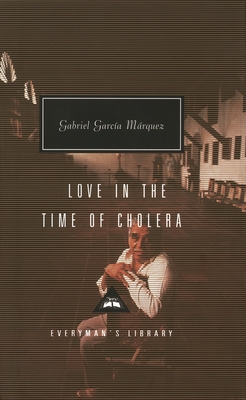 Love in the Time of Cholera (Hardcover)
Everyman's Library, 9780375400698, 464pp.
Publication Date: September 16, 1997
Description
From the Nobel Prize-winning author of One Hundred Years of Solitude comes a masterly evocation of an unrequited passion so strong that it binds three people's lives together for more than fifty years. In the story of Florentino Ariza, who waits more than half a century to declare his undying love to the beautiful Fermina Daza, whom he lost to Dr. Juvenal Urbino so many years before, Garcia Marquez has created a vividly absorbing fictional world, as lush and dazzling as a dream and as real and immediate as our own deepest longings. Now available for the first time in the Contemporary Classics series.
About the Author
Garcia Marquez was born in Aracataca, Colombia, in 1928. He attended the University of Bogota and went on to become a reporter for the Colombian newspaper El Espectador. He later served as a foreign correspondent in Rome, Paris, Barcelona, Caracas, and New York. Winner of the Nobel Prize for Literature in 1982, he is the author of several novels and collections, including No One Writes to the Colonel and Other Stories, The Autumn of the Patriarch, Innocent Erendira and Other Stories, Chronicle of a Death Foretold, The General in His Labyrinth, Strange Pilgrims, and Love and Other Demons.
Praise For Love in the Time of Cholera…
"A rich, commodious novel whose narrative power is matched only by its generosity of vision."
—The New York Times

"A love story of astonishing power and delicious comedy . . . humane, richly comic, almost unbearably touching and altogether extraordinary." —Newsweek

"It's spellbinding—a luminous novel by a master of storytelling."
—Joseph Heller

"The greatest luxury, as in all of García Márquez's books, is the eerie, entirely convincing suspension of the laws of reality . . . the agelessness of the human story as told by one of this century's most evocative writers."
—Anne Tyler, Chicago Sun-Times Book Week

"Revolutionary in daring to suggest that vows of love made under a presumption of immortality--youthful idiocy, to some--may yet be honored, much later in life when we ought to know better, in the face of the undeniable. . . . A shining and heartbreaking book."
—Thomas Pynchon, The New York Times Book Review

"Thoroughly engrossing on the highest artistic level. It is easily his best work since One Hundred Years of Solitude . . . His vision is exalting."
—Cleveland Plain Dealer

"Mr. García Márquez displays a wise benevolence, an ability to see both the tragedy and humor of [his characters'] situations; and this tone burnishes the novel with the warm, soft glow of redemption . . . The result is a rich, commodious novel whose narrative power is matched only by its generosity of vision."
—Michiko Kakutani, New York Times
Advertisement