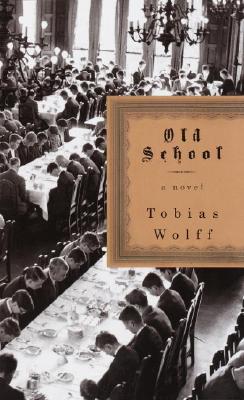 Old School
Hardcover

* Individual store prices may vary.
Other Editions of This Title:
Digital Audiobook (1/28/2019)
Paperback (8/31/2004)
Description
The author of the genre-defining memoir This Boy's Life, the PEN/Faulkner Award–winning novella The Barracks Thief, and short stories acclaimed as modern classics, Tobias Wolff now gives us his first novel.
Determined to fit in at his New England prep school, the narrator has learned to mimic the bearing and manners of his adoptive tribe while concealing as much as possible about himself. His final year, however, unravels everything he's achieved, and steers his destiny in directions no one could have predicted.
The school's mystique is rooted in Literature, and for many boys this becomes an obsession, editing the review and competing for the attention of visiting writers whose fame helps to perpetuate the tradition. Robert Frost, soon to appear at JFK's inauguration, is far less controversial than the next visitor, Ayn Rand. But the final guest is one whose blessing a young writer would do almost anything to gain.

No one writes more astutely than Wolff about the process by which character is formed, and here he illuminates the irresistible power, even the violence, of the self-creative urge. Resonant in ways at once contemporary and timeless, Old School is a masterful achievement by one of the finest writers of our time.
Praise For Old School…
"Not a word is wasted in this spare, brilliant novel about the way that reading changes and forms our lives, and about how one learns to become a writer--and a conscious human being."
--Francine Prose, People
"Wolff again proves himself a writer of the highest order: part storyteller, part philosopher, someone deeply engaged in asking hard questions that take a lifetime to resolve."
--Carmela Ciuraru, Los Angeles Times
"An elegant ode to writers, and to writing, from one of our most exquisite storytellers."
--Adrienne Miller, Esquire
"The interesting, vexing drama [puts] readers in the landscape tracked across by writers as different as J. M. Coetzee, Philip Roth, and, going back, Conrad and Hawthorne . . . Impossible to counterfeit, [the novel] persuades us, as the best art always does, that however hard we look, there's always more to see."
--Sven Birkerts, The Washington Post Book World
"Old School is utterly new, even as it tells a story that draws you in with the warm comfort of its narrator's voice. [It] proceeds as a dream of innocence and experience, but toward the end takes a twist that should not be spoiled. [He] has created a world whose reality is so vivid, it will break your heart."
--Ken Tucker, The Baltimore Sun
"A compact marvel of a book, with its tale of a paradise gained and lost, its study of a young man's emerging character and mind, and its look at the subtlest workings of class-consciousness and prejudice in an idyllic, ideal-driven setting. [Old School] takes as its subject the slippery nature of truth and fiction, honesty and dishonesty, sound judgment and seductive delusion. As such, it couldn't be bettered."
--Michael Upchurch, Seattle Times
"Acute, graceful . . . Tobias Wolff makes his grownup narrator a writer very much like himself and brings him to a complex, loving reconciliation with his old school despite its flaws. Writing, Wolff suggests, can teach you not only a measure of self-knowledge but also the ability to open yourself to an imperfect world."
--Christopher Porterfield, Time
"A fine offering, manly in spirit and style . . . Wolff displays exceptional skill in capturing the small sights and sensations that evoke the whole rarefied world he's taking us back to."
--Thomas Mallon, The Atlantic Monthly
"The real satisfaction in this deeply satisfying book comes from its main character, literature."
--Alec Solomita, New York Sun
"In this stylistically restrained but emotionally devastating book, every sentence is nailed down with rare and terrific precision."
—Entertainment Weekly
"[The novel's] point, which is that telling the truth in fiction--or, more generally, in writing--is both logically impossible and morally essential . . . mirrors Wolff's own passionate ambivalence about the craft he has practiced so long and so well.
--A. O. Scott, The New York Times Book Review
"Ingenious . . . A very fine novel, a deft tour de force that is not only strangely exciting, but that by its end, achieves a real profundity."
--Katherine A. Powers, The Boston Sunday Globe
"A big novel hidden in the structure of a small one, this work is highly recommended."
--David Hellman, Library Journal
"Short yet bottomlessly provocative . . . Wolff has been writing so well for so long that, in a single paragraph, he'll toss off sketches that a less gifted storyteller might prefer to husband against a rainy day."
--David Kipen, San Francisco Chronicle
"There are ways to lie without saying a word . . . While a main theme here is a writer's growth, the work's essential component, the forming of character, gives it a universal appeal . . . Wolff, acclaimed for his short stories and memoirs, has written a marvelous novel with resonance for old and young alike. His storytelling is economical, his prose is elegant, and his meditations are utterly timeless. Some readers may wish to turn from the last page to the first and begin again."
--Keir Graff, Booklist
"The novel's candid, retrospective narration ruefully depicts its protagonist's retreat further and further behind his public facade . . . Beneath its staid trappings, this is a sharply ironic novel, in which love of literature is counterbalanced by bitter disappointment . . . A delicate, pointed meditation on the treacherous charms of art.
--Publishers Weekly, starred review
Knopf, 9780375401466, 208pp.
Publication Date: November 4, 2003
About the Author
Tobias Wolff lives in Northern California and teaches at Stanford University. He has received the Rea Award for excellence in the short story, the "Los Angeles Times" Book Prize, and the PEN/Faulkner Award.
or
Not Currently Available for Direct Purchase