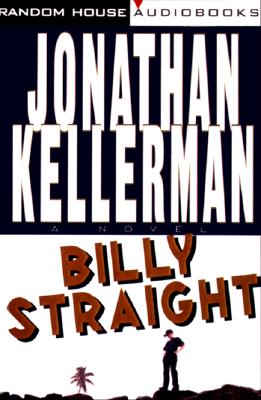 Billy Straight (Audio Cassette, Abridged)
Random House Audio, 9780375402821
Publication Date: December 16, 1998
* Individual store prices may vary.
or
Not Currently Available for Direct Purchase
Description
3 cassettes / 4 hours
Read by John Rubinstein

Also available unabridged on casette and abridged on CD


In this riveting, astute, high-tension thriller, the creator of psychologist sleuth Alex Delaware weaves a Dickensian tale of innocence, urban depravity, and the resilience of the human spirit, and brings to the page one of the most endearing and finely drawn characters in contemporary  fiction.


Twelve-year-old Billy Straight - precocious, heartbreakingly perceptive, relentlessly moral - has fled the chaos and abuse of his life at home and is fighting to survive on L.A.'s meanest streets.

All alone, Billy has fashioned a precarious existence for himself, using principled tricks to nourish his body and his mind. Late one night he watches from his hiding place as a man viciously butchers a woman. The victim turns out to be the ex-wife of a television celebrity with a history of domestic violence, and Billy becomes the center of terrifying attention - from the media, from violent bounty hunters, and from the murderer himself. As he runs for his life, relying on his native wit and instincts for survival, Billy is also tracked by a potential savior: Petra Connor, a tough, gifted, beautiful LAPD homicide detective with a past of her own.

Breathtakingly paced,Billy Straight brings to life one street kid's efforts to survive in the face of unspeakable evil. Richly layered, emotionally compelling, and peopled by a vivid cast of supporting characters - including Alex Delaware himself in a strong cameo role - this gripping novel represents one of the century's great story-tellers at the top of his form.
Praise For Billy Straight…
"Taut, compelling . . . Everything a thriller ought to be. The writing is excellent. The plotting is superior. The characters ring true."
—USA Today

"JONATHAN KELLERMAN HAS JUSTLY EARNED HIS REPUTATION AS A MASTER OF THE PSYCHOLOGICAL THRILLER. . . . The writing is vivid, the suspense sustained, and [he] has arranged one final, exquisitely surprising plot twist to confound the complacent reader."
—People (Book of the Week)

"[A] TENSION-FILLED THRILLER . . . A COMPELLING READ . . . KELLERMAN MAKES YOU CARE DEEPLY FOR THIS CHILD."
—San Francisco Examiner

"RIVETING . . . NOBODY EVOKES LOS ANGELES BETTER THAN JONATHAN KELLERMAN."
—Los Angeles Times



From the Paperback edition.
Advertisement