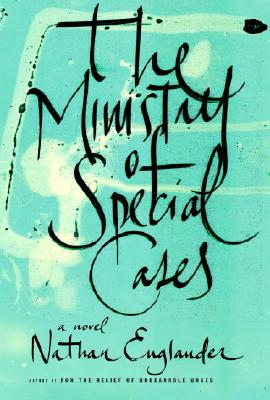 The Ministry of Special Cases
Hardcover

* Individual store prices may vary.
Other Editions of This Title:
Digital Audiobook (4/23/2007)
Paperback (4/1/2008)
Hardcover, Large Print, Large Print (10/1/2007)
Compact Disc (4/24/2007)
Description
The long-awaited novel from Nathan Englander, author of For the Relief of Unbearable Urges. Englander's wondrous and much-heralded collection of stories won the 2000 Pen/Malamud Award and was translated into more than a dozen languages.

From its unforgettable opening scene in the darkness of a forgotten cemetery in Buenos Aires, The Ministry of Special Cases casts a powerful spell. In the heart of Argentina's Dirty War, Kaddish Poznan struggles with a son who won't accept him; strives for a wife who forever saves him; and spends his nights protecting the good name of a community that denies his existence--and denies a checkered history that only Kaddish holds dear. When the nightmare of the disappeared children brings the Poznan family to its knees, they are thrust into the unyielding corridors of the Ministry of Special Cases, the refuge of last resort.

Nathan Englander's first novel is a timeless story of fathers and sons. In a world turned upside down, where the past and the future, the nature of truth itself, all take shape according to a corrupt government's whims, one man--one spectacularly hopeless man--fights to overcome his history and his name, and, if for only once in his life, to put things right. Here again are all the marvelous qualities for which Englander's first book was immediately beloved: his exuberant wit and invention, his cosmic sense of the absurd, his genius for balancing joyfulness and despair. Through the devastation of a single family, Englander captures, indelibly, the grief of a nation. The Ministry of Special Cases, like Englander's stories before it, is a celebration of our humanity, in all its weakness, and--despite that--hope.
Praise For The Ministry of Special Cases…
"The fate of Argentina's Jews during the 1976-83 "Dirty War" is depicted with blistering emotional intensity in this stark first novel. . . . Englander's story collection promised a brilliant future, and that promise is here fulfilled beyond all expectations."
—Kirkus Reviews (starred review)

"This is a staggeringly mature work, gracefully and knowledgeably set in a milieu far from the author's native New York. . . . Four p's best describe this work: poignant, powerful, political, and yet personal."
—Booklist (starred review)

"[A] harrowing and brilliant first novel . . . Englander's great gifts are an absurdist sense of humor and a brisk, almost breezy narrative voice. He handles his unbearable subjects with the comic panache of a vaudeville artist, before delivering the final, devastating blow."
–Bookforum

"Resonates of Singer, yes, but also of Bernard Malamud and Lewis Carroll, plus the Kafka who wrote The Trial . . . You will wonder how a novel about parents looking for and failing to find their lost son, about a machinery of state determined to abolish not only the future but also the past, can be horrifying and funny at the same time. Somehow . . . this one is."
–Harper's Magazine

"A mesmerizing rumination on loss and memory. . . . It's a family drama layered with agonized and often comical filial connections that are stretched to the snapping point by terrible circumstance . . . builds with breathtaking, perfectly wrought pacing and calm, terrifying logic."
–Los Angeles Times

"Englander writes with increasing power and authority . . . Gogol, I. B. Singer and Orwell all come to mind, but Englander's book is unique in its layering of Jewish tradition and totalitarian obliteration."
–Publishers Weekly

"This chilling book of intrigue examines the slow obliteration of culture and families perpetuated by forces seeking absolute political power. Highly recommended."
–Library Journal

"Englander secures his status as a powerful storyteller with this book about the disappearance of the son of a down-and-out Jewish hustler during Argentina's Dirty War in the seventies."
–Details

"Englander's prose moves along with a tempered ferocity -- simple yet deceptively incisive. . . . Englander's book isn't so much about the search for a lost boy. It's about fathers and sons and mothers and faith and community and war and hope and shame. Yes, that's a lot to pack into 339 pages. But not when a book reads at times with the urgency of a thriller."
–Esquire

"Wonderful . . . Since much of the book's power comes from its relentlessly unfolding plot, it's not fair even to tell who disappears, let alone whether that person reappears. . . . Englander maintains an undertone of quirky comedy almost to the end of his story."
–Newsweek

"[Englander's] journey into the black hole of paradox would have done Kafka or Orwell proud."
–People

"Brace yourself for heartbreak . . . most of the story is so convincingly told that it's hard to imagine that Englander hasn't weathered political persecution himself."
–Time Out New York

"A vibrant, exquisite, quirky and devastating historical novel–and a gift to readers. . . . This is a story propelled by secrets, and part of Englander's achievement is how well he builds nerve-wrecking tension. . . . Written in crisp, unsentimental prose, The Ministry of Special Cases is as heartbreaking a novel as Sophie's Choice."
–The Hartford Courant

"[S]pare, pitch-perfect passages . . . Through deft, understated prose, Englander evokes the incremental way in which fear grips a community, citizens accustom themselves to ignoring those small outrages and how those outrages gradually but inexorably give way to larger atrocities, tolerated by an ever more complicit populace."
–The Miami Herald

"The combination of a gift for narrative, a proclivity for pathos, and a lode of arcane knowledge is put to great use in Nathan Englander's first novel."
–The Boston Phoenix

"Nathan Englander bravely wrangles the themes of political liberty and personal loss with the swift style and knowing humor of folklore. In the spirit of the simple ambiguity of its title, The Ministry of Special Cases is carefully contradictory, wise and off-kilter, funny and sad."
–New York Observer

"Engrossing . . . Englander perfectly captures the language of disorientation, the tautologies through which the country's oppressors support their own positions and thwart pleading citizens at every turn."
–Rocky Mountain News

"As remarkable as Englander's evocation of a country at war with itself is, his greatest achievement might be the way he manages to do it with a lightness of touch and even a few delicately comic insertions. The heaviness of the subject doesn't result in correspondingly weighty prose; rather, a risky but flawlessly executed contrast is carried out. And there's a sting in the tail. How exactly do you come up with an ending for a story about disappearance? . . . Englander finds the answers, and provides a suitably stunning finale to one of the most powerful novels in years."
–Edmonton Journal

"This is a rollercoaster of a novel, and while most of the dips are downward, there are memorable moments of hilarity, hope and humanity. Imagine a screwball comedy about one of recent history's darkest and most overlooked periods. . . . The Ministry of Special Cases is a remarkable work of imagination and empathy–a modern-day book of mourning."
–The Gazette (Canada)
Knopf, 9780375404931, 352pp.
Publication Date: April 24, 2007
or
Not Currently Available for Direct Purchase