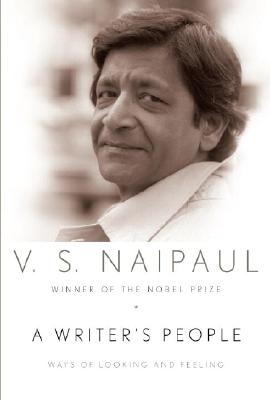 A Writer's People (Hardcover)
Ways of Looking and Feeling
Knopf, 9780375407383, 208pp.
Publication Date: April 29, 2008
* Individual store prices may vary.
Description
Born in Trinidad of Indian descent, a resident of England for his entire adult life, and a prodigious traveler, Nobel laureate V. S. Naipaul has always faced the challenges of "fitting one civilisation to another." Here, in his first book of nonfiction since 2003, he gives us an eloquent, candid, wide-ranging narrative that delves into this sometimes inadvertent process of creative and intellectual assimilation.

He discusses the writers he read early on: Derek Walcott, Gustave Flaubert and his own father among them. He explains how Anthony Powell and Francis Wyndham influenced his first encounters with literary culture. He looks at what we have retained—and forgotten—of the world portrayed in Caesar's The Gallic War and Virgil's Aeneid. He illuminates the ways in which the writings of Gandhi, Nehru and other Indian writers both reveal and conceal the authors and their nation. And he brings the same scrutiny to bear on his own life: his years in Trinidad; the gaps in his family history; the "private India" kept alive in his family through story, ritual, religion and culture; his ever-evolving reaction to the more complicated and demanding true India he would encounter for the first time when he was thirty.

Part meditation, part remembrance, as elegant as it is revelatory, A Writer's People allows us privileged insight—full of incident, humor and feeling—into the mind of one of our greatest writers.
About the Author
V. S. Naipaul was born in Trinidad in 1932. He went to England on a scholarship in 1950. After four years at University College, Oxford, he began to write, and since then has followed no other profession. He has published more than twenty-five books of fiction and nonfiction, including "Half a Life, ""A House for Mr. Biswas, ""A Bend in the River, Magic Seeds" and a collection of letters, "Between Father and Son." He was awarded the Nobel Prize in Literature in 2001.
Praise For A Writer's People: Ways of Looking and Feeling…
"A bracing, erudite ride . . . Wonderfully written . . . One may question Naipaul's premise, but it in no way negates that he is a very great writer . . . What remains impressive is Naipaul's sense of wonder at the worlds he has discovered."
–New York Times Book Review

"Looking hard at cruelty, taking nothing for granted, are the hallmarks of Naipaul's stance. His writing gleams with brilliance . . . It's impossible not to admire the prose."
–Seattle Times

"What we have here is a mixture of genres: a meditation on art and life, with a strong dash now and then of personal memoir marked by the restless, sometimes withering, intelligence of its author . . . It's a book about its author, still panning for the pure gold of a clear and honest vision firmly grounded in this world . . . Bracing."
–Joseph Lelyveld, New York Review of Books

"Naipaul has taken alienation from amorphous inner complaint to make it a true journey: an Odyssey with himself as both Odysseus and Homer but without a return home."
–Richard Eder, Boston Globe

"Rich with surprise and erudition, informed by an alchemist's imagination . . . Naipaul explores [ways of looking] sometimes through the experiences of the notable (Gandhi), sometimes through the eyes of the nearly anonymous (an upholsterer), sometimes through those tiny moments of immense significance that have long been a feature of Naipaul's work."
–Kirkus Reviews

Praise from the UK:

"This is an important coda, on a lifetime of 'seeing' . . . For Naipaul, 'seeing' with clarity is all-important to both constantly remaking the world through literature and to fashioning a history for oneself . . . Brilliant."
–Amit Chaudhuri, The Guardian

"Naipaul's latest collection of essays, A Writer's People, is essential reading for those who admire his work and want to understand it further. But there is much there for any enquiring mind, as it offers the insights and observations on literature, history and cultural sensibility of an honest and truly global thinker."
–The Evening Standard

"Many sides of the complicated Naipaul personality are on show as he sets them out . . . Naipaul is at his best here when teasing out the ironies and complexities of cultural exchange in the persons of figures with whom he can identify."
–Sunday Telegraph

"It is Naipaul's 'way of looking and feeling' that has made his work so controversial . . . But this is a brilliant work from a man who more than anybody else embodies what it means to be a writer . . . As it turns out, Naipaul's reading has been as wide and deep as his peregrinations through the decolonised world . . . As ever, his sentences are tightly coiled and muscular; they embody the very qualities they praise . . . Revelatory."
–The Observer









or
Not Currently Available for Direct Purchase