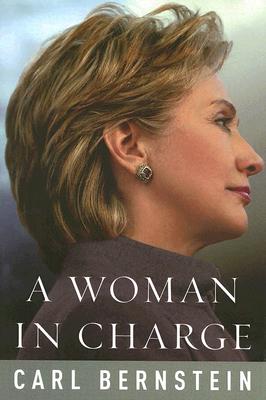 A Woman in Charge
The Life of Hillary Rodham Clinton
Hardcover

* Individual store prices may vary.
Other Editions of This Title:
Digital Audiobook (6/4/2007)
Digital Audiobook (6/4/2007)
Paperback (1/8/2008)
Paperback (6/1/2008)
Description
Carl Bernstein's stunning portrait of Hillary Rodham Clinton shows us, as nothing else has, the true trajectory of her life and career with its zigzag bursts of risks taken and safety sought. Marshaling all the skills and energy that propelled his history-making Pulitzer Prize reporting on Watergate, Bernstein gives us the most detailed, sophisticated, comprehensive, and revealing account we have had of the complex human being and political meteor who has already helped define one presidency and may well become, herself, the woman in charge of another.

We see the shaping of Hillary as a self-described "mind conservative and heart liberal" —her ostensibly idyllic Midwestern girlhood (her mother a nurturer, but her father a disciplinarian, harsher than she has acknowledged); her early development of deep religious feelings; her curiosity fueled by dedicated teachers, by exposure to Martin Luther King Jr., by the ferment of the sixties, and, above all, by a desire to change the world. At Wellesley, we watch Hillary, a Republican turned Democrat, thriving in the new sky's-the-limit freedom for women, already perceived as a spokeswoman for her generation, her commencement speech celebrated in Life magazine. And the book takes us to Yale Law School as Hillary meets and falls in love with Bill Clinton and cancels her dream to go her own way, to New York or Washington, tying her fortune, instead, to his in Arkansas.

Bernstein clarifies the often amazing dynamic of their marriage, shows us the extent to which Hillary has been instrumental in the triumphs and troubles of Bill Clinton's governorship and presidency, and sheds light on her own political brilliance and her blind spots—especially her suspicion and mishandling of the press and her overt hostility to the opposition that clouded her entry into the capital. He untangles her relationship to Whitewater, Troopergate, and Travelgate. He leads us to understand the failure of her health care initiative.

In the emotional and political chaos of the Lewinsky affair we see Hillary, despite her immense hurt and anger, standing by her husband—evoking a rising wave of sympathy from a public previously cool to her. It helps carry her into the Senate, where she applies the political lessons she has learned. It is now her time. As she decides to run for president, her husband now her valued aide, she has one more chance to fulfill her ambition for herself—to change the world.

In his preparation for A Woman in Charge, Bernstein reexamined everything pertinent written about and by Hillary Clinton. He interviewed some two hundred of her colleagues, friends, and enemies and was allowed unique access to the candid record of the 1992 presidential campaign kept by Hillary's best friend, Diane Blair.

He has given us a book that enables us, at last, to address the questions Americans are insistently—even obsessively—asking about Hillary Clinton: What is her character? What is her political philosophy? Who is she? What can we expect of her?
Praise For A Woman in Charge: The Life of Hillary Rodham Clinton…
"A Woman in Charge . . . stands as a model of contemporary political biography . . . Bernstein has produced an excellent book: thorough, balanced, judicious and deeply reported . . . He offers a three-dimensional portrait of a person with enduring strengths (discipline, tenacity, a sustaining religious faith) and weaknesses (excessive secrecy, a tendency to self-righteousness and a habit of nursing grudges)…Bernstein almost always finds new facts and telling details…[His] account benefits enormously from remarkably candid on-the-record assessments of both Clintons by intimates such as close friend Jim Blair and Betsey Wright, Clinton's gubernatorial chief of staff in Arkansas." –Ronald Brownstein, Los Angeles Times


"Serious, well-researched and fair…A Woman in Charge is . . . painstaking, sensitive and elegantly written."–The Economist


"A remarkably revealing portrait."
–Byron York, The Wall Street Journal

"Carl Bernstein presents a . . . balanced and convincing picture of Mrs. Clinton . . . He also poses the essential concerns voters will need to confront in deciding whether they will support Mrs. Clinton's 2008 candidacy."–Robert Dallek, The New York Times

"[Carl Bernstein] has not lost his reporter's touch, and A Woman in Charge has already refocused serious questions–and supplied new information–about Hillary and Bill Clinton, their past behavior and their current ambitions to regain the White House."
–Kevin Phillips, The Washington Post Book World


"You could say Bernstein has written the definitive book on Hillary."
–Lynn Bronikowski, Rocky Mountain News

"Bernstein's A Woman in Charge is sprightly written, often insightful in its judgments, and studded with factual nuggets that enhance the Hillary saga."
–Walter Shapiro, Salon.com

"This book is really a considerable achievement."
–Peter Grier, Christian Science Monitor


"Those who adore Clinton (and those who despise her) will find anecdotes to savor in Bernstein's account. But the book aims higher, trying to illuminate a person who remains a mystery to millions. To pry open that truth, the author tracked down sources who might shed light on Clinton's character. He spoke to friends, mentors and staffers; he gained access to the papers of the late attorney Diane Blair, one of Clinton's closest friends. The work paid off."–Josh Getlin, Los Angeles Times

"A Woman in Charge revisits in revealing and compelling detail the spiritual and fleshly perils that shaped the [Clintons'] journey."–Chris Lehmann-Haupt, New York Observer


"A layered, thoughtful, critical biography of the woman who, at this writing, seems poised to become the 44th president of the United States…[a] revealing, admiring, often surprising book."–Kirkus Reviews (starred)

"Eight years in the making, Bernstein's thorough look at Hillary Clinton is both fair and fascinating…the quotes make the book…Through [his] interviews, Bernstein moves the Hillary story to a deeper place."–Ilene Cooper, Booklist
Knopf, 9780375407666, 640pp.
Publication Date: June 5, 2007
or
Not Currently Available for Direct Purchase