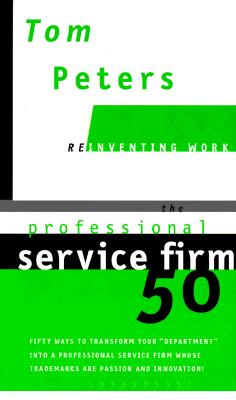 The Professional Service Firm50 (Reinventing Work)
Fifty Ways to Transform Your "Department" into a Professional Service Firm W
Hardcover

* Individual store prices may vary.
Description
Transform white collar departments into "professional service firms" whose sole, powerful asset is knowledge.

Idea: You are boss of a 23-person finance department in a division of a big company.  Or, rather, you were boss of the finance department.  Now, per our suggestion-model, you are Managing Partner, Finance Inc., a full-fledged professional service firm which is a wholly owned subsidiary of your division.

Goal: Learn from the best professional service firms!  Transform your unit!  Today, even after re-engineering done well, the "department" doesn't look much like McKinsey, Andersen or Chiat Day.  (And that's an understatement!)

Aim, in short: Cool people (call them "talent") working on cool projects with cool clients.  The aim redux: A cool Finance/Purchasing, IS, HR, Sales department. Why not?

The cool professional service firm is just that: cool people/talent, a portfolio of cool projects, cool clients.  Period.  It's only asset -- literally -- is brains. It's only product is projects. It's only aim is truly memorable client service.

So step #1, then, is the organization (PSF) . . . transforming "departments" in which white collar folks work into way cool professional sercie firms adding way cool value by doing way cool "stuff".

Peters discusses making the most of presentations, working with outsiders on market analysis, how to imporve brainstorming meetings, how to develop relationships with clients and get the most out of them.

50 of Tom Peters's trademark insights on how to get the most our of your department.

See also the other 50List titles in the Reinventing Work series by Tom Peters -- The Brand You50 and The Project50 -- for additional information on how to make an impact in the professional world.
Knopf, 9780375407710, 240pp.
Publication Date: September 21, 1999
About the Author
Tom Peters continues to be in constant demand for lectures and seminars. In addition to researching and writing his books, he travels more widely than ever to monitor and observe the business environment worldwide. The founder of the Tom Peters Group in Palo Alto, California, he lives mostly on American Airlines, or with his family on a farm in Vermont or an island off the Massachusetts coast.
or
Not Currently Available for Direct Purchase