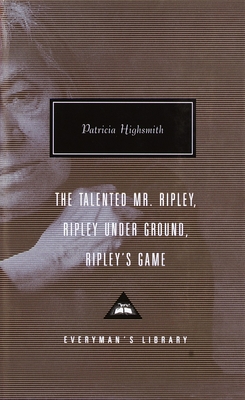 The Talented Mr. Ripley/Ripley Under Ground/Ripley's Game (Hardcover)
Everyman's Library, 9780375407925, 880pp.
Publication Date: October 12, 1999
Description
(Book Jacket Status: Jacketed)Three classic crime novels by a master of the macabre appear here together in hardcover for the first time.Suave, agreeable, and completely amoral, Patricia Highsmith's hero, the inimitable Tom Ripley, stops at nothing--not even murder-- to accomplish his goals. In achieving for himself the opulent life that he was denied as a child, Ripley shows himself to be a master of illusion and manipulation and a disturbingly sympathetic combination of genius and psychopath. As Highsmith navigates the mesmerizing tangle of Ripley's deadly and sinister games, she turns the mystery genre inside out and takes us into the mind of a man utterly indifferent to evil.The Talented Mr. RipleyIn a chilling literary hall of mirrors, Patricia Highsmith introduces Tom Ripley. Like a hero in a latter-day Henry James novel, is sent to Italy with a commission to coax a prodigal young American back to his wealthy father. But Ripley finds himself very fond of Dickie Greenleaf. He wants to be like him--exactly like him. Suave, agreeable, and utterly amoral, Ripley stops at nothing--certainly not only one murder--to accomplish his goal. Turning the mystery form inside out, Highsmith shows the terrifying abilities afforded to a man unhindered by the concept of evil.Ripley Under GroundIn this harrowing illumination of the psychotic mind, the enviable Tom Ripley has a lovely house in the French countryside, a beautiful and very rich wife, and an art collection worthy of a connoisseur. But such a gracious life has not come easily. One inopportune inquiry, one inconvenient friend, and Ripley's world will come tumbling down--unless he takes decisive steps. In a mesmerizing novel that coolly subverts all traditional notions of literary justice, Ripley enthralls us even as we watch him perform acts of pure and unspeakable evil.Ripley's GameConnoisseur of art, harpsichord aficionado, gardener extraordinaire, and genius of improvisational murder, the inimitable Tom Ripley finds his complacency shaken when he is scorned at a posh gala. While an ordinary psychopath might repay the insult with some mild act of retribution, what Ripley has in mind is far more subtle, and infinitely more sinister. A social slight doesn't warrant murder of course-- just a chain of events that may lead to it.
About the Author
Patricia Highsmith (1921 - 1995) was born in Fort Worth, Texas, and grew up in New York. She was educated at the Julia Richmond High School in Manhattan and then at Columbia University, where she earned her B.A. in 1942. Her first novel, Strangers on a Train (1950), tells the story of a tennis player and a psychotic who meet on a train and agree to swap murders. The terrifying tale caught the attention of director Alfred Hitchcock, who, with Raymond Chandler, filmed it in 1951. Both the book and the resulting movie are considered to be classics of the crime genre. Highsmith's subsequent novels, particularly five featuring the dashing forger/murderer Tom Ripley, have been vastly popular and critically acclaimed. In 1957 Highsmith won the coveted French Grand Prix de Litterature Policiere and in 1964 was awarded the Silver Dagger by the British Crime Writers Association. A reclusive person, Highsmith spent much of her life alone. She moved permanently to Europe in 1963 and spent her final years in an isolated house near Locarno on the Swiss-Italian border. Upon her death, Highsmith left three million dollars of her estate to Yaddo, the artist community in upstate New York.
Praise For The Talented Mr. Ripley/Ripley Under Ground/Ripley's Game…
"Patricia Highsmith is often called a mystery or crime writer, which is a bit like calling Picasso a draftsman."—CLEVELAND PLAIN DEALER"One of our greatest modernist writers."—Gore Vidal"Highsmith's dark and sometimes savage humor, and the intelligence that informs her precise and hard-edged prose, puts one in mind of Jonathan Swift and Evelyn Waugh."—NEWSDAY"[Highsmith] has created a world of her own-a world claustrophobic and irrational which we enter each time with a sense of personal danger."—Graham Greene"Highsmith's novels are peerlessly disturbing . . . bad dreams that keep us thrashing for the rest of the night."—THE NEW YORKER"For eliciting the menace that lurks in familiar surroundings, there's no one like Patricia Highsmith."—TIME
Advertisement