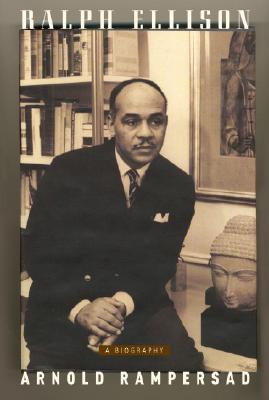 Ralph Ellison
A Biography
Hardcover

* Individual store prices may vary.
Description
The definitive biography of one of the most important American writers and cultural intellectuals of the twentieth century—Ralph Ellison, author of the masterpiece Invisible Man.

In 1953, Ellison's explosive story of an innocent young black man's often surreal search for truth and his identity won him the National Book Award for fiction and catapulted him to national prominence. Ellison went on to earn many other honors, including two presidential medals and election to the American Academy of Arts and Letters, but his failure to publish a second novel, despite years of striving, haunted him for the rest of his life. Now, as the first scholar given complete access to Ellison's papers, Arnold Rampersad has written not only a reliable account of the main events of Ellison's life but also a complex, authoritative portrait of an unusual artist and human being.

Born poor and soon fatherless in 1913, Ralph struggled both to belong to and to escape from the world of his childhood. We learn here about his sometimes happy, sometimes harrowing years growing up in Oklahoma City and attending Tuskegee Institute in Alabama. Arriving in New York in 1936, he became a political radical before finally embracing the cosmopolitan intellectualism that would characterize his dazzling cultural essays, his eloquent interviews, and his historic novel. The second half of his long life brought both widespread critical acclaim and bitter disputes with many opponents, including black cultural nationalists outraged by what they saw as his elitism and misguided pride in his American citizenship.

This biography describes a man of magnetic personality who counted Saul Bellow, Langston Hughes, Robert Penn Warren, Richard Wright, Richard Wilbur, Albert Murray, and John Cheever among his closest friends; a man both admired and reviled, whose life and art were shaped mainly by his unyielding desire to produce magnificent art and by his resilient faith in the moral and cultural strength of America.

A magisterial biography of Ralph Waldo Ellison—a revelation of the man, the writer, and his times.
Praise For Ralph Ellison: A Biography…
Praise for Ralph Ellison

"Illuminating and richly reported . . ."
-The New York Times Book Review

"Absorbing . . . stunning."
-South Florida Sun-Sentinel

"Riveting . . . exhaustive . . . an intensely researched, elegantly written book"
-Los Angeles Times Book Review

"In this tremendous biography, Rampersad brings Ellison back down to human scale, relating the writer's remarkable, deeply sad life with reportorial flare and unflinching honesty . . . Rampersad's is a deeply sympathetic biography, but by no means excessively forgiving. Here is Ellison full of rage and talent, vain and ambitious, but fired by a deep moral clarity."
-Sunday Star Ledger

"With the publication of Arnold Rampersad's Ralph Ellison, we have the first comprehensive treatment . . . elegant and lively prose . . . we now have a 'mighty' biography of this quintessential American life."
-Charlotte Observor

"Immensely engaging . . . in Rampersad's hands, Ellison's life emerges as one of the essential literary lives of the 20th century . . . Rampersad's exemplary biography, written with a blend of deep sympathy and cool detachment, splendidly achieves the one true task of literary biography: it illuminates the life so that we may better understand what it produced."
-Houston Chronicle

"Thorough and insightful."
-American Heritage

"Marvelous . . . In style and structure, Ralph Ellison: A Biography is, like its subject, unfailingly elegant."
-The Tennessean

"Compelling and insightful."
-The Washington Times

"A jewel-like level of social detail . . . illuminate[s] not just the development of the author's vision, but the complex contexts that shape literary creation."
-Austin American Statesman

"A dependable reference, a compelling story, a cautionary tale . . . Rampersad has triumphed."
-The Plain Dealer

"Important . . . the definitive life . . . skillfully written, deeply researched"
-The New York Sun

"Rampersad addresses the nature of Ellison's psyche and makes reasonable connections between Ellison's personal experiences and his writing, and he avoids psychoanalystic overdetermination and cheap mirror work between lived events and the written word. Along similar lines, he deftly deals with the salacious material that a weaker hand would overplay"
-Harper's

"Compassionate yet devastating . . . subtle insight, painstaking scholarship and elegant presentation"
-The Nation

"Absorbing . . . fascinating."
-Black Florida Life and Style

"An invaluable contribution . . . Arnold Rampersad's biography of Ellison is a reserved, dignified, thoroughly researched and well-paced study of the life of one of America's greatest authors. Unlike many literary biographers, who perform hackneyed psychoanalysis or amateur literary criticism on their subjects' lives and works, Rampersad sticks to the events of Ellison's life, rendering them with a refreshing objectivity seldom found in our sensationalist times."
-San Francisco Chronicle

"Sumptuously researched . . . his subtlety shines."
-The Star Tribune (St. Paul)

"What a wonderful biography this is, filled with intelligence and understanding of its subject and all the varied milieus in which he lived his long and wonderful life . . . Mr. Rampersad writes so beautifully, so evocatively, that every page of Ralph Ellison is a pleasure to read . . . it is hard to imagine anyone more attuned to him, more insightful, more truly sympathetic than Mr. Rampersad, who has written the definitive biography of this great American."
-Washington Times


"Ralph Ellison is a classic work of erudition, grace, and elegance. Rampersad offers us an Ellison whose gifts and warts orbit the same universe of creative genius. Like Ellison's work, Rampersad's text wrestles eloquently with difficult truths about race, politics, and American life."
-Michael Eric Dyson

"Arnold Rampersad's stunningly revealing biography has, at long last, unveiled–in magisterial prose–the very complex and vulnerable man behind Ralph Ellison's own masks and myths. One of the nation's most brilliant writers emerges as all the more fascinating precisely because he was so very human. Painstakingly researched and compellingly written, Ralph Ellison is a masterwork of the genre of literary biography."
—Henry Louis Gates, Jr.

"Ralph Ellison's Invisible Man is probably the Great American Novel. Arnold Rampersad's long-awaited and beautifully spun Ralph Ellison is a great American biography."
—David Levering Lewis, winner of the Pulitzer Prize for Biography

"Ralph Ellison's place in American literature demands a biography that is as eloquent, thorough and wise as its subject. This is it. The book represents a flawless match of biographer and subject--in Arnold Rampersad's hands we fathom both the burden and measure of Ellison's brilliance."
                                                        - Toni Morrison, winner of the Nobel Prize in Literature


"Arnold Rampersad's biography of Ralph Ellison is the fullest and most authoritative study of Ellison's life and work to date. A celebration and defense of a triumphant and heroic life, it is bluntly unhagiographic and painstakingly attentive to Ellison's foibles. Ralph Ellison is at once an astute portrait of a complicated man and a social and literary history of his times–a major book on a major American writer."
-Daniel Aaron, author, Writers on the Left

"Ralph Ellison: A Biography portrays with unusual insight one of the most elusive figures in the history of American literature. Whether treating Ellison's controversial aloofness from civil rights militancy, his passionate lifelong effort to understand America, or the long gestation and writing of Invisible Man, every page of Rampersad's richly detailed portrait dramatizes one of Ellison's favorite words: complexity."
-Kenneth Silverman, author, Edgar A. Poe, and winner of the Pulitzer Prize

"Like Richard Ellmann on James Joyce, Arnold Rampersad on Ralph Ellison is in a class of its own. His masterful and magisterial book is the most powerful and profound treatment of Ellison's undeniable artistic genius, deep personal flaws, and controversial political evolution. And he reveals an Ellison unbeknownst to all of us. From now on, all serious scholarship on Ellison must begin with Rampersad's instant and inimitable classic in literary biography."
-- Cornel West
Knopf, 9780375408274, 672pp.
Publication Date: April 24, 2007
or
Not Currently Available for Direct Purchase