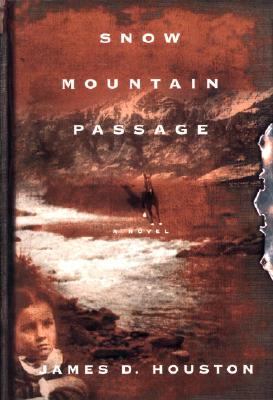 Snow Mountain Passage (Hardcover)
Knopf, 9780375411038, 336pp.
Publication Date: March 27, 2001
* Individual store prices may vary.
or
Not Currently Available for Direct Purchase
Description
Snow Mountain Passage is a powerful retelling of the most dramatic of our pioneer stories—the ordeal of the Donner Party, with its cast of young and old risking all, its imprisoning snows, its rumors of cannibalism. James Houston takes us inside this central American myth in a compelling new way that only a novelist can achieve.

The people whose dreams, courage, terror, ingenuity, and fate we share are James Frazier Reed, one of the leaders of the Donner Party, and his wife and four children—in particular his eight-year-old daughter, Patty. From the moment we meet Reed—proud, headstrong, yet a devoted husband and father—traveling with his family in the "Palace Car," a huge, specially built covered wagon transporting the Reeds in grand style, the stage is set for trouble. And as they journey across the country, thrilling to new sights and new friends, coping with outbursts of conflict and constant danger, trouble comes. It comes in the fateful choice of a wrong route, which causes the group to arrive at the foot of the Sierra Nevada too late to cross into the promised land before the snows block the way. It comes in the sudden fight between Reed and a drover—a fight that exiles Reed from the others, sending him solo over the mountains ahead of the storms.

We follow Reed during the next five months as he travels around northern California, trying desperately to find means and men to rescue his family. And through the amazingly imagined "Trail Notes" of Patty Reed, who recollects late in life her experiences as a child, we also follow the main group, progressively stranded and starving on the Nevada side of the Sierras.

Snow Mountain Passage is an extraordinary tale of pride and redemption. What happens—who dies, who survives, and why—is brilliantly, grippingly told.
About the Author
James D. Houston is the author of six previous novels, among them "Continental Drift," "Love Life," and" The Last Paradise." His nonfiction works include "Californians";" In the Ring of Fire: A Pacific Basin Journey"; and "Farewell to Manzanar," which he coauthored with his wife, Jeanne Wakatsuki Houston. He lives in Santa Cruz, California, in the house where Patty Reed spent the last years of her life.
Praise For Snow Mountain Passage…
"California was the Golden Land. The story of going there, to a paradise of orchards and gardens, is an American defining epic. Nobody has told it better than Jim Houston in Snow Mountain Passage. What a splendid novel."
 
--William Kittredge, author of The Nature of Generosity

"Snow Mountain Passage is not just a terrific read--full of incident, history, heartbreak, and actual heroism--it is also an elegant, beautifully wrought novel of great passion and love within a family. I don't know a book like it. It's wonderful."--Richard Ford

"I have always loved Jim Houston's writing. I love Jim Houston. As always, Snow Mountain Passage breathes with his spirit of kindness and generosity." — Carolyn Kizer

"A vivid retelling of the Donner Party's 1846 winter ordeal . . .This is one of the essential stories of the American westward movement, and seldom has it been told with such exemplary passion and pathos. Is there yet any doubt that the historical novel is alive and well once again? Houston has made another significant contribution to the genre's revival." —Kirkus Starred Review

"Haunting and immediate . . . reveals its protagonists in all their vulnerability." -- Publishers Weekly Starred Review


"Snow Mountain Passage is a dazzling achievement. James D. Houston chronicles the American Experience like no other writer I know. With prose as honest and lyrical as the Sierras themselves, he weaves a story that is compelling, heart wrenching, and ultimately redemptive. And he does so with the fine eye of a true master." --Connie May Fowler
Advertisement