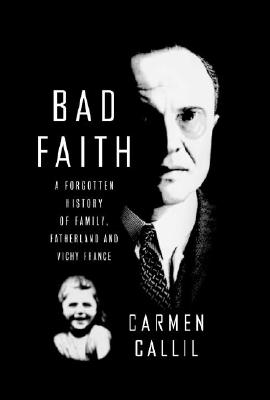 Bad Faith
A Forgotten History of Family, Fatherland and Vichy France
Hardcover

* Individual store prices may vary.
Other Editions of This Title:
Paperback (4/1/2007)
Paperback (12/4/2007)
Description
Bad Faith tells the story of one of history's most despicable villains and con men—Louis Darquier de Pellepoix, Nazi collaborator and "Commissioner for Jewish Affairs," who managed the Vichy government's dirty work, "controlling" its Jewish population.

Though he is one of the less remembered figures of the Vichy government, Darquier (the aristocratic "de Pellepoix" was appropriated) was one of its most hideously effective officials. Already a notorious Nazi-supported rabble-rouser when he was appointed commissioner, he set about to eliminate the Jews with particularly brutal efficiency. Darquier was in charge of the Vel' d'Hiv' round-up in Paris in which nearly 13,000 Jews were dispatched to death camps. Most of the French who died in Auschwitz were sent there during his tenure. Almost all of the 11,400 French children sent to Auschwitz—the majority of whom did not survive—were deported in his time. In all, he delivered 75,000 French to the Nazis and, at the same time, accelerated the confiscation of Jewish property, which he then used for his own financial gain. Never brought to justice, he lived out his life comfortably in Spain, denying his involvement in the Holocaust until his last days.

Where did Louis Darquier come from? How did this man—a chronic fantasist and hypocrite, gambler and cheat—come to control the fates of thousands? What made him what he was? These are the questions at the center of this extraordinary book. In answering them, Carmen Callil gives us a superlatively detailed and revealing tapestry of individuals and ideologies, of small lives and great events, the forces of government and of personalities—in France and across the European continent—that made Vichy possible, and turned Darquier into its "dark essence."

A tour de force of memory, accountability, and acknowledgment, Bad Faith is a brilliant meld of grand inquisitive sweep and delicate psychological insight, a story of how past choices and actions echo down to the present day, and an invaluable addition to the literature and history of the Holocaust.
Praise For Bad Faith: A Forgotten History of Family, Fatherland and Vichy France…
"A brilliant and frightening tour de force, a triumph of research and one of the finest portraits of human evil I have ever read . . . The choices the French [faced] during the war [are] brought home with astonishing force and passion by Carmen Callil . . . Callil has done a Herculean job of research to give a far closer, richer portrait of [Darquier's] life than we have for almost any figure of his era."
–David A. Bell, The Nation

"Bad Faith is Ms. Callil's expert investigation of [Darquier]'s life and crimes . . . But the scope of Bad Faith makes it much more than the story of one family's dark secrets. This book becomes a quietly devastating history of Vichy France's anti-Semitic machinations . . . Ms. Callil's impressively exhaustive research follows a trail of dishonesty that goes all the way back to Louis's baptism . . . Written with dry, elegant sang-froid . . . Potent."
–Janet Maslin, New York Times

"Magisterial . . . With astonishing detail and documentation (not to mention skill and style) Callil offers a biography of the man who took charge of 'the Jewish problem' for the Nazis in France . . . The stories–the tangled personal histories of Louis, Myrtle, and Anne as well as the equally complex history of France in the 1930s and 1940s–will keep readers gripped from beginning to end. The 'facts' alone are compelling enough, but it's the deft way Callil has assembled them that works so well . . . Blending these personal and public stories, Callil offers an unparalleled window into Louis Darquier and the extraordinary confluence of historical circumstances and personal character (or, more accurately, lack of character) that allowed this small man to obtain a big title."
–Erika Dreifus, Christian Science Monitor

"Stirring . . . As thorough as Callil's portrait is of the antihero Darquier–so readable in part because even villains can be colorful–this book also manages to interweave several other stories . . . [A] telescopic yet meticulously drawn study of Darquier and his era. Among this book's many merits, it is what we might call a 'living' document–not a staid history of a locked-up past . . . We can nearly follow the results of Vichy into our own generation. In some sense, we can glimpse the fluidity of history and, perhaps, the possibility for redemption."
–Jason Warshof, San Francisco Chronicle

"This astonishing, riveting, carefully researched, and elegantly written history chronicles the life of French anti-Semite and Nazi collaborator Louis Darquier . . . Along with this astounding biography, Callil tells the heartrending story of Darquier's daughter, Anne . . . All together, this is a brilliant performance in sweeping history, scrupulous biography, and tender psychology."
–Barbara Fisher, Boston Globe

"Callil has written a fascinating book about this monster . . . Bad Faith is an often moving book, as well as an improbably funny one–a study of awfulness made unexpectedly poignant by the author's own stake in the subject."
–Nicholas Fraser, Harper's Magazine

"[Carmen Callil] regards the man at the center of Bad Faith with a contempt that burns on every page . . . By telling [Darquier's] story so unsparingly in Bad Faith, Ms. Callil helps to right this historical wrong, and reminds us along the way that it does not take a great man to do a great evil."
–Adam Kirsch, New York Sun

"Callil's compelling work is reparation to the healer and friend who was unable to speak openly about the cause of her loneliness and suffering. Highly recommended."
–Library Journal

"Louis Darquier, who served from 1942 to 1944 as the commissioner for Jewish affairs in France's collaborating Vichy government, epitomized [the] effluvia of Nazi rule. A mountebank (he bestowed upon himself a noble title), an improvident sponger constantly on the run from his creditors, a wife-beating womanizer, and a braggart, the gallivanting, monocled Darquier cut a ridiculous figure even among the rabble of 1930s French far-right anti-Semites . . . Callil arrestingly weaves the sad story of Anne Darquier's ultimately failed efforts to reconcile herself to her Larkinesque condition with the history of Darquier's grungy life, the chaos and political passions of the waning years of the Third Republic, and the sleazy intrigue and backbiting of the Vichy regime."
– Benjamin Schwarz, The Atlantic Monthly

"Those whom Vichy empowered and enriched were often corrupt, traitorous or mentally disturbed. Louis Darquier was all of these [and] one of the monsters of French history . . . What Darquier really excelled at was graft, and Callil's account of his machinations is superb. . . Callil's account of France's descent into the anti-Semitic maelstrom [is] dramatic . . . Intimate."
–Christopher Caldwell, New York Times Book Review

"Callil is both fascinated and repelled by [Darquier]. But this is more than his story. Callil also relates the sad fate of his daughter, Anne . . . [This] beautifully written work provides a frank and disturbing portrait of the rot that slowly ate away at French society both before and during the Occupation."
–Jay Freeman, Booklist (boxed and starred)

"The bottomless corruption, political and personal, of French fascism is explored in this absorbing biography of one of its most loathsome figures–Louis Darquier . . . Callil sets Darquier's public career in an unsparing reconstruction of his sordid private life . . . Through her superbly written, meticulously researched, densely novelistic portrait of Darquier, Callil takes an uncommonly penetrating look at the malignity of fascism and the suffering of its many victims."
–Publishers Weekly (starred)

We've received the following praise from the U.K. for Bad Faith:

"Darquier's ruthlessness is laid bare by Callil's deft unravelling of the complex history of his part in the Holocaust . . . [Her] statistics are endless and chilling . . . Callil pulls off a daunting challenge quite brilliantly. This hugely readable slice of history seen 'from underneath' tells an unknown victim's tale, rather as a generation ago George Rudé presented the French Revolution 'from below' by giving the perspective of the lower classes. Her detective work is superb, the social background vividly sketched, and the sorrow and the cruelty of it all are the more effective for being understated. She pulls no punches."
–David Coward, London Review of Books

"Carmen Callil's remarkable Bad Faith is an exemplary exposition of the sinister life of Louis Darquier . . . A tour de force and, one senses, driven by a need to bear witness, it shows how biography can sometimes be the best history."
–William Boyd, The Guardian

"Bad Faith is a tale of terrible things . . . Callil's sardonic humour and eye for detail make it a compelling read."
–A.S. Byatt, The Guardian

"Bad Faith represents eight years of astonishing research . . . A remarkable book."
–Antony Beevor, The Sunday Telegraph

"A work of phenomenally thorough, generous and humane scholarship….Callil understands anguish, and lays bare its causes with clarity and precision. Bad Faith exemplifies what Primo Levi called the 'continuous intellectual and moral effort' that is the only adequate response to the events described here."
–Hilary Spurling, The Daily Telegraph

"A significant work of history . . . A book of devastating power, written with a novelist's eye for character and with an acute delineation of secrets, loss and grief. I can't remember the last time I read such a moving piece of nonfiction."
–The Independent on Sunday

"A fascinating and valuable book."
–The New Statesman

"An excellent book based on much original research as well as an impressive command of the vast secondary literature on Vichy France."
–Richard Vinen, The Independent

"An altogether serious work, beautiful in its arrangement and narration, which goes to the heart of Vichy France . . . Impeccably researched, Bad Faith is a work of great power and originality that shines a light on a shadowy period of French history; Callil is to be congratulated on her achievement."
–The Sunday Times (London)

"Superb . . . Her book about Darquier is furious, lit up by her contempt for the man and her rage about the system of persecution and bureaucratised murder that he served. But what makes it so extraordinary and so touching is its quieter, more confidential admission of pain. Callil's heart goes out to Darquier's victims . . . [her] compassion is responsible for the agonizing tenderness of this book."
–The Observer

"Magnificent . . . Callil approaches the unenviable subject of human depravity with calm resolution. Her ability to engage imaginatively with the plight of the vulnerable is unusual among professional historians, and rare even among novelists."
–The Times (London)
Knopf, 9780375411311, 640pp.
Publication Date: September 12, 2006
or
Not Currently Available for Direct Purchase