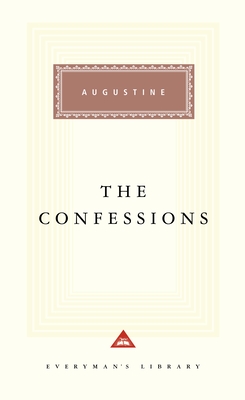 The Confessions (Everyman's Library Classics Series)
Hardcover

* Individual store prices may vary.
Other Editions of This Title:
Paperback (3/6/2018)
Hardcover (6/6/2017)
Paperback (12/29/1998)
Hardcover (11/1/2017)
Hardcover, Latin (5/23/2016)
Paperback (7/1/2003)
Description
Augustine's fourth-century spiritual autobiography not only is a major document in the history of Christianity, a classic of Roman Africa, and the unchallenged model through the ages for the autobiographical record of the journey to self-knowledge, it also marks a vital moment in the history of Western culture.

As Augustine explains how, when, and why he became the man he is, he probes the great themes that others were to explore after himCfaith, time, truth, identity, and self-understanding--with a richness of detail unmatched in ancient literature. Dense with vivid portrayals of friends, family, colleagues, and enemies, The Confessions chronicles the passage from a life of sensuality and superstition to a genuine spiritual awakening--in a powerful narrative of one man's inner education that continues to shape the way we think and act today.

(Book Jacket Status: Not Jacketed)
Praise For The Confessions (Everyman's Library Classics Series)…
"Augustine's Confessions are our most brilliant evidence for the spiritual and intellectual progress of a man in the ancient world. We know his life like nobody else's in that period . . . There is no ordinary limit to the extraordinary range of his mind. He is a fitting study for a lifetime, even for those who do not share the Christian faith which sustained his ceaseless writing and thinking." –from the Introduction by Robin Lane Fox
Everyman's Library, 9780375411731, 432pp.
Publication Date: May 1, 2001
About the Author
St Augustine of Hippo, the great Doctor of the Latin Church, was born at Thagaste in North Africa, in 354 CE. He was brought up as a Christian but he was soon converted to the Manichean religion. He also came under the influence of Neoplatonism. However, in 387 he renounced all his unorthodox beliefs and was baptized into Christianity. His surviving works have profoundly influenced Christian theology and the psychology and political theology of the West.