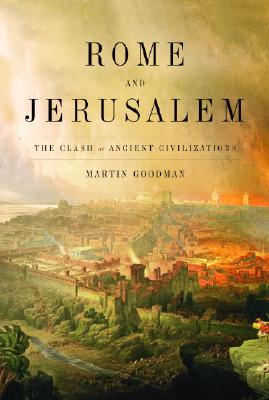 Rome and Jerusalem: The Clash of Ancient Civilizations (Hardcover)
The Clash of Ancient Civilizations
Knopf Publishing Group, 9780375411854, 598pp.
Publication Date: October 23, 2007
* Individual store prices may vary.
or
Not Currently Available for Direct Purchase
Description
A magisterial history of the titanic struggle between the Roman and Jewish worlds that led to the destruction of Jerusalem.

In 70 C.E., after a four-year war, three Roman legions besieged and eventually devastated Jerusalem, destroying Herod's magnificent Temple. Sixty years later, after further violent rebellions and the city's final destruction, Hadrian built the new city of Aelia Capitolina where Jerusalem had once stood. Jews were barred from entering its territory. They were taxed simply for being Jewish. They were forbidden to worship their god. They were wholly reviled.

What brought about this conflict between the Romans and the subjects they had previously treated with tolerance? Martin Goodman—equally renowned in Jewish and in Roman studies—examines this conflict, its causes, and its consequences with unprecedented authority and thoroughness. He delineates the incompatibility between the cultural, political, and religious beliefs and practices of the two peoples. He explains how Rome's interests were served by a policy of brutality against the Jews. He makes clear how the original Christians first distanced themselves from their origins, and then became increasingly hostile toward Jews as Christian influence spread within the empire. The book thus also offers an exceptional account of the origins of anti-Semitism, the history of which reverberates still.

An indispensable book.
About the Author
Martin Goodman has edited both "The Journal of Roman Studies" and "The""Journal of Jewish Studies," has taught Roman history at Birmingham and Oxford universities, and is currently professor of Jewish Studies at Oxford. A Fellow of Wolfson College, Oxford, and of the Oxford Centre for Hebrew and Jewish Studies, he was elected a Fellow of the British Academy in 1996. He is the editor of "The Oxford Handbook of Jewish Studies," which won a National Jewish Book Award for Scholarship in 2002. He lives with his family in Birmingham, England.
Praise For Rome and Jerusalem: The Clash of Ancient Civilizations…
"This is an important book, on a difficult subject: the reason why the Romans, who had so much in common with the Jews, sought to destroy the Jews and Judaism completely. Only one man could have written it. Martin Goodman is professor of Jewish studies at Oxford and has the unique distinction of having edited both the Journal of Roman Studies and the Journal of Jewish Studies. This polarity of expertise enables him to describe in a penetrating way the terrifying Jewish revolts against Rome of AD 66-70 and 132-5, as well as provide a fresh and convincing analysis of their origins and consequences. . . Goodman has written a splendid book."
—Paul Johnson, The Tablet

"Martin Goodman's massive new treatment of two crucial centuries of Jewish history should be read by anyone seeking seriously to understand modern Middle Eastern tanges. . . It would be pleasing to feel that international statesmen might draw lessons from Goodman's lucid account of ancient tragedy."
—Diarmaid MacCulloch, The Guardian

"Sombre and magisterial. . . a brilliant comparative survey. . . There can be no doubting that the issues raised by Rome and Jerusalem will have a resonance with readers far beyond the confines of university classes or theology departments. The Roman world has begun to hold a mirror up to our own anxieties in a way that would have appeared wholly implausible a bare decade ago. If it was the fall of the Bastille that shaped 19th and 20th century history, then it can sometimes seem as though the 21st century is being shaped by the fall, nearly 2000 long years ago, of Jerusalem."
—Tom Holland, Sunday Times

"His style is brisk and clear, his learning prodigious and his scope immense. . . as Goodman's compelling and timely book reminds us, even the most pessimistic could hardly have guessed that it would take 2000 years for [the Jews] to return to their holy city — or that even then, their battles would be far from over."
—Dominic Sandbrook, Saturday Telegraph

"Rome and Jerusalem is, among many other things, a history of anti-Semitism — or, if that term is felt to be anachronistic for Goodman's period. . . judaophobia. . . Martin Goodman has spent his career studying both ancient Rome and ancient Jerusalem …He is thus the ideal scholar to try to hack a way through these tangled thickets of belief, prejudice and false consciousness."
—Paul Cartledge, Sunday Telegraph

"A monumental work of scholarship … the parallels with modern day Baghdad are all the more resonant for Goodman studiously avoiding them."
—Rabbi David J. Goldberg, the Independent

"An impressive, scholarly book."
—The Economist
Advertisement