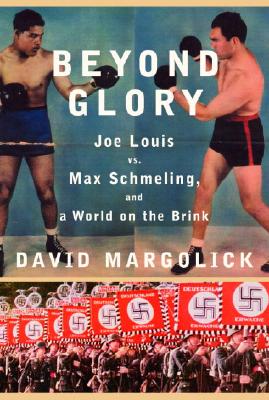 Beyond Glory (Hardcover)
Joe Louis vs. Max Schmeling, and a World on the Brink
Knopf, 9780375411922, 432pp.
Publication Date: September 27, 2005
Other Editions of This Title:
Paperback (10/10/2006)
* Individual store prices may vary.
Description
Nothing in the annals of sports has aroused more passion than the heavyweight fights in New York in 1936 and 1938 between Joe Louis and Max Schmeling–bouts that symbolized and galvanized the hopes, hatreds, and fears of a world moving toward total war.

David Margolick takes us into the careers of both men. We see Louis in his boyhood and amateur days in Detroit and Chicago, and the blossoming of his boxing genius. We see him, already a near-mythical figure, taking New York by storm in the 1930s, fighting before record crowds, the savior of a sport that had fallen into decline and a long sought after symbol of redemption for black America after the scandalous reign of Jack Johnson two decades earlier. And we witness how with talent, a gentle personality, and shrewd management, Louis managed to trump the brutal racism directed at him and came to dominate what had been primarily a white man's sport, becoming a hero of unprecedented power and influence in black America.

Schmeling, we learn, was a kind of chameleon, a cultural icon in Weimar Germany who seamlessly, disconcertingly, maintained his privileged status after the Nazi takeover. He pulled off a remarkable feat, relying on a Jewish manager and a Jewish promoter in New York while being extolled at home as a model of "racial superiority." Margolick meticulously examines all the complex ties that developed between Schmeling and the Nazis, shattering the myth that they frowned upon him before he upset Louis in 1936–he was a ten-to-one underdog–and ostracized him after losing to Louis two years later.

We see the extraordinary buildup to the 1938 rematch–the worsening international tensions seemingly raising the stakes–in which Louis would need only 124 seconds to defeat Schmeling, while radio allowed the whole world to listen. Margolick vividly captures the outpouring of emotion that the two fighters aroused–in the white South, in the black and Jewish communities in the United States, in Germany, everywhere–and he makes clear the cultural and social divisions the two men came to represent as the threat posed by the Nazis became increasingly clear, and as America began to feel the effects of a nascent civil rights movement. Schmeling's postwar success in business and Louis's sad decline add a poignant coda.

A book at once about sports and about a pivotal moment in twentieth-century history, Beyond Glory pulses with energy from first to last.
About the Author
David Margolick is a longtime contributing editor at "Vanity Fair," ""where he writes about culture, the media, and politics." "He served as national legal affairs editor at "The New York Times, "where he wrote the weekly At the Bar column for seven years. He is the author most recently of "Strange Fruit: The Biography of a Song. "This is his fourth book. He lives in New York City.
Praise For Beyond Glory: Joe Louis vs. Max Schmeling, and a World on the Brink…
"Absorbing. . . . Fascinating. . . . Margolick describes all this so vividly that you almost feel you were there sharing in the joy of sweet revenge." –Ian Buruma, The New York Review of Books

"Even if you've never seen a boxing match, Beyond Glory is an irresistible read. For fans it is indispensable. . . . Over the last 150-odd pages my pulse raced; by the book's end I felt as if my ears were ringing with the roar that swept through Yankee Stadium bleachers on the night of their rematch." –Allen Barra, Los Angeles Times Book Review

"A valuable addition to a growing library of books on sports and culture. . . . Beyond Glory is historical reportage, a heavyweight of a book that is likely to be the definitive chronicle of its subject."– Joyce Carol Oates, The New York Times Book Review

"A fascinating look at a historical era through the prism of sports." –Marta Salij, The Detroit Free Press
or
Not Currently Available for Direct Purchase