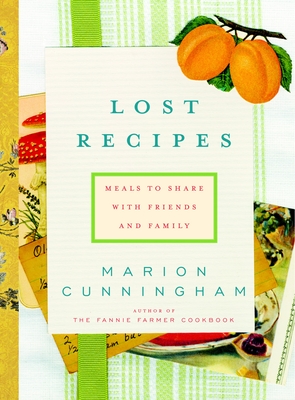 Lost Recipes: Meals to Share with Friends and Family (Hardcover)
Meals to Share with Friends and Family
Knopf Publishing Group, 9780375411984, 240pp.
Publication Date: October 14, 2003
Description
From: Marion Cunningham
To: The American home cook
Subject (URGENT): The family table
We need to lure our families, friends, and neighbors back to the table, to sit down and eat together. It is important that we be in charge again of our cooking, working with fresh, unadulterated ingredients. Enclosed you will find many simple-to-make, good-tasting, inexpensive dishes from the past that taste better than ever today. I urge you to try them.
. Good soups satisfying one-dish meals that can be made ahead
. Dishes that can be made with what's on hand First-Prize Onion Casserole, Shepherd's Pie, Salmon or Tuna Loaf
. Vegetables baked and ready for the table
. Real salads, substantial enough for lunch or supper, with snappy dressings
. Breads and cookies, puddings and cakes that you loved as a child
PS: There is nothing like the satisfaction of sharing with others something you have cooked yourself.
About the Author
Marion Cunningham (1922-2012) was born in southern California and lived much of her life in Walnut Creek. She was responsible for the complete revision of The Fannie Farmer Cookbook and was the author of The Fannie Farmer Baking Book, The Breakfast Book, The Supper Bok, Cooking with Children, and Learning to Cook with Marion Cunningham. She traveled frequently throughout the country giving cooking demonstrations, contributed numerous articles to Bon Appetit, Food & Wine, Saveur, and Gourmet magazines, and wrote a column for the San Francisco Chronicle. In May 2003 she received the Lifetime Achievement Award of the James Beard Foundation."
Advertisement