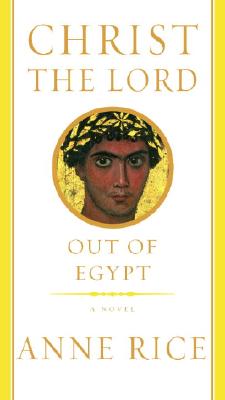 Christ the Lord (Hardcover)
Out of Egypt
Knopf, 9780375412011, 336pp.
Publication Date: November 1, 2005
Other Editions of This Title:
Mass Market (10/31/2006)
Paperback (2/26/2008)
Compact Disc (10/1/2005)
Compact Disc (10/31/2006)
Paperback (2/1/2009)
Mass Market Paperback (11/1/2006)
Hardcover, Large Print, Large Print (11/8/2005)
* Individual store prices may vary.
Description
Having completed the two cycles of legend to which she has devoted her career so far, Anne Rice gives us now her most ambitious and courageous book, a novel about the early years of CHRIST THE LORD, based on the Gospels and on the most respected New Testament scholarship.

The book's power derives from the passion its author brings to the writing and the way in which she summons up the voice, the presence, the words of Jesus who tells the story.
About the Author
Anne Riceis the author of twenty-six books. She lives in La Jolla, California.

www.annerice.com
Praise For Christ the Lord: Out of Egypt…
What the critics are saying about
Anne Rice's
Christ the Lord


"A riveting, reverent imagining of the hidden years of the child Jesus . . . A triumph of tone—her prose lean, vivid—and character . . . Christ the Lord is a cross between a historical novel and an update of Tolstoy's The Gospels in Brief, it presents Jesus as nature mystic, healer, prophet and very much a real young boy . . . Essentially it's a mystery story, of the child grappling to understand his miraculous gifts and numinous birth . . . As he ponders his staggering responsibility, the boy is fully believable—and yet there's something in his supernatural empathy and blazing intelligence that conveys the wondrousness of a boy like no other . . . With this novel, Anne Rice has indeed found a convincing version of him; this is fiction that transcends story and instead qualifies as an act of faith."

—Kirkus Reviews

"Rice retains our rapt attention with the use of small, visceral details. We can almost taste the food Jesus would have eaten, experience the sights and sounds, the chaos and bustle of a large clan, with which he would have been familiar."

—Bernadette Murphy, The Los Angeles Times

"Rice is as serious as a Commandment, and has muscled up her story of the junior Jesus by obsessively researchig the most minute detail of family, communal and religious life in first-century Palestine. . . . Rice is just as ambitious, much more orthodox and just getting warming up . . . From Lestat the vampire to Jesus the Lord is a supernatural stretch but Rice makes it. Convincingly."

—Bill Bell, Daily News

"Well-researched and nicely written and Rice uses restraint in telling her tale. She believably represents Jesus' gradual understanding of his origins and fate. . . . Reverent and often moving."

—Natalie Danford, People

"[Rice] writes this book in a simpler, leaner style, giving it the slow but inexorable rhythm of an incantation. The restraint and prayerful beauty of Christ the Lord is apt to surprise her usual readers and attract new ones."

—Janet Maslin, The New York Times

"Rice brings the same passion to her colorful account of the young Jesus and his quest to understand his strange powers (turning clay pigeons into live birds, bringing a dead child back to life). . . . In her attempt to breathe life into a historical religious figure, Rice's superb storytelling skills enable her to succeed where many other writers have failed. . . . Highly recommended."

—Library Journal

"This is, in fact, an intensely literal, historical, reverent treatment of a year in the life of Jesus, son of God, written in simple, sedate language that steers clear of both clanging anachronisms and those King Jamesian ye's and unto's and begats."

—Lev Grossman, Time

"In Christ the Lord: Out of Egypt, Anne Rice scores a direct hit: By embracing the miraculous, she manages to give us a Jesus who is divinely human."

—Frank Wilson, The Philadelphia Inquirer
or
Not Currently Available for Direct Purchase