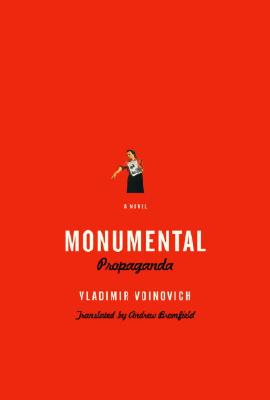 Monumental Propaganda (Hardcover)
Knopf, 9780375412356, 384pp.
Publication Date: July 13, 2004
Other Editions of This Title:
Paperback (6/6/2006)
* Individual store prices may vary.
Description
From Vladimir Voinovich, one of the great satirists of contemporary Russian literature, comes a new comic novel about the absurdity of politics and the place of the individual in the sweep of human events.

Monumental Propaganda, Voinovich's first novel in twelve years, centers on Aglaya Stepanovna Revkina, a true believer in Stalin, who finds herself bewildered and beleaguered in the relative openness of the Khrushchev era. She believes her greatest achievement was to have browbeaten her community into building an iron statue of the supreme leader, which she moves into her apartment after his death. And despite the ebb and flow of political ideology in her provincial town, she stubbornly, and at all costs, centers her life on her private icon.

Voinovich's humanely comic vision has never been sharper than it is in this hilarious but deeply moving tale–equally all-seeing about Stalinism, the era of Khrushchev, and glasnost in the final years of Soviet rule. The New York Times Book Review called his classic work, The Life & Extraordinary Adventures of Private Ivan Chonkin, "a masterpiece of a new form–socialist surrealism . . . the Soviet Catch-22 written by a latter-day Gogol." In Monumental Propaganda we have the welcome return of a truly singular voice in world literature.
Praise For Monumental Propaganda…
Praise for Monumental Propaganda

"If Frank Capra had been an acerbic Russian novelist and not a sunny American filmmaker, he might have written novels like Vladimir Voinovich's: funny, antic works that pit the little man against the system, ordinary folks against bureaucratic institutions and corrupt authorities. Mr. Voinovich's novels . . . unfold into philosophical meditations on the venality, hubris and folly of the human condition."--Michiko Kakutani, The New York Times


"Often touching . . . Monumental Propaganda is a novel that slashes and rips . . . In his translation, Andrew Bromfield deftly shifts his tone and tools as required, remaining true to Voinovich's Vonnegut-like playfulness and appreciation of the absurb." --Ken Kalfus, The New York Times Book Review


"Belly-busting comic genius . . . There are enough hilarious one-liners in Monumental Propaganda to make up for seven decades of Soviet earnestness." --Boris Fishman, The Nation

"Monumental Propaganda, the latest novel by Vladimir Voinovich, one of the best-known and best-loved Soviet emigré writers, differs from other satires of Soviet life in that it takes that irrelevance -- of ideas, of philosophies, of people, of morality -- as its theme . . . Voinovich caricatures the cowardly toadies whose views changed along with the politics of the times, poking fun at their provincial manners and pompous declarations."--Anne Applebaum, The Washington Post 


"Very earthy humor . . . Voinovich is wonderfully deft at balancing the grotesque and the realistic . . . a fine study of the peculiar buffoonery of Soviet life, with its fearful conformities, petty dissidents and its decadent final decades." --Publishers Weekly
or
Not Currently Available for Direct Purchase