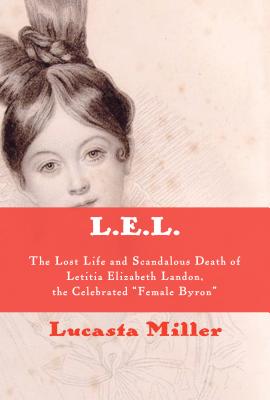 L.E.L.
The Lost Life and Scandalous Death of Letitia Elizabeth Landon, the Celebrated "Female Byron"
Hardcover

* Individual store prices may vary.
Other Editions of This Title:
Digital Audiobook (3/4/2019)
Paperback (10/20/2020)
Description
A lost nineteenth-century literary life, brilliantly rediscovered--Letitia Elizabeth Landon, hailed as the female Byron; she changed English poetry; her novels, short stories, and criticism, like Byron though in a woman's voice, explored the dark side of sexuality--by the acclaimed author of The Brontë Myth ("wonderfully entertaining . . . spellbinding"--New York Times Book Review; "ingenious"--The New Yorker).

"None among us dares to say / What none will choose to hear"--L.E.L., "Lines of Life"
Letitita Elizabeth Landon--pen name L.E.L.--dared to say it and made sure she was heard.
Hers was a life lived in a blaze of scandal and worship, one of the most famous women of her time, the Romantic Age in London's 1820s, her life and writing on the ascendency as Byron's came to an end.
Lucasta Miller tells the full story and re-creates the literary London of her time. She was born in 1802 and was shaped by the aftermath of the Napoleonic Wars, a time of conservatism when values were in flux. She began publishing poetry in her teens and came to be known as a daring poet of thwarted romantic love. We see L.E.L. as an emblematic figure who embodied a seismic cultural shift, the missing link between the age of Byron and the creation of Victorianism. Miller writes of Jane Eyre as the direct connection to L.E.L.--its first-person confessional voice, its Gothic extremes, its love triangle, and in its emphasis on sadomasochistic romantic passion.
Praise For L.E.L.: The Lost Life and Scandalous Death of Letitia Elizabeth Landon, the Celebrated "Female Byron"…
Praise for Lucasta Miller's L.E.L.:
"Lucasta Miller's stellar research blows two centuries of accumulated dust off a phenomenon worth knowing ... This book takes biography to a new level ... We see the network of manipulations, hypocrisy, commercial evil. Miller's investigation into the corroded promise of one young life opens up an abyss and, holding our gaze, speaks eloquently to the present."--Lyndall Gordon, New Statesman
"Compelling as a detective story, Miller's revelatory life of Landon is a masterpiece of eloquent scholarship ... Miller, like Germaine Greer before her, discerns a proto-modern vein in Landon's combination of an absent self with a voice of compelling intimacy."--Miranda Seymour, Literary Review
"Few figures of the Romantic era are as enigmatic as the poet Letitia Elizabeth Landon ... This intrepid biography examines her eclipse in light of a scandal that surrounded her ... Miller's subtle readings of a poet whom she calls 'proto-postmodern' restore a lost reputation."--The New Yorker
"L.E.L.'s 'lost life' recovers the rakish oddity of a neglected period in literary history; the result is a compelling and moving narrative of a woman and her world ... This is biography as liberation, in which a woman's story is allowed to stand on its own terms."--Daisy Hay, Times Literary Supplement
"A luminous and engaging literary mystery supported by thoughtful and exhaustive research ... a necessary story about English literature, one that cannot be overlooked."--Theresa Upko, Bustle
"L.E.L. is the first biography of Landon to explore recent revelations about her life, and the literary critic Lucasta Miller's sleuthing delivers an unexpected result. The figure who emerges from her pages is not just a missing link in literary Romanticism, but a progenitor of something modern."--Nicholas Dames, The Atlantic
"A valiant recovery job--the life of a writer, a woman first celebrated, then notorious, in her time and nearly forgotten today ... infinitely rich."--Katherine A. Powers, The Wall Street Journal
"Miller resurrects the all-but-forgotten life and once radiant career of Letitia Elizabeth Landon ... A compelling examination of an unjustly marginalized literary life."--Booklist
"Textured and lively ... Miller's biography vividly restores a forgotten author and her faded world, that of the 'strange pause' between the Romantics and the Victorians."--Publishers Weekly
"A riveting life of an English poet and novelist whose precocious career ended in sexual scandal and controversy ... The extent of Miller's research is impressive ... A thorough, engaging, and even loving restoration."--Kirkus (starred review)
Knopf, 9780375412783, 416pp.
Publication Date: March 5, 2019
About the Author
LUCASTA MILLER is a British literary critic who has worked for The Independent and The Guardian, and contributed to The Economist, The Times (London), The New Statesman, and the BBC. She was the founding editorial director of Notting Hill Editions and has been a visiting scholar at Wolfson College, Oxford, and a visiting fellow at Lady Margaret Hall, Oxford. She lives in London with her husband, the tenor Ian Bostridge, and their two children.
or
Not Currently Available for Direct Purchase