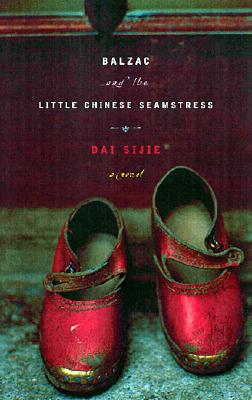 Balzac and the Little Chinese Seamstress
Hardcover

* Individual store prices may vary.
Other Editions of This Title:
Prebound (10/1/2002)
Description
An enchanting literary debut—already an international best-seller.

At the height of Mao's infamous Cultural Revolution, two boys are among hundreds of thousands exiled to the countryside for "re-education." The narrator and his best friend, Luo, guilty of being the sons of doctors, find themselves in a remote village where, among the peasants of Phoenix mountain, they are made to cart buckets of excrement up and down precipitous winding paths. Their meager distractions include a violin—as well as, before long, the beautiful daughter of the local tailor.

But it is when the two discover a hidden stash of Western classics in Chinese translation that their re-education takes its most surprising turn. While ingeniously concealing their forbidden treasure, the boys find transit to worlds they had thought lost forever. And after listening to their dangerously seductive retellings of Balzac, even the Little Seamstress will be forever transformed.

From within the hopelessness and terror of one of the darkest passages in human history, Dai Sijie has fashioned a beguiling and unexpected story about the resilience of the human spirit, the wonder of romantic awakening and the magical power of storytelling.
Praise For Balzac and the Little Chinese Seamstress…
"Dai Sijie's debut novella is an unexpected miracle--a delicate, and often hilarious, tale set amid the ham-fisted brutalities of the Cultural Revolution."
--Mark Rozzo, Los Angeles Times

"Part fairy tale, part political allegory, Balzac and the Little Chinese Seamstress seduces the reader into its world . . . This is a very wise little story of love and illusion . . . a shrewd commentary on knowledge and power, and an affirmation that the pen is mightier than the sword--or the dollar . . . Dai Sijie's novel is a tribute to art's power of transformation."
--Helen Mitsios, Philadelphia Inquirer

"Dai Sijie gives the rest of the world a glimpse into that dark place where the human spirit continues, against all the odds, to shine its light into the farthest corners."
--Bella English, Boston Globe

"A wonderful novel . . . Dai Sijie demonstrates that, in a time when freedom is in short supply, lessons about liberty from another time or tradition . . . can be an inspiration to those who wish to escape . . . . If we look to the tradition of Balzac and his contemporaries, we are left with some hope that these young men and the Little Seamstress will reappear in some future novel . . . Even if they come back by some other name, as Balzac's characters sometimes do, we will recognize them by their simplicity and strength, and by their harmonious complexity, formed by detailed layering and exquisite craftsmanship, like a beautifully tailored garment."
--Stephanie Hull, Chicago Tribune

I opened Dai Sijie's Balzac and the Little Chinese Seamstress expecting a book that would be at best earnest and well meaning; the tale of two city boys, sent to the provinces in 1971 during the Cultural Revolution, sounds like your standard-issue Chinese tract in fictive form. Yet make no mistake: This is a funny, touching, sly and altogether delightful novel...ironic and wistful....Though salted with wit and slapstick humor, Balzac and the Little Chinese Seamstress is basically a romance, a novel about the power of art to enlarge our imaginations, no matter what the circumstances . . . If one novel about Mao's China can be as terrific as this one, there must be others as well."
--Michael Dirda, The Washington Post Book World

"A simple story, seductively told . . . What marks it out is the way it touches and lifts up the beauty of human experience far beyond the mountains of Western China in which the story is set."
--Justin Hill, Times Literary Supplement

"A mesmerizing story, classic and new, fabulist and gritty in its realism, full of riches as in the best of tales. My imagination and heart were seized."
--Amy Tan

"Few if any books that are mailed to me strike me as worth recommending. I recommend this book highly. I myself was also secretly introduced to Western cutlure through literature during the Cultural Revolution when I first read a hand copied Chinese translation of Jane Eyre by Charlotte Bronte. Dai Sijie does an excellent job showing this experience. Anyone who wants to understand how Western art and literature influences the Chinese mindset should read this book."
--Anchee Min author of Red Azalea and Becoming Madame Mao
Knopf, 9780375413094, 208pp.
Publication Date: September 11, 2001
About the Author
Born in China in 1954, Dai Sijie is a filmmaker who was himself "re-educated" between 1971 and 1974.

He left China in 1984 for France, where he has lived and worked ever since. This, his first novel, was an overnight sensation when it appeared in France in 2000, becoming an immediate best-seller and winning five prizes. Rights to the novel have been sold in nineteen countries, and it is soon to be made into a film.
or
Not Currently Available for Direct Purchase