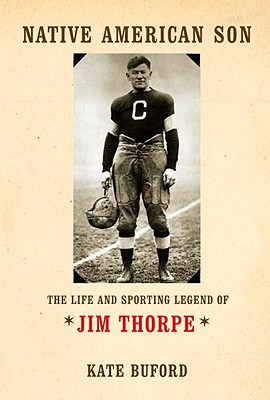 Native American Son
The Life and Sporting Legend of Jim Thorpe
Hardcover

* Individual store prices may vary.
Description
The first comprehensive biography of the legendary figure who defined excellence in American sports: Jim Thorpe, arguably the greatest all-around athlete the United States has ever seen.

With clarity and a fine eye for detail, Kate Buford traces the pivotal moments of Thorpe's incomparable career: growing up in the tumultuous Indian Territory of Oklahoma; leading the Carlisle Indian Industrial School football team, coached by the renowned "Pop" Warner, to victories against the country's finest college teams; winning gold medals in the 1912 Olympics pentathlon and decathlon; defining the burgeoning sport of professional football and helping to create what would become the National Football League; and playing long, often successful—and previously unexamined—years in professional baseball.

But, at the same time, Buford vividly depicts the difficulties Thorpe faced as a Native American—and a Native American celebrity at that—early in the twentieth century. We also see the infamous loss of his Olympic medals, stripped from him because he had previously played professional baseball, an event that would haunt Thorpe for the rest of his life. We see his struggles with alcoholism and personal misfortune, losing his first child and moving from one failed marriage to the next, coming to distrust many of the hands extended to him. Finally, we learn the details of his vigorous advocacy for Native American rights while he chased a Hollywood career, and the truth behind the supposed reinstatement of his Olympic record in 1982.

Here is the story—long overdue and brilliantly told—of a complex, iconoclastic, profoundly talented man whose life encompassed both tragic limitations and truly extraordinary achievements.
Praise For Native American Son: The Life and Sporting Legend of Jim Thorpe…
"Diligently researched . . . Buford lays firm, clear historical groundwork for the reservation life and Indian world in which Thorpe grew up . . . Thorpe, in Buford's account a likable and engaging if feckless man, seems tragically destined to wander forever, the fastest itinerant in the world."
            -Jay Jennings, The New York Times Book Review
 
"A professional biographer has proved what sound research and skillful writing can do: reveal a singular man, animate the times of his life, and illuminate the complexities of our world today, which Jim Thorpe helped to shape."
            -American Heritage
 
"Compelling . . . Exhilarating . . . Buford is persuasive when she insists that, both for better and for worse, Jim Thorpe's true story is indeed stranger than most fictional tales of rising and falling heroes."
            -Michael R. Stevens, Christianity Today Books and Culture
 
"This is the definitive biography of a legendary figure in American history, in and out of sports . . . An essential purchase."
            -Library Journal
 
"Buford . . . knows about mythic heroes and draws a complex portrait of Jim Thorpe: from his superhuman athletic talents to his all-too-human flaws."           
           -Steven V. Roberts, The Washington Post
 
"This book is written with razor-sharp clarity, rock-solid scholarship, and a prose that is as elegantly executed as it is at times heartbreaking. Native American Son, meticulously researched, is a book that finally sets the record straight to provide justice at last to a legitimate American hero."
            -Larry Cox, Tucson Citizen
 
"An absorbing American story."
            -Steve Kaufman, Louisville Courier-Journal
 
 "Impeccably researched . . . This retrospective is not the first to tackle the complex life of Jim Thorpe, but it's the most comprehensive . . . Captures Thorpe's breathtaking highs and heartrending lows."
            -Kirkus
 
"From the opening paragraphs I realized that Native American Son was going to be gripping and illuminating. Kate Buford not only tells us a great deal we never knew about a legitimate American icon, she tells us a great deal about an America of which we may not have been fully aware, and does so in splendid prose."
           -Ira Berkow
 
"As an athlete, Jim Thorpe was a force of nature. His achievements, across the board, remain unsurpassed. For many years we have needed a fair and comprehensive story of his life. Now we have it. Kate Buford's biography of Thorpe is a first-rate example of the genre. She has written—with clarity, insight, objectivity, and inspiration—a definitive work. Here is an evocation of triumph and tragedy, ans a uniquely American story."
            -N. Scott Momaday
Knopf, 9780375413247, 496pp.
Publication Date: October 26, 2010
About the Author
Kate Buford has written for" The New York Times, Architectural Digest, Film Comment, " and "Bluegrass Unlimited, " among other publications. She has been a commentator on NPR's "Morning Edition" and American Public Media's "Marketplace, "and on Virginia's NPR affiliate, WMRA. Her biography of Burt Lancaster was named one of the best books of 2000 by "The New York Times, "the" Los Angeles Times, "and "The Washington Post." She lives in Lexington, Virginia, and Westchester County, New York.
or
Not Currently Available for Direct Purchase