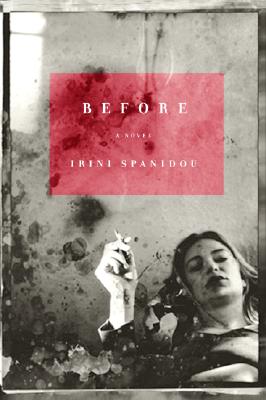 Before (Hardcover)
Knopf, 9780375413810, 224pp.
Publication Date: July 17, 2007
Other Editions of This Title:
Paperback (7/8/2008)
* Individual store prices may vary.
Description
From the author of God's Snake ("Passionate . . . a wonderful book"—Alice Munro), and Fear ("Remarkable, spare, powerful"—Grace Paley), a stunning novel, her first in seven years, that shines a light on what it means to be beautiful, and to be possessed—by oneself, and by others.

The setting is New York City in the 1970s—a time and place of creativity, licentiousness, rebellion—and unforeseen perils. At its center is Beatrice: twenty-five, mesmerizingly lovely and intelligent, at once conventional and different from everyone else, married to Ned, a talented but volatile painter whose obsession with her has turned to hatred.

Beatrice is desired by everyone around her: by Faye, her seductive, bawdy childhood friend; by Cyril, a lonely, charismatic Vietnam veteran; by Colin, an aspiring musician; by Simon, a cynical older man she meets at a bar; by Chris, a young heroin addict. And then there is Perkins, the oddly threatening man next door. A sliver of light from his apartment shines in on Beatrice, a light that in her darkest hours reminds her she is not alone.

Unfolding with the powerful compression of a myth, Before offers a daring portrait of three months in the life of a young woman fighting for her identity—and her survival. It is a combustible cocktail of Eros, longing, and menace, one that captures a dizzying time in America.
Praise For Before…
"Shimmering, hypnotic. [Before] depicts with delicacy, compression, and vibrant intensity, three months in the life of Beatrice, a young married woman living in downtown New York City in the 1970s. Her name, which means 'blessed,' evokes the ideal, saintly woman of Dante's Divine Comedy, and blessed and ideal she once was: gorgeous, sexy, smart, the object of hundreds of lusts and affections. But as the novel opens, we find her stunned, lost in her own tour of hell. The charcoal gloom of that era and of her marriage, [which] is near its end, the booze and drugs, the late nights and loveless sex with an array of unhelpful men, drain her slowly of some essential light. Her life spins out of her grasp until finally, damaged and then cleansed, standing in darkness, she once again gains a degree of self-knowledge and control, a hard-won portion of maturity and hope. Spanidou's beautiful writing almost perfectly evokes the 1970s in New York, its fascinating characters, its low rents and withheld ambitions–her sentences have just the right measure of elegant lassitude, of quiet, humming sexiness, and of a singular devotion to seeing things deeply, no matter what the cost."
–Vince Passaro, O, The Oprah Magazine

"Why you'll love Before: The realities of free love make the '80s and '90s seem pretty awesome."
–Marie Claire

"In Before, 1970s New York City . . . in which 42nd Street was lined with sex shops; spooky SoHo lofts were sparsely occupied, and only by artists; smoky cigarette hazes filled social spaces with provocative clouds; and lingering antiwar graffiti festooned the city's sprawling, seedy backdrops . . . comes to life, wholly vibrant and shot through with pathos. Bea is an intelligent twentysomething, marked–and marred–by an indelible beauty that inflects almost every moment of her life. She barely has to speak to become rabidly adored, though she watches helplessly as her marriage to Ned, a macho artist, curdles into something unforeseeably vile. Every man she meets is drawn to an idea of her that inevitably gets mired in her own thicket of disillusionment. Spanidou's prose compulsively explor[es] the dark paradox of an era that boasted a conspicuous style while its inhabitants lacked a clear sense of who they were. And Bea is a most tragic anomaly, achingly trying to give breath and depth to a body that has proved the source of her deepest sadness. Spanidou's breakneck storytelling leaves you feeling pressure-cooked. Suddenly, you're exquisitely aware of just what it feels like when everyone notices you, but no one really sees you."
–Rachel Rosenblit, Elle

"At once haunting and immediate . . . The evocative third novel from Spanidou centers on a group of late 1960s New York bohemians over the course of several tense months. Beautiful, delicate Beatrice, 25, dropped out of Barnard to marry Ned, a hard-drinking painter with coarse ways and little respect for his lovely, emotionally remote wife, who supports them as a book editor's assistant. The SoHo of their downtown life is menacing; their motley assortment of friends move in and out of their lives depending on happenings and their attraction to Beatrice as an obscure, unattainable object of desire. . . . Beatrice's life unfolds sadly as the It Girl is doomed to implausible notions of love and little sense of self-worth, both tied deftly by Spanidou to Beatrice's 1950s upper-middle class upbringing."
–Publishers Weekly

"Before is about purity of feeling, will, sex and ambition all vying for dominance in a cynical and confused world. It is about becoming real in the face of imposed identity and desires. It is an absolutely unique and compelling work."
–Mary Gaitskill, author of Bad Behavior and Veronica

"Before is a startling work, concentrated and illuminated by emotion and intelligence in a story of one young woman's odyssey in an urban setting–a Soho art community–rendered in its ugliness and beauty in the 1970s."
–Paula Fox, author of Desperate Characters
or
Not Currently Available for Direct Purchase