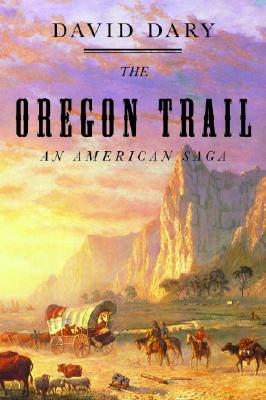 The Oregon Trail: An American Saga (Hardcover)
An American Saga
Knopf, 9780375413995, 432pp.
Publication Date: November 9, 2004
* Individual store prices may vary.
or
Not Currently Available for Direct Purchase
Description
A major one-volume history of the Oregon Trail from its earliest beginnings to the present, by a prize-winning historian of the American West.

Starting with an overview of Oregon Country in the early 1800s, a vast area then the object of international rivalry among Spain, Britain, Russia, and the United States, David Dary gives us the whole sweeping story of those who came to explore, to exploit, and, finally, to settle there.

Using diaries, journals, company and expedition reports, and newspaper accounts, David Dary takes us inside the experience of the continuing waves of people who traveled the Oregon Trail or took its cutoffs to Utah, Nevada, Montana, Idaho, and California. He introduces us to the fur traders who set up the first "forts" as centers to ply their trade; the missionaries bent on converting the Indians to Christianity; the mountain men and voyageurs who settled down at last in the fertile Willamette Valley; the farmers and their families propelled west by economic bad times in the East; and, of course, the gold-seekers, Pony Express riders, journalists, artists, and entrepreneurs who all added their unique presence to the land they traversed.

We meet well-known figures–John Jacob Astor, Marcus and Narcissa Whitman, John Frémont, the Donners, and Red Cloud, among others–as well as dozens of little-known men, women, and children who jotted down what they were seeing and feeling in journals, letters, or perhaps even on a rock or a gravestone.

Throughout, Dary keeps us informed of developments in the East and their influence on events in the West, among them the building of the transcontinental railroad and the efforts of the far western settlements to become U.S. territories and eventually states.

Above all, The Oregon Trail offers a panoramic look at the romance, colorful stories, hardships, and joys of the pioneers who made up this tremendous and historic migration.
About the Author
David Dary, a native of Manhattan, Kansas, worked for CBS News and NBC News in Texas and Washington, D.C., and for many years taught journalism at the University of Kansas. He then headed the School of Journalism at the University of Oklahoma, from which he recently retired. Dary is the author of nine previous books on the West, including "Cowboy Culture" and "The Santa Fe Trail." He is the recipient of a Cowboy Hall of Fame Wrangler Award, two Western Writers of America Spur Awards, the Westerners International Best Nonfiction Book Award, and the Owen Wister Award for lifetime achievement from the Western Writers of America. He lives in Norman, Oklahoma.
Advertisement