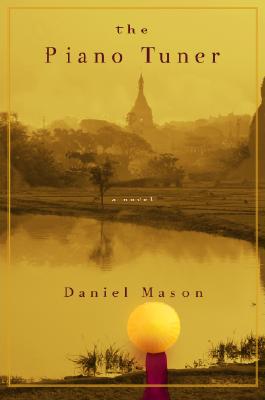 The Piano Tuner
Hardcover

* Individual store prices may vary.
Other Editions of This Title:
Compact Disc, Abridged, Abridged (9/17/2002)
Description
An extraordinary first novel that tells the story of a British piano tuner sent deep into Burma in the nineteenth century.

In October 1886, Edgar Drake receives a strange request from the British War Office: he must leave his wife and his quiet life in London to travel to the jungles of Burma, where a rare Erard grand piano is in need of repair. The piano belongs to an army surgeon-major whose unorthodox peacemaking methods—poetry, medicine, and now music—have brought a tentative quiet to the southern Shan States but have elicited questions from his superiors.

On his journey through Europe, the Red Sea, India, and into Burma, Edgar meets soldiers, mystics, bandits, and tale-spinners, as well as an enchanting woman as elusive as the surgeon-major. And at the doctor's fort on a remote Burmese river, Edgar encounters a world more mysterious and dangerous than he ever could have imagined.

Sensuous, lyrical, rich with passion and adventure, this is a hypnotic tale of myth, romance, and self-discovery: an unforgettable novel.
Praise For The Piano Tuner…
"Thoroughly engaging, an excellent early-21st-century reproduction of a late Victorian novel… [Mason] renders [Burma] and its culture brilliantly. His powerful prose style and his ability to embrace history, politics, nature and medicine within a fully imagined 19th-century fictional world would be notable in any writer and are astonishing in one who is just 26…The reader finds an excellent guide to the wonders and sorrows of another place and time." –Andrea Barrett, The New York Times Book Review

"A rattling good story, complex characterizations, and a brilliantly realized portrayal of an alien culture–all combine to dazzling effect in this first by a California medical student who has worked and studied in the Far East. Piano tuner Edgar Drake undertakes his journey (thrillingly described), arriving at the inland fortress where the suave Dr. Anthony Carroll–part Albert Schweitzer, part Mistah Kurtz of Heart of Darkness–rules as a benevolent despot, aided by a beautiful Burmese woman to whom Edgar finds himself increasingly attracted. A wealth of information–musical, medical, historical, political–and numerous colorfully detailed vignettes of life in Burma's teeming cities and jungle villages provide a solid context for the intricate plot, which brings Drake into 'complicity' with Carroll's visionary dream…until the powerful denouement [and the] deeply ironic climactic action. (One keeps thinking of what a marvelous movie The Piano Tuner might make.) . . . An irresistible amalgam of Kipling, Rider Haggard, and Conrad at their very best. Masterful." –Kirkus

"[The Piano Tuner] ends, inevitably, in tragedy, but the reader will regret that it ends at all. This is an utterly involving first novel, rich in historical detail. Mason's language is at once tropically lush and as precise as a Bach prelude. A novel for readers of literary and popular fiction alike; highly recommended." –Library Journal

"An ambitious, adventuresome, highly unusual first novel that offers pleasures too rarely encountered in contemporary American literary fiction…[Mason is] a gifted, original and courageous writer." –Jonathan Yardley, Washington Post Book World

"A strange, often beautiful story…full of haunting, gorgeous scenes…With a deft hand [and] trills of wit and suspense, Mason delivers a timely critique of the self-justifying nature of military action. In these troubled times, it's a tune you can't get out of your head...A smart, entertaining adventure." –Ron Charles, The Christian Science Monitor

"An extraordinary piece of work. The Piano Tuner is a novel of journeys and the shifting grounds of perception, but at heart it is a story of the human urge to be absorbed fully into life, to cease to be a bystander, to be thrust into the essential dreamscape of human strivings. Daniel Mason's debut is shining and striking. He transported me thoroughly, well beyond the initial reading. Days later, the scenes shift and stir and agitate within me. This is writing of deep potency and resonance. Of beauty and pain and all things in between."
–Jeffrey Lent, author of In the Fall and Lost Nation

"Daniel Mason has woven together an elegant and unusually engrossing story, one that offers the reader the best possible journey–into a world that no longer exists. Rich, atmospheric, and evocative of the sights, smells and textures of 19th century Burma, The Piano Tuner is an astonishingly accomplished first novel. I truly enjoyed it."
–Arthur Golden, author of Memoirs of a Geisha




Knopf, 9780375414657, 336pp.
Publication Date: September 17, 2002
About the Author
Daniel Mason received his bachelor's degree in biology from Harvard in 1998 and spent a year studying malaria on the Thai and Myanmar border, where much of "The Piano Tuner" was written. He is currently a medical student at the University of California, San Francisco.
or
Not Currently Available for Direct Purchase