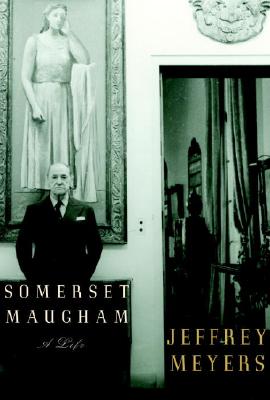 Somerset Maugham
Hardcover

* Individual store prices may vary.
Description
He was an instinctive and magnificent storyteller, with a talent also for success. Of Human Bondage was his masterpiece; The Razor's Edge his most spectacular best-seller. He lived nearly ninety-two years, wrote seventy-eight books (forty million sold worldwide) and once had four plays running in London simultaneously. "Rain," reflecting his fascination with the South Seas, is among the most widely read stories of our time.

In World War I, he performed expertly and courageously as ambulance driver and as secret agent in Samoa and Russia. Eventually he knew "everybody": Britain's, Hollywood's and literature's royalty. He was seen as formidable, a cynic and the very emblem of worldliness. He wrote constantly about social and sexual entanglements but, in a closeted age, was increasingly secretive about his own–loving men, wanting to love women.

To the extraordinary life of Somerset Maugham and his development as a writer, Jeffrey Meyers brings all his gifts as biographer: of Hemingway ("simply the best book there is on Hemingway" –J. F. Powers), of Orwell ("moving and edifying" –Paul Theroux) and of D. H. Lawrence ("probably the best biography of him" –Times Literary Supplement).

Telling Maugham's story, from his sad, orphaned childhood in the small English coastal town of Whitstable, through his Paris years and his wandering years, to his luxurious, indeed glamorous, old age at the Villa Mauresque on Cap Ferrat, Meyers reveals much that is new–about Maugham's days at Heidelberg and on Capri, his medical training, his wartime espionage, his quarrels with D. H. Lawrence and Edmund Wilson, his friendship with Noël Coward, and about his longtime lover, Gerald Haxton. He writes of Maugham's encounters with Winston Churchill, E. M. Forster, the Sitwells, T. S. Eliot, Bernard Berenson and the Windsors; of his affairs with four attractive and accomplished women; of his torturous ten-year marriage to one of them–Syrie, who became a celebrated decorator–and his wish to marry the actress Sue Jones, gentle, loving and promiscuous, who was his model for Rosie Driffield in Cakes and Ale.

Meyers describes Joseph Conrad's influence on Maugham and Maugham's on George Orwell and V. S. Naipaul. He provides a fascinating portrait of a brilliant and complex man whose talent has held and dazzled a cultivated audience from the late Victorian era to the twenty-first century.
Praise For Somerset Maugham…
"Meyers's portrait of the long-lived Maugham and his tumultuous time is both nuanced and concise, a biography without a wasted word." —The Washington Post Book World

"Excellent. . . . [W]ell-written, entertaining, and of admirable brevity. . . . Meyers paints a convincing picture of the development of [Maugham's] complex character." --The New Criterion

"Maugham is the perfect subject for a biography. . . . Meyers knows how to select his details . . . and arrange them into a well-paced narrative." --The Philadelphia Inquirer

"Meyers . . . mounts a persuasive defense of Maugham's art, keenly mapping his influence on V.S. Naipaul, George Orwell, and Paul Theroux." —The New Yorker

Knopf, 9780375414756, 432pp.
Publication Date: February 17, 2004
or
Not Currently Available for Direct Purchase