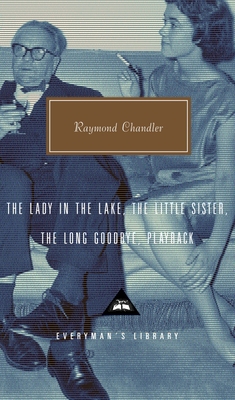 The Lady in the Lake, the Little Sister, the Long Goodbye, Playback (Hardcover)
Everyman's Library, 9780375415029, 1016pp.
Publication Date: October 15, 2002
Description
(Book Jacket Status: Jacketed) Creator of the famous Philip Marlowe, Raymond Chandler elevated the American hard-boiled detective genre to an art form. Chandler's last four novels, published here in one volume, offer ample opportunity to savor the unique and utterly compelling fictional world that made his works modern classics. The Lady in the Lake moves Marlowe out of his usual habitat of city streets and into the mountains outside of Los Angeles in his strange search for a missing woman. The Little Sister takes Marlowe to Hollywood, where he tries to find a sweet young thing's missing brother, uncovering on the way a little blackmail, a lot of drugs, and more than enough murder. In The Long Goodbye, a case involving a war-scarred drunk and his nymphomaniac wife has Marlowe constantly on the move: a psychotic gangster's on his trail, he's in trouble with the cops, and more and more corpses keep turning up. Playback features a well-endowed redhead who leads Marlowe to the California coast to solve a tale of big money and, of course, murder. Throughout these masterpieces, Marlowe's wry humor and existential sense of his job prove yet again why he has become one of the most recognized and imitated characters in fiction.
About the Author
Raymond Thornton Chandler (1888 - 1959) was the master practitioner of American hard-boiled crime fiction. Although he was born in Chicago, Chandler spent most of his boyhood and youth in England where he attended Dulwich College and later worked as a freelance journalist for The Westminster Gazette and The Spectator. During World War I, Chandler served in France with the First Division of the Canadian Expeditionary Force, transferring later to the Royal Flying Corps (R. A. F.). In 1919 he returned to the United States, settling in California, where he eventually became director of a number of independent oil companies. The Depression put an end to his career, and in 1933, at the age of forty-five, he turned to writing fiction, publishing his first stories in Black Mask. Chandler's detective stories often starred the brash but honorable Philip Marlowe (introduced in 1939 in his first novel, The Big Sleep) and were noted for their literate presentation and dead-on critical eye. Never a prolific writer, Chandler published only one collection of stories and seven novels in his lifetime. Some of Chandler's novels, like The Big Sleep, were made into classic movies which helped define the film noir style. In the last year of his life he was elected president of the Mystery Writers of America. He died in La Jolla, California on March 26, 1959.
Praise For The Lady in the Lake, the Little Sister, the Long Goodbye, Playback…
"Raymond Chandler is a master." –New York Times

"Chandler wrote like a slumming angel and invested the sun-blinded streets of Los Angeles with a romantic presence." –Ross Macdonald

"Raymond Chandler invented a new way of talking about America, and America has never looked the same to us since." –Paul Auster

"The prose rises to heights of unself-conscious eloquence, and we realize with a jolt of excitement that we are in the presence of not a mere action-tale teller, but a stylist, a writer with a vision…The reader is captivated by Chandler's seductive prose." –Joyce Carol Oates, New York Review of Books

"Chandler is one of my favorite writers. His books bear rereading every few years. The novels are a perfect snapshot of an American past, and yet the ruined romanticism of the voice is as fresh as if they were written yesterday." –Jonathan Lethem

"Chandler seems to have invented our post-war dream lives–the tough but tender hero, the dangerous blonde, the rain-washed sidewalks, and the roar of the traffic (and the ocean) in the distance…Chandler is the classic lonely romantic outsider for our times, and American literature, as well as English, would be the poorer for his absence." –Pico Iyer

With a new Introduction by Tom Hiney
Advertisement