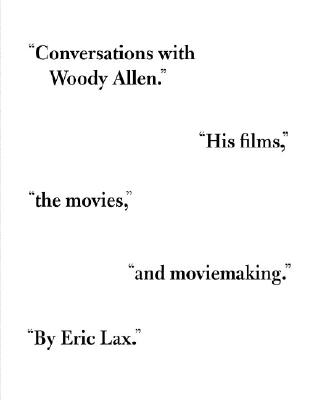 Conversations with Woody Allen
His Films, the Movies, and Moviemaking
Hardcover

* Individual store prices may vary.
Other Editions of This Title:
Paperback, Spanish (7/1/2010)
Paperback (8/18/2009)
Description
From the author of the best-selling biography Woody Allen—the most informative, revealing, and entertaining conversations from his thirty-six years of interviewing the great comedian and filmmaker.

For more than three decades, Woody Allen has been talking regularly and candidly with Eric Lax, and has given him singular and unfettered access to his film sets, his editing room, and his thoughts and observations. In discussions that begin in 1971 and continue into 2007, Allen discusses every facet of moviemaking through the prism of his own films and the work of directors he admires. In doing so, he reveals an artist's development over the course of his career to date, from joke writer to standup comedian to world-acclaimed filmmaker.

Woody talks about the seeds of his ideas and the writing of his screenplays; about casting and acting, shooting and directing, editing and scoring. He tells how he reworks screenplays even while filming them. He describes the problems he has had casting American men, and he explains why he admires the acting of (among many others) Alan Alda, Marlon Brando, Michael Caine, John Cusack, Judy Davis, Robert De Niro, Leonardo DiCaprio, Mia Farrow, Gene Hackman, Scarlett Johansson, Julie Kavner, Liam Neeson, Jack Nicholson, Charlize Theron, Tracey Ullman, Sam Waterston, and Dianne Wiest. He places Diane Keaton second only to Judy Holliday in the pantheon of great screen comediennes.

He discusses his favorite films (Citizen Kane is the lone American movie on his list of sixteen "best films ever made"; Duck Soup and Airplane! are two of his preferred "comedian's films"; Trouble in Paradise and Born Yesterday among his favorite "talking plot comedies"). He describes himself as a boy in Brooklyn enthralled by the joke-laden movies of Bob Hope and the sophisticated film stories of Manhattan. As a director, he tells us what he appreciates about Bergman, De Sica, Fellini, Welles, Kurosawa, John Huston, and Jean Renoir. Throughout he shows himself to be thoughtful, honest, self–deprecating, witty, and often hilarious.

Conversations with Woody Allen is essential reading for everyone interested in the art of moviemaking and for everyone who has enjoyed the films of Woody Allen.
Praise For Conversations with Woody Allen: His Films, the Movies, and Moviemaking…
"Fascinating . . . Readers will find a trove of Woody-on-Woody insight, and there's much advice for the aspiring artist . . . Even casual fans will appreciate this work; with a handy index for tracking down favorite films and something interesting on nearly every page, it's a perfectly browsable volume."
-Baltimore Sun

"Lax's informed questions . . . allow Allen to speak with intelligence and maturity."
-Washington Post

"Intimate . . . essential reading for anyone interested in the art of filmmaking and especially for those who appreciate the work of Woody Allen."
-Tucson Citizen's

"Substantial."
-Deseret News Publishing

"Mesmerizing . . ."
-Financial Times

"Compiled over thirty-six years of interviews, conversations, and experiences one could only glean from gaining Allen's confidence and respect, Conversations is essential reading for aspiring filmmakers and those who wish to eventually put finger to keyboard in hopes of telling a story, but it is no less intriguing for simple cinephiles."
-Los Angeles Times

"Remarkable . . . fresh with an immediacy often missing in a retrospective."
-The News & Observer

"Absorbing . . . must reading for Allen admirers and fans of contemporary cinema . . . . Endlessly fascinating self-exposure by a controversial, defiantly prickly artist."
-Booklist

"When it comes to books about the careers of famous filmmakers, most authors . . . start with the early efforts, move forward in time and eventually arrive at the subject's last or latest work . . . Fortunately, Eric Lax's new book . . . refreshingly throws that old format out the window."
-Roanoke Times

Knopf, 9780375415333, 416pp.
Publication Date: October 16, 2007
About the Author
Eric Lax is the author of "On Being Funny: Woody Allen and Comedy, Life and Death on 10 West, "and "The Mold in Dr. Florey's Coat, "and coauthor (with A. M. Sperber) of "Bogart. "His writing has appeared in "The Atlantic, The New York Times, Vanity Fair, Esquire, "and the" Los Angeles Times." An officer of International PEN, he lives with his wife and their two sons in Los Angeles.
or
Not Currently Available for Direct Purchase