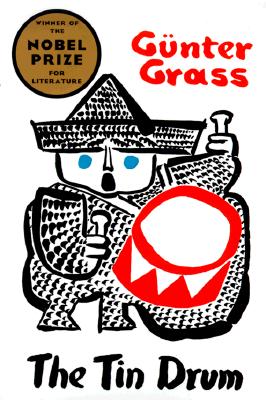 The Tin Drum
Hardcover

* Individual store prices may vary.
Other Editions of This Title:
Paperback (4/8/2010)
Audio Cassette (3/1/2001)
Paperback (1/16/1990)
Hardcover (5/25/1993)
Hardcover (10/1/2009)
Pre-Recorded Audio Player (12/1/2009)
Description
The greatest German novel since the end of World War II, The Tin Drum is the autobiography of Oskar Matzerath, thirty years old, detained in a mental hospital, convicted of a murder he did not commit.  On the day of his third birthday, Oskar had "declared, resolved, and determined [to] stop right there, remain as I was, stay the same size, cling to the same attire" (striped pullover and patent-leather shoes).  That same day Oskar receives his first tin drum, and from then on it is the means of his expression, allowing him to draw forth memories from the past as well as judgments about the horrors, injustices, and eccentricities he observes through the long nightmare of the Nazi era.  As that era ebbs bloodily away, as drum succeeds drum, Oskar participates in the German postwar economic miracle -- working variously in the black market, as an artist's model, in a troupe of traveling musicians.
        With the onset of affluence and fame, Oskar decides to grow a few inches, only to develop a humpback.  But despite his newfound status (and stature), Oskar remains haunted by the deaths of his parents, afflicted by his responsibility for past sins -- and so assumes guilt for a murder he did not commit as an act of atonement and an opportunity to find consolation.The rhythms of Oskar's drums are intricate and insistent, and they lead us, often by way of shocking fantasies, through the dark forest of German history.  Through Oskar's piercing, outspoken voice and deformed little figure, through the imaginative distortion and exaggeration of historical experience, a pathetically hilarious yet startlingly true portrayal of the human situation comes into view.
Praise For The Tin Drum…
"When Günter Grass published The Tin Drum in 1959, it was as if German literature had been granted a new beginning after decades of linguistic and moral destruction.  Within the pages of this, his first novel, Grass re-created the lost world from which his creativity sprang: Danzig, his home town, as he remembered it from the years of his infancy before the catastrophe of war.  Here he comes to grips with the enormous task of reviewing contemporary history by recalling the disavowed and the forgotten: the victims, losers, and lies that people wanted to forget because they had once believed in them.  The unforgettable Oskar Matzerath is an intellectual whose critical approach is childishness, a one-man carnival, dadaism in action in everyday German provincial life just when this small world becomes involved in the sanity of the great world surrounding it.  It is not too audacious to assume that The Tin Drum will become one of the enduring literary works of the twentieth century."
-- The Swedish Academy, awarding Günter Grass the Nobel Prize for Literature, 1999
Pantheon, 9780375420573, 592pp.
Publication Date: November 10, 1999
or
Not Currently Available for Direct Purchase