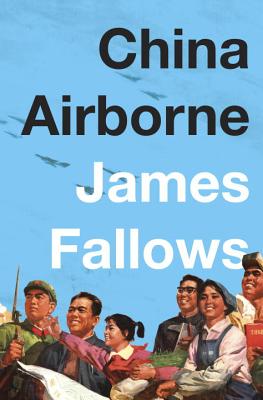 China Airborne (Hardcover)
Pantheon, 9780375422119, 288pp.
Publication Date: May 15, 2012
Other Editions of This Title:
Paperback (2/26/2013)
* Individual store prices may vary.
Description
More than two-thirds of the new airports under construction today are being built in China. Chinese airlines expect to triple their fleet size over the next decade and will account for the fastest-growing market for Boeing and Airbus. But the Chinese are determined to be more than customers. In 2011, China announced its Twelfth Five-Year Plan, which included the commitment to spend a quarter of a trillion dollars to jump-start its aerospace industry. Its goal is to produce the Boeings and Airbuses of the future. Toward that end, it acquired two American companies: Cirrus Aviation, maker of the world's most popular small propeller plane, and Teledyne Continental, which produces the engines for Cirrus and other small aircraft.
 
In China Airborne, James Fallows documents, for the first time, the extraordinary scale of this project and explains why it is a crucial test case for China's hopes for modernization and innovation in other industries. He makes clear how it stands to catalyze the nation's hyper-growth and hyper- urbanization, revolutionizing China in ways analogous to the building of America's transcontinental railroad in the nineteenth century. Fallows chronicles life in the city of Xi'an, home to more than 250,000 aerospace engineers and assembly workers, and introduces us to some of the hucksters, visionaries, entrepreneurs, and dreamers who seek to benefit from China's pursuit of aerospace supremacy. He concludes by examining what this latest demonstration of Chinese ambition means for the United States and the rest of the world—and the right ways to understand it.
About the Author
James Fallows is a national correspondent for "The Atlantic." He has reported from around the world and has worked in software design at Microsoft, as the editor of "U.S. News & World Report," and as a speechwriter for President Jimmy Carter. He is currently a news analyst for NPR's "Weekend All Things Considered "and a visiting professor at the University of Sydney.
Praise For China Airborne…
"Fallows keeps the reader engaged by weaving personal stories and lively personalities into his depiction of the changing aerospace landscape…his book makes for an intriguing read, looking at both sides of the picture: reasons for why China might succeed, as well as those for why the country might struggle."
—Publishers Weekly 

"Prescient . . . Highly readable and significant, Fallows' book should not be missed by those seeking to understand America's relationship with this global power."
—Booklist, starred review

"Precise yet accessible…An enjoyable, important update on an enigmatic economic giant." –Kirkus  

"Will China change the 21st century, or be changed by it? China Airborne describes a country ambitiously soaring to fantastic new heights even as its destination remains perilously uncertain. James Fallows reports elegantly on the puzzles and paradoxes of this massive nation and its quest for global prominence." –Patrick Smith, author of Somebody Else's Century   
 
"James Fallows has found a brilliant metaphor for China, and he is uniquely qualified to unspool the tale. Based on years of firsthand experience on the ground in China—and in cockpits around the world—this book showcases his gifts for deep reporting and analysis. Fallows doesn't simply bear witness; he unravels and dissects. For this vast country to achieve a leading role in the aerospace industry, it must attain standards of innovation, efficiency and precision that would signal a new era in the rise of a superpower. Has it attained that level? There is no better writer to find the answer, and Fallows has done it." –Evan Osnos, contributor to The New Yorker
 
"In China Airborne, Fallows tells the story of China's efforts to become a global leader in aviation and aerospace, a story that reveals the economic and political tensions in contemporary China.  China's past economic success has been built on a combination of massive investment and labor force mobilization—what Fallows calls "hard" economic power and autocratic political control.  But success in aerospace, like success in other industries that depend on innovation, requires what Fallows calls "soft" economic power—things like trust, honest and transparent regulation, coordination between civil, commercial and military organizations, and a culture of free research and exchange of ideas.  Anyone interested China's future economic, technological  and political developments should read Fallows' fascinating and insightful new book." –Laura Tyson, Former Director of the National Economic Council and Chair of the Council of Economic Advisors in the Clinton Administration, professor and former dean of the Haas School of Business at UC Berkeley

"That is the new book by James Fallows.  On the surface it is a book about aviation in China, but it is also one of the best books on China (ever), one of the best books on industrial organization in years, and an excellent treatment of economic growth.  It is also readable and fun." —Tyler Cowen
 
"Not only does the book benefit from Fallows' keen observations as a journalist in China, but also it is enriched by his technical knowledge as a passionate aviator. The result is informative and lively." —The Economist  
 
"What sets China Airborne apart from other books on China's rise is Fallows' remarkable ability to analyze both China's unprecedented achievements in economic modernization and its inherent limitations…The story so brilliantly told in China Airborne, a metaphor for the much bigger story of China's rise, suggests that no one should take its future as a superpower for granted." –San Francisco Chronicle

"It is worth the reader's time to obtain it and read it. It is a timely look at a country in a newly dangerous economic and political situation. Understanding that situation is of utmost importance to the rest of the world." —Asia Sentinel

"Fallows has an earthy, engaging style, and he sees the human stories of government officials, entrepreneurs, workers and intellectuals all pursuing the dreams they have for themselves and their country as they take off together into the skies…The book is accessible in different ways to different people. Sinologists and aviation geeks like me will happily pore through Mr. Fallows' detailed endnotes, trapped at the back where they won't bother casual readers. People looking for a grab buy at the airport will find something light that will also make them think. Businesspeople, students, or tourists going to China can pick this up and get a good grip on the Chinese zeitgeist." –Pittsburgh Post-Gazette 


Praise for James Fallows
"Fallows is refreshingly aware . . . A shrewd observer of human foibles and political quagmires with the eye for detail of an experienced journalist, he gives us panoramic views of China that are both absorbing and illuminating."
—Jonathan Spence, The New York Times Book Review
 
"Fallows represents the best of American journalism—honest, fearless, and hard-hitting. Moving easily among Chinese, from the ordinary to the high-ranking, he reports from China as an American observer, with the same questions and frustrations that most Americans feel but without either the prejudices of some or the ideological pixilation of others."
—Sidney Rittenberg, Sr., coauthor of The Man Who Stayed Behind
 
"Postcards from Tomorrow Square offers some wonderful snapshots of the contradictions of modern China. As always, Fallows writes from the front lines with insight and flair."
—Rob Gifford, author of China Road
 
"James Fallows's insatiable curiosity and clear narrative make his China journey a real reward."
—John Sculley, former CEO of Apple Computer
or
Not Currently Available for Direct Purchase